Cablevision Systems Corp. (NYSE: CVC)'s decision to push ahead with an ambitious interactive advertising platform appears to be paying dividends, as early results indicate that customers have no problem clicking their remotes to receive free product samples and coupons from TV advertisers.

On Tuesday, the MSO said the initial batch of Optimum Select campaigns introduced last fall began with a 40 percent conversion rate before reaching a high of 70 percent with a recent campaign featuring ads from Colgate-Palmolive Company. (See Cablevision Touts Ad Results.)

"Conversion rate," in this case, refers to the rate at which customers press the "SEL" button when prompted by an interactive ad, and then complete the process by pressing that button again to confirm that they indeed want to receive the freebee, coupon, or whatever it is that the ad is offering for their effort.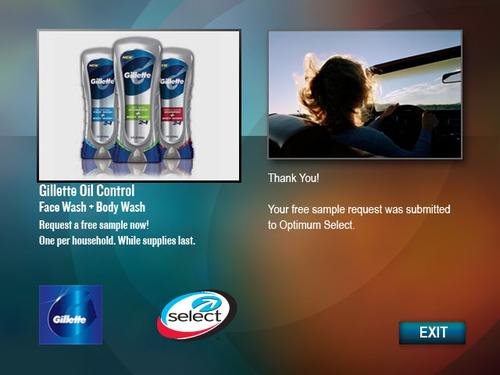 Cablevision rolled out seven Optimum Select campaigns last fall with Gillette, Benjamin Moore, Century 21, Halls, Unilever, and Colgate-Palmolive. The MSO says it's seeing similar results with its recent introduction of Optimum Select–powered ads from local travel, tourism, and healthcare providers.

Cablevision can insert such ads on about 70 networks, according to David Kline, president of Rainbow Advertising Sales Corp., Cablevision's ad sales arm. (See Cablevision Gets Interactive.)

Kline acknowledges that this is all in the early stages, but results so far indicate that there's a "pretty high interaction rate" with ads that offer tangible product samples or deep discounts that prompt an impulse reaction, but didn't say exactly how much better those types of ads have performed.

For each Optimum Select campaign last fall, Cablevision scheduled around 75 gross rating points over a two-week period, equal to "a few hundred spots," Kline says. However, Cablevision had to halt most of the campaigns in midstream because high volumes of consumer requests picked the product bins clean before the campaigns ran their course.

"It's a great problem to have," Kline says.

Cablevision's interactive ad tilt is coming of age as MSOs seek ways to rejuvenate flagging local advertising revenues and the market for 30-second spots. Kline says Cablevision's efforts last fall helped to shore up those numbers, and he expects that trend to continue in 2010 as Cablevision continues its work with large, national brands and adds more local advertisers to the mix. The MSO is also getting ready to put in a system that lets customers purchase products directly from set-tops. (See Cablevision Eyes T-Commerce Launch in 2010 and Plugging the Ad Drain.)

Cablevision isn't sharing what premium it charges advertisers for the interactive component, but Kline says payments will coincide with the value those ads provide -- some advertisers are paying more for interactive spots, while others are simply using this as an opportunity to buy more spots.

"The script hasn't been written yet on how to commoditize this," he says.

Cablevision uses a proprietary system to power Optimum Select and has not publicized when it might graft in support for Enhanced TV Binary Interchange Format (EBIF), the platform the Canoe Ventures LLC MSO joint venture will use for its RFI (request for information) product, whose launch is reportedly delayed until sometime this spring. (See Cable's Canoe Heads for Scalable Waters .)

Kline said Cablevision is fully supportive of Canoe. "We want to see them succeed," he said. "They'll be rolling out some new products soon, and [we] hope to support those as well."

— Jeff Baumgartner, Site Editor, Cable Digital News