It's been almost six months since I introduced the idea of "New IP": next-generation technology that enables the creation of more flexible, more scalable virtualized IP networks.
Since then, I'm happy (and relieved!) to say that the concept has achieved some significant traction: A number of other industry and business publications have started writing about New IP, including the Huffington Post; our community focusing on the topic has grown to several thousand members (and won a bunch of awards; and the term even has its own entry on Wikipedia.
All of this momentum made the jump from Internet activity to real-world interaction last week in San Jose when Light Reading hosted the first conference dedicated to the subject of New IP.
It drew an almost ridiculously prestigious line-up of speakers/attendees; including speakers from three of the four largest IP routing companies in the world; a Who's Who of the service provider industry; and one of the four Founding Fathers of the Internet. Oh, and San Jose's newly minted mayor popped in as well (Mayor Sam gets my vote, incidentally; he's a cool, smart, elected official who "gets" the importance of technology).
What's going on? Why so much interest in New IP?
Well, as excited as I was when I first unveiled the concept, it turns out that New IP carries yet more significance than even I had thought.
With the benefit of another six months of analysis and feedback from LR users, I've come to realize that New IP has the potential to unify the communications business in an unprecedented way -- completely doing away with the traditional demarcations; those labels, like "enterprise" and "telecom" that we have used for the past 40 years. But the New IP is actually bigger even than business. Like another hugely important tech that Light Reading is digging into right now, 5G, I believe New IP has the potential to change the world, by fundamentally advancing what it is possible for people to achieve with communications.
Let's review the extraordinary benefits delivered by New IP.
Unification
As we all know, today's communications ecosystem is incredibly complicated, but it will be held together, and given consistency, by New IP, which will be the lingua franca that underlies and binds all of the components of this taxonomy together.
It won't matter if you are videoconferencing from a 5G handset, sending email over a G.fast Internet connection, pulling analytics information from an IoT-enabled automobile, or speaking to someone in Africa via solar-powered drones circling the world at 65,000 feet -- the protocol used in these connections will be New IP.
If you need a metaphor for why a ubiquitous protocol is important look no further than the European Community. It's a great example of what we don't want to happen in the communications industry; an economic model that should work really well but doesn't work at all. Why? Politico-cultural differences, sure, but principally the fact that everyone speaks different languages (especially the English, who just shout loudly in the hope that everyone will understand what they are saying). In our global communications community, New IP eliminates those problems.
Innovation
A consistent comment that I heard verbatim from both of the CEOs that I interviewed on Light Reading recently is that the winners in our industry will be those that can maintain "speed of innovation." (See CEO Chat With Doug Ranalli, NetNumber and CEO to CEO: Jay Samit, CEO, SeaChange.)
Well, as we know the New IP will allow service providers to innovate at unprecedented speeds on a global level. Developing, trialing and deploying gigabit digital applications that used to take months or years will now be done in weeks, maybe even days.
This should give telcos the ability to start acting much more like their OTT competitors (Amazon, Facebook, Disney, and so on) and it should also hand greater control and flexibility to a service provider's customers, who will be able flex services and applications without having to reach out to a service provider and wait for a response.
Monetization
Clearly, the New IP isn't just about the ability to communicate… for the companies that attended the event last week in San Jose it's about how you make money from communications.
But in order to do that New IP networks must be enhanced with an array of new adjunct capabilities; embellishments, if you will. In other words, IP needs to be up-skilled.
We need to be able to analyze the traffic; we need to integrate the network with OSS/BSS; above all, we need to make it secure.
So what we're doing, as an industry, is taking something that was originally really quite elegant, and simple, and we're building on it, and extending it. And that is ambitious and essential, and non-trivial, it's risky and this, incidentally, was the main reason why I threw the event last week (and 200 executive types showed up) -- to establish what needs to be done, who needs to do it, and when we can expect it to happen.
Metamorphosis
New IP also has the power to both break down the traditionally inviolable hierarchy that has existed between different types of service provider, and their customers.
For the past 35 years the telecom industry has been built on a layer cake of attitude, and perception, and aspiration.
Below are some of those layers, arranged in a completely unscientific way, according to conventional wisdom, with companies that are generally perceived to be the most innovative, with the cultural values required to succeed in the digital age, at the top.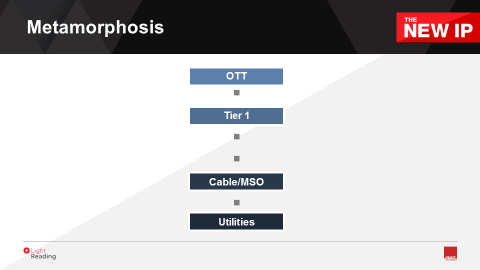 There's a serious case of what you could call "peering envy" between the companies at different layers, the most obvious example being Tier 1 operators, who are desirous of OTTs' ability to develop and deploy and monetize content-driven applications. (Of course, the OTTs, in turn, envy the Tier 1's rights of way and trust-based customer relationships; they just won't admit it).
Personally, I think there are a few problems with the conventional wisdom. For one thing we are already seeing some players defy expectations with their ability to re-invent themselves.
Talking last week to Carol Wilson, Light Reading's Editor at Large, she pointed out that if, five years ago, someone had predicted that AT&T and NTT would be taking the leadership role in defining and deploying virtualization, acting in a more aggressive way than Verizon, no one would have believed it -- but that's exactly what has happened.
But the biggest problem with this view of the world is that New IP is about to completely explode it. All of these definitions, and attitudes, and, indeed, perhaps, prejudices, about who should do what in communications will eventually be washed away by the impact of New IP, which enables a new world order of communications providers whose genesis may have been in any one of a dozen industries but whose future is defined by the same thing: their ability to deliver what customers want using a common New IP tool set.
Competitive market
That will level the playing field, and creates an unprecedented competitive situation where a utility or municipality, or maybe an automotive company, or a financial institution, or an entertainment giant, can actually leapfrog the incumbents.
The media has been talking about convergence of networking markets for a long time -- certainly since the 90s -- but usually in reference to the blurring of enterprise and telecom markets. What I'm talking about is hyper convergence… resulting in a next-generation communications market where the winners are be dictated as much by culture and innovation, as they are by legacy customer base and infrastructure.
And this is, incidentally, the direction Light Reading is taking. We are currently and inexorably going through a process of transition from telecom community to next-generation communications community (and incidentally, you could see this with your own eyes last week at the event, which included attendees from companies such as Lockheed Martin, Visa, PG&E, and General Motors… not Light Reading's traditional demographic at all).
Another symptom of this metamorphosis is the free exchange or migration of employees between different types of organization in the stack, a trend first predicted by Christine Heckart, CMO of Brocade, last year, when she told me that telcos would hire DevOps staff from enterprises to help them develop and deploy content-driven applications seamlessly over IP -- a clear example of metamorphosis.
Risks
I'm a big believer in the free market economy -- it's why I moved to America and became a citizen (so now you're stuck with me… hahaha). And I believe this new and innovative IP communications economy is good for everyone on the planet. Ubiquitous, high-speed, secure networks, carrying innovative and vital applications and services, driving productivity and profit on a global scale… what's not to like?
But that doesn't mean there aren't a bunch of potential issues that could stymie an IP utopia. Here are some of them (if you have others, please suggest them on the message board):
The US government could get involved -- never a good thing.
One company could emerge as a de facto and undisputed leader of the New IP market. This is more likely than Federal meddling, but would be equally dire (unless that company is Light Reading of course; in which case, fine). Actually, in all seriousness, Google is the one to watch out for here (don't be evil, indeed, Google peeps).
The industry standards work could splinter, resulting in incompatible solutions. Personally, I'm optimistic that we all learned our lessons from the frankly absurd internecine fights the industry witnessed over 100VG-AnyLAN/100Base-T etc. in the 1990s.
Wall Street's focus on quarter-by-quarter results could put a damper on innovation by punishing companies willing to try and fail, fast, but then use that experience to improve.
Cyber security problems could stymie New IP service rollouts. This is clearly the biggest real world concern right now, a fact reinforced by the results of a survey of 400 service providers conducted by Heavy Reading on behalf of Cisco and Brocade in December last year, which showed that security was far and away their biggest concern when it came to the future of their networks and the businesses that rely on them.
So this is important stuff -- not just another acronym-laden tech debate, at all.
And I thought last week's Light Reading event was a great step towards understanding New IP, and what needs to be done in order to realize its revolutionary benefits.
And yet, we're just getting started, aren't we? A huge amount of work has still to be done, and you can expect Light Reading, and its sister site The New IP to cover this topic exhaustively with the help of service provider network architects for the foreseeable future. And, New IP will be the primary focus of our Big Telecom Event in Chicago, in June.
I hope you can join us for that. It's not often that you get to be part of something truly historic -- as we become the first to define and understand a technology that will give rise to a new era of communications that will redefine the global economy.
Also, it's nice when you throw a party and all the cool kids turn up!
— Stephen Saunders, Founder and CEO, Light Reading