Juniper bullish on cloud, enterprise despite cracks in supply chain
Juniper Network's enterprise business experienced a "record performance," and Q4 2022 was the second-highest revenue quarter for the cloud segment, executives said in a financial earnings call with analysts on Tuesday.
The networking company reported that its enterprise business grew 32% year-over-year (YoY) in Q4, and the cloud business increased more than 14%. But the oft-struggling service provider segment declined 8% YoY for Q4.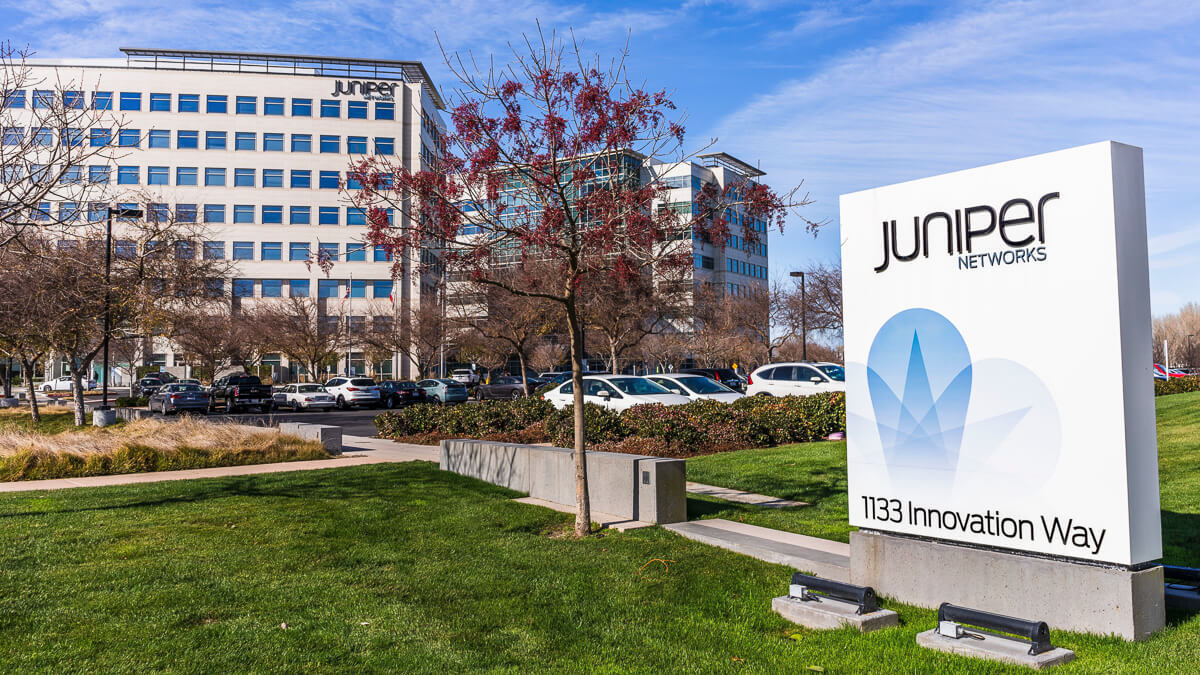 For the full year, Juniper's enterprise business was the largest vertical, growing at 21%. The cloud business increased 13% and the service provider segment grew 3% YoY for 2022.
"The Enterprise growth and forecast stood out and contrasts with recessionary worries that have weighed on sentiment," reported Simon Leopold, managing director for Raymond James, in an email update.
Mist AI revenue reached $500 million in 2022, up from about $300 million the previous year.
Overall, Juniper brought in a revenue of $1.45 billion in Q4 2022, which was an increase of 11% YoY, up 2% over Q3.
For its 2022 fiscal year, Juniper reached $5.30 billion in revenue, which was a 12% growth over 2021. Juniper's capital expenditures reached $31.7 million in Q4, up nearly 33% from $23.9 million in Q3.
Notably, revenue in Q4 was $30 million less than forecasted by analysts at Seeking Alpha, who predict Q1 2023 revenue to reach $1.34 billion.
Juniper has a backlog of $2 billion in orders, an increase of $200 million YoY and "well above historical levels," said Juniper CEO Rami Rahim.
Total customer orders down
However, total orders declined over 20% YoY.
"This moderation in total orders was primarily driven by a normalization of buying patterns amongst our Cloud and Service Provider customers," Rahim explained. "This follows a year in which many of these accounts placed multiple quarters of demand in advance of knowing requirements to account for extended lead times."
Rahim added that he expects this diminished buying trend to continue through the first half of 2023 as orders placed in previous quarters are now shipping out to customers.
Raymond James' Simon Leopold echoed this sentiment about declining orders, saying his firm attributed the decrease to "a normalization process as the supply chain improves."
"Juniper stands out from other vendors in the service provider vertical in that Juniper's business is not facing inventory absorption by its customers; this implies that orders should pick up when backlog normalizes," said Leopold.
Juniper continues to feel the strain of supply chain shortages and increased component and shipping costs, which "are expected to moderately improve in 2023," according to CFO Ken Miller. He said the company has increased its forecast of a 7% rise in revenue for 2023 to an increase of 8%.
Analysts with Rosenblatt Securities expressed concern that the reduction in orders may have a negative impact in the long-term.
"We think better reported near-term results may come at the expense of future years since we are concerned about the new order rate," said Mike Genovese, managing director and senior research analyst for Rosenblatt Securities, in an email update to subscribers. "To us, it looks like SP and Cloud customers are cutting orders faster than Juniper's lead times are coming down, and this appears like a net negative for total future growth."
Juniper banks on 400G for the win
However, Juniper's CEO remains positive about growing demand for 400G services among service provider and data center operators.
Rahim reported "more than 100 new wins across wide area and data center use cases since our last quarterly update" and said 400G services are critical to customers' ability to increase network bandwidth, improve power efficiency and more cost-effectively operate their networks.
He also stressed Juniper's increased focus on a "software-centric" business model.
"We continue to make progress transitioning our business to a more software-centric model," he said. "This includes transforming more of our perpetual offerings to term-based licenses, introducing more ratable subscription offerings and training our sales organization to better monetize the value of our software stack."
In Q4, software and related services revenue reached $305 million and increased 26% YoY, which is 21% of Juniper's total sales. Total security revenue was $169 million, an increase of 5% YoY.
For all of 2022, software and related services revenue was $994 million, up 31% YoY, but security revenue was $629 million, down 4% YoY.
Juniper's board approved a 5% increase in quarterly cash dividends to $0.22 per share for stockholders.
Related posts:
— Kelsey Kusterer Ziser, Senior Editor, Light Reading
PARTNER PERSPECTIVES
- content from our sponsors