Also in today's EMEA regional roundup: Ericsson and MTS test LTE Broadcast in Russia; BT starts more G.fast trials with AlcaLu; Deutsche Telekom tackles the cell edge.
Telefónica has hooked up with a number of security specialists to bolster its line-up of offerings for the security sector. Its specialist division, ElevenPaths, has signed agreements with Alien Vault, BlueCoat, Intel Security, Palo Alto Networks, RSA, and Vaultive. As an example of what Telefónica hopes these alliances will bring, the carrier's work with Palo Alto Networks has developed a service that, says Telefónica, can seek and destroy mobile malware.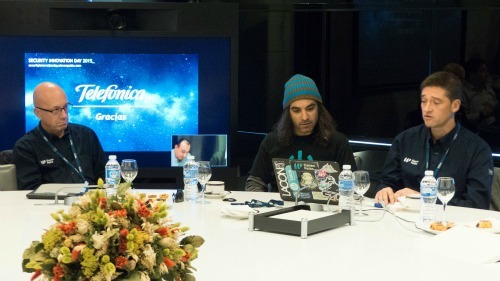 Alcatel-Lucent (NYSE: ALU) and BT Group plc (NYSE: BT; London: BTA) have begun a fresh trial of G.fast, the copper-turbocharging technology by which the UK incumbent has set great store for its broadband strategy. The trial is taking place in Gosforth, a suburb of the north-eastern city of Newcastle, and will cover up to 2,000 homes, and it follows a similar one carried out in Norfolk earlier in the year. AlcaLu and BT are hoping to see downlink speeds of up to 330 Mbit/s achieved in the trial, which will last for six to nine months. (See BT Updates on G.fast Plans and BT Gets G.fast Confidence Boost From Trials.)
Sweden's Ericsson AB (Nasdaq: ERIC) claims to have carried out Russia's first live trial of LTE Broadcast technology in partnership with Mobile TeleSystems OJSC (MTS) (NYSE: MBT), the country's biggest mobile operator. LTE Broadcast is regarded as a more efficient means than 4G unicast streaming of providing video content to customers, and could be especially useful when delivering services to large numbers of customers clustered in small areas, such as at live sporting events. The trials were carried out at MTS facilities in Nizhny Novgorod and used processor technology from Qualcomm Inc. (Nasdaq: QCOM). Ericsson reckons that 50% of Russian consumers watch TV and video on their smartphones and that 37% have expressed a willingness to pay for HD-quality video services. (See MTS, Ericsson Conduct Live Trial of LTE Broadcast and EE to Trial 400 Mbit/s 4G, eMBMS at Wembley.)
Deutsche Telekom AG (NYSE: DT) says it has successfully deployed Inter-Sector MIMO (IS-MIMO) to bring better performance to the cell-edge area and improve the overall LTE-A customer experience in the town of Lingen by 50%. IS-MIMO is a technology jointly developed by DT and Samsung Corp. to address the issue of limited throughput at the cell edge.
Namibian operator Paratus Telecom has deployed Infinera Corp. (Nasdaq: INFN) 's TM-Series packet-optical platform for its metro network in the city of Windhoek. The platform provides Paratus with an optimized 10Gbit/s transport capability, upgradeable to 100 Gbit/s. (See Paratus Telecom Deploys Infinera Metro Gear.)

— Paul Rainford, Assistant Editor, Europe, Light Reading