Also in today's EMEA regional roundup: Vodafone powers smart streetlights with Philips; Liquid Telecom broadens connectivity in South Africa with new hub; Ofcom points to the power of the disruptor.
Vodafone Group plc (NYSE: VOD) is looking bolster its enterprise security offer with the launch of Vodafone Enterprise Security Services (VESS), a new business unit dedicated, as its name suggests, to cybersecurity advice and support. Security services are hot stuff at the moment -- only yesterday Deutsche Telekom AG (NYSE: DT) was touting its new public cloud, which it claims trumps the services offered to enterprises by its US rivals in terms of security. (See Eurobites: Deutsche Telekom Launches Public Cloud.)
Separately, Vodafone has struck an agreement with electronics giant Philips, under the terms of which the UK-based mobile group will become Philips's managed connectivity partner for the Internet of Things worldwide. The agreement is intended to enable city authorities to implement wirelessly connected "smart" street lighting systems, with every connected street lamp containing a Vodafone M2M SIM.
Liquid Telecom is doing its bit for connectivity in emerging markets by opening its second 'satellite' hub, at the Teraco Data Centre in South Africa. The hub, which will offer customers speeds of up to 50 Mbit/s, represents an investment of US$3.5 million by Liquid Telecom.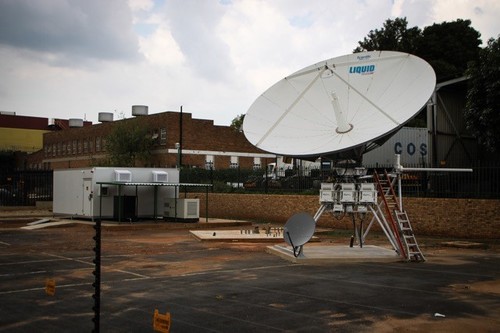 UK regulator Ofcom has produced a report that it says shows that in countries where a "disruptive" mobile player operates, prices tend to be lower by between 10.7% and 12.7% compared to countries where no such disruptor exists. Ofcom says its analysis also shows that in countries where there are simply a greater number of players, prices are lower by between 7.3% and 9.2%. The analysis compared mobile prices across 25 countries between 2010 and 2015. Ofcom has already voiced its opposition to Hutchison Whampoa Ltd. (Hong Kong: 0013; Pink Sheets: HUWHY)'s proposed acquisition of Telefónica UK Ltd. (O2), so the findings of this study are perhaps not that surprising.
And, on the subject of the 3/O2 deal, the Financial Times reports (subscription required) that Hutchison has sought to assuage competition concerns about the planned acquisition by pledging to allocate around 30% of capacity on its network to help rival operators, or possibly to a single rival, on a permanent basis. (See Hutchison Offers Major Concessions to Seal 3/O2 Deal.)
Telecom Italia (TIM) has put ADVA Optical Networking 's ROADM technology to work throughout its most significant metro deployments, offering capacity of up to 100 Gbit/s to every major Italian city.

— Paul Rainford, Assistant Editor, Europe, Light Reading