NaaS startup Graphiant grabs $62M in funding
NaaS startup Graphiant grabs $62M in funding
Founder and CEO Khalid Raza said industry interest in Graphiant's network edge service 'has been much faster than what we saw with MPLS at Cisco or SD-WAN with Viptela. Graphiant has hit a nerve.' Network-as-a-service (NaaS) startup Graphiant brought in $62 million in a Series B funding round today to reach total funding of $96 million.
This funding round was led by Two Bear Capital and included participation from Sequoia Capital, Atlantic Bridge, Harpoon Venture Capital Partners and more.
Founder and CEO Khalid Raza said industry interest in Graphiant's network edge service "has been much faster than what we saw with MPLS at Cisco or SD-WAN with Viptela. Graphiant has hit a nerve."
Figure 1: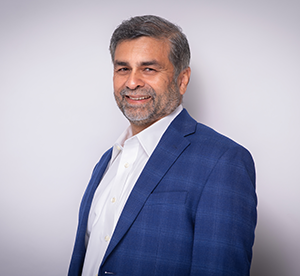 Graphiant founder and CEO Khalid Raza.
(Source: Graphiant)
Raza was previously CTO and co-founder of SD-WAN supplier Viptela, which was acquired by Cisco in 2017 for $610 million. Raza and several other Viptela executives took positions with Cisco after the acquisition, later reuniting to form Graphiant.
Graphiant exited stealth mode last September. During a Series A round of funding in December 2020, the startup pulled in $33.5 million from Sequoia Capital and Two Bear Capital with participation from Atlantic Bridge.
Private NaaS platform
In response to new network connectivity demands from the distributed workforce and cloud applications, Graphiant has created a private NaaS platform that combines the best features of MPLS and SD-WAN, said Raza. Graphiant's software can be deployed via x86 white boxes.
"We are pure x86-based, so anybody who has an x86 box can either spin up our Graphiant software, or since we don't sell custom hardware, we have certified certain x86 boxes and that expansion is very interesting from Intel's perspective," said Raza. "…With our Stateless Core, we can spin it up in a location like an Equinix, where they have bare-metal-as-a-service. As long as it's an Intel box, we can spin it up."
Over a private network, Graphiant "combines the performance and security of MPLS with the agility that is only attainable with 'as-a-Service' delivery," said the company. Graphiant said it connects enterprises to their own resources, public clouds and to other businesses, partners and customers.
Gartner's Andrew Lerner explained Graphiant's approach as SD-WAN over a private backbone, which is similar to the way Cato Networks and Aryaka approach SD-WAN.
"Unlike traditional SD-WAN where the device sits at the edge and either drops traffic directly out the underlay or puts it into an overlay (and tunnels to a headend device), the Graphiant solution utilizes a private backbone as part of its service," said Lerner.
Since last September, Graphiant has launched deployments with several enterprise customers, deployed the Graphiant Stateless core in North America, announced a technical partnership with Intel and launched the Graphiant G-Force Partner Program.
'Unexpected' customers
Graphiant sells to enterprises via its channel partners, which include systems integrators, value-added resellers and service providers, via the Graphiant G-Force Partner Program. Matt Krieg, GTM Leader for Graphiant, said the company initially imagined that service providers would be competitors and has been happily surprised to receive telco interest in delivering Graphiant as a managed service to enterprise customers.
"The product and service is done, and we're seeing great traction in the enterprise and a surprising direction in the service provider market," said Krieg. "When we came out of stealth, we thought a lot of service providers would see us as a competitor."
Graphiant views healthcare organizations, financial services, retail and manufacturing as its sweet spot for enterprise customers.
"Seeing large service providers also enthusiastically partner with Graphiant has been unexpected and significantly boosts the company's potential for massive and positive impact on the global WAN market as a whole," said Mike Goguen, founder and managing partner at Two Bear Capital, in a statement.
Krieg added that Graphiant plans to invest the new funding in further supporting its channel program, partnerships with service providers and resources to provide additional support for enterprise customers.
Graphiant hasn't yet named its service provider partners or enterprise customers, but Krieg said that those companies will be announced later this year.
Related posts:
— Kelsey Kusterer Ziser, Senior Editor, Light Reading
Subscribe and receive the latest news from the industry.
Join 62,000+ members. Yes it's completely free.
You May Also Like
---