Spotting the losers in satellite D2D
After years of hype and buildup, the battle lines are finally becoming clear in the "direct-to-device" satellite market (D2D, for those in the know).
Now, it's time to start looking for the companies that will be cut from the herd because it's likely that few will be left standing.
I'm not the only one who feels this way. "I think there'll be a number of players that will play there," said Dish Chairman Charlie Ergen during his company's recent quarterly conference call. "There'll be a number of players that will fail. And there's certainly room for one really, really good system."
But which companies will emerge from the scrum? Will it be longtime satellite operators like Globalstar and Iridium that already have a toe in the market with their existing satellites? Will it be satellite veterans like EchoStar and Viasat that might use their spectrum holdings to build new satellite networks for phone-to-satellite connections? Will it be a crop of upstarts – SpaceX's Starlink, AST SpaceMobile and Lynk Global among them – that hope to connect satellites to phones via terrestrial network operators' spectrum holdings? Or will it be out-of-left-field candidates like Omnispace and Ligado Networks – which recently announced a teaming (but not a merger) – that hope to reboot their satellite spectrum holdings into the D2D opportunity?
The truth is that no one company has a dominant position. Each might fall by the wayside, either through bankruptcy or acquisition.
And that's partly because it's still unclear how much money the phone-to-satellite market will generate.
A technology in search of revenues
"Desperately niche" is how my colleague Iain Morris described Apple's iPhone 14 satellite-messaging service. After all, satellite vendor Globalstar said it expects revenues of just $230 million this year from its phone-to-satellite agreement with the world's richest company.
That's roughly in line with what analysts expect from Iridium's agreement with Qualcomm for satellite connections for Android phones.
But that's just the start. After all, some analysts have called D2D the "largest opportunity in Satcom's history."
Some aren't so sure. After all, according to data from OpenSignal, mobile users in the US spend roughly 1% of their time disconnected from cellular signals. How much extra will they pay to stay connected for that last little bit of the day?
Early providers in the space don't think they'll want to pay anything extra, at least initially. Apple offers two years of emergency messaging for free, while Bullitt offers one year. T-Mobile officials have said they plan to add SpaceX's D2D feature into the operator's more expensive service plans.
So, there's some D2D money out there now, but it's probably not much.
Bullitt appears to be the first company willing to test out demand for the service beyond free, emergency situations. For example, the company is charging around $5 per month for 30 phone-to-satellite messages on its newest satellite-capable phones. It also this week released a $100 Bluetooth accessory that can connect to any phone to give it satellite messaging capabilities. A year of service, supporting 30 messages per month, will cost $150.
There are around 7 billion mobile users worldwide, but presumably, a very small percentage would pay extra for satellite messaging services regularly. Analysys Mason predicts around 8 million monthly D2D users by 2031.
"The messaging market will remain modest in size," wrote analyst Tim Farrar with TMF Associates.
"I think everyone has been premature to call this a multibillion dollar market," Iridium CEO Matt Desch told me during a recent interview. "You really have to ask, 'What is a person willing to pay for a certain level of service?' ... That is still very, very unclear."
However, he agreed that the technology is new and exciting, and it's unclear how big the market might grow.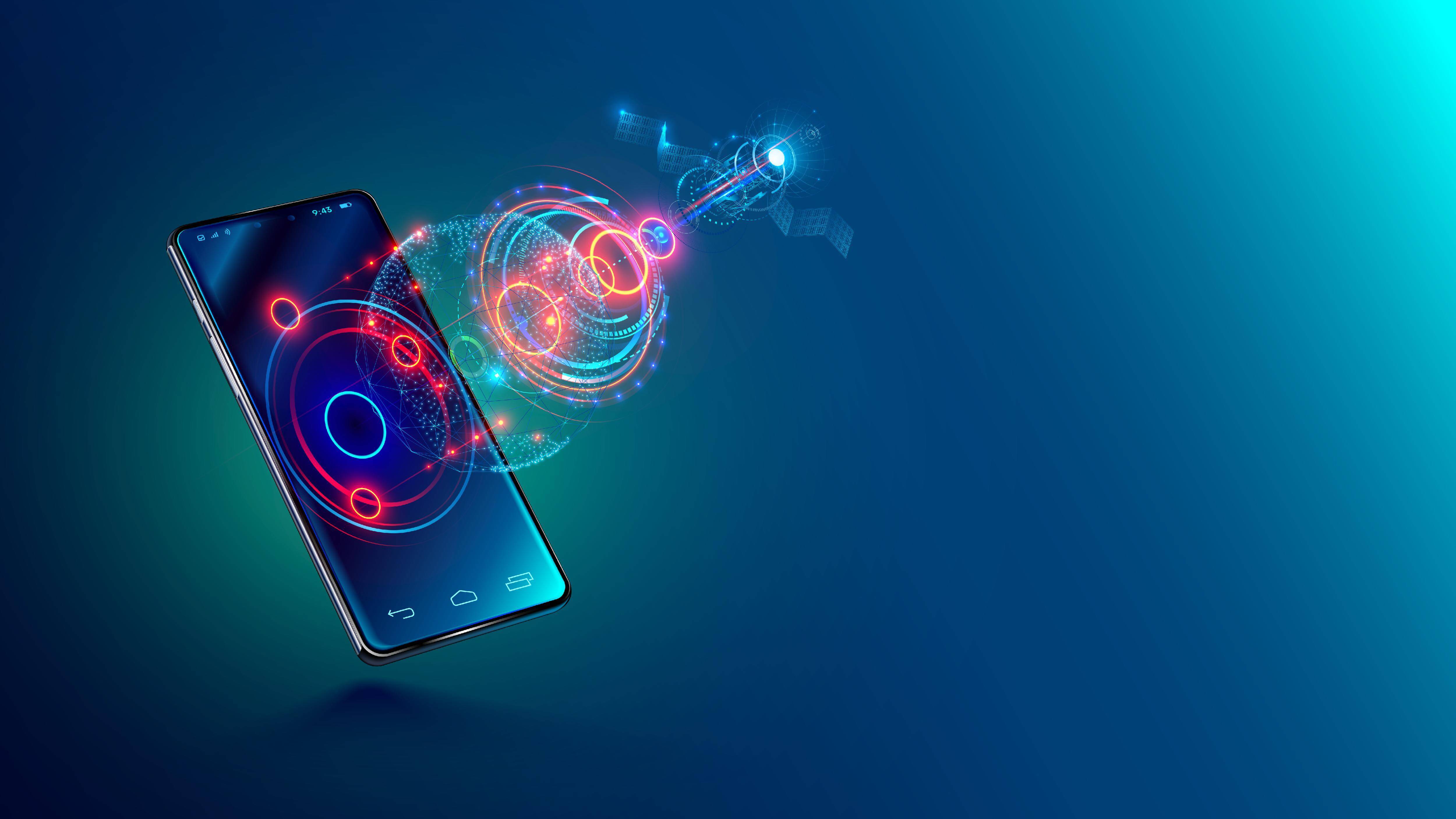 Ambitions and limits
Part of the reason the size of the D2D market is hard to nail down is that it might grow far beyond simple messaging.
For example, Samsung said its new Exynos-based satellite services "will support two-way text messaging as well as high-definition image and video sharing."
"A true wideband system, which will have a natural use of your smartphone similar to what you would use on a terrestrial network, is what our ambitions are," said EchoStar CEO Hamid Akhavan during his company's recent quarterly conference call. "And I think that's where the game-changing capability will come. That is still a few years away."
Again, though, there's some skepticism around that, at least in the short term. "The expectations in terms of performance are clear: satellite direct-to-device solutions will not be able to match terrestrial performance or even traditional satellite links," wrote analyst Lluc Palerm with Analysys Mason.
Desch, with Iridium, agreed. "There will never be enough capacity from space to replace terrestrial systems," he said. "There is just not enough spectrum and satellites in space."
He added: "It's really for rural connectivity."
But that's not stopping some companies from promising more. "The offering will have enough bandwidth to go beyond emergency satellite texting by offering ubiquitous roaming mobile coverage with two-way voice, messaging and data capabilities," Omnispace and Ligado wrote of the network that could be built with the combination of their respective spectrum holdings.
Should mobile operators worry?
Should existing mobile network operators be concerned if D2D services mature and coverage becomes speedy and ubiquitous? After all, mobile operators have already invested billions of dollars into the spectrum and towers necessary to cover most cities and highways across the globe.
According to Palerm, with Analysys Mason, operators shouldn't feel threatened. But they should pay attention. Mobile network operators "need to decide how to best use these technologies while prioritizing some use cases (such as an enhanced customer experience, IoT, enterprise, first responders, etc.) and optimizing infrastructure investments, particularly for reduced capex and opex for ultra-rural deployments," he wrote.
Desch feels mostly the same way. He said a full-blown 5G satellite network – adhering to the 3GPP's Release 17 and 18 packages of specifications – will eventually be built. But he said it might take 5-10 years for industry players to do so. "It always ends up taking about 3-5 years longer than anyone projects," he said.
But such networks will always remain a backup to terrestrial operations rather than a competitor, he argued. "We're complementary and not in any way a replacement," Desch said.
After all, he said, few of the D2D players of today will be around in 5-10 years.
Getting the money
The real issue, according to Desch, is that it's very expensive to launch satellites. And each of the market's D2D players want to launch a lot of satellites. For example, Lynk alone hopes to eventually operate 5,000 satellites. That's slightly less than double the number of satellites that SpaceX's Starlink operates today.
And raising money for satellite launches isn't easy. "Investors aren't killing each other to invest in those new networks," Desch said. "The capital requirements in space are massive."
Some have managed to do it. "We have funding commitments from both existing shareholders in Rivada and some new investors, which are sufficient to meet our obligations," Rivada Networks CEO Declan Ganley told SpaceNews of the company's plan to launch 300 satellites by 2026. Ganley declined to name those investors.
Other companies will undoubtedly struggle to convince investors to finance their race to space. And their fundraising efforts have been made undoubtedly more difficult by the relatively minuscule sums squeezed out of behemoths like Apple for such services.
Interestingly, there's one source of funds that hasn't yet materialized: mobile network operators themselves. After all, satellite-based D2D services could allow operators to cover vast geographic areas without building expensive cell towers in rural areas.
Already, some operators have signaled their interest in such services. T-Mobile's CEO held a major media event with Elon Musk's SpaceX last year. More recently, top AT&T officials spoke glowingly about AST SpaceMobile's plans. But there's so far little indication that these operators are putting their money where their mouths are.
A final niggle: regulatory approvals. Companies like Iridium and EchoStar can offer satellite connections to phones without any additional federal permissions. But companies like AST SpaceMobile, SpaceX and Lynk will need the FCC to sign off on their plan to use terrestrial operators' spectrum for D2D. The FCC just this week floated a proposal to allow such connections.
But the FCC's approval process may not be smooth or easy. Just ask Ligado, a company that traces its corporate lineage to LightSquared – backed by billionaire investor Philip Falcone – that launched in 2010 with a plan to build a nationwide LTE network. That plan fell apart a few years later when the FCC ruled that the proposed network would interfere with GPS signals. Following Ligado's rise from LightSquared's ashes in 2015, the FCC reversed its opposition and approved Ligado's plans. But interference concerns still hang over the company today, with no clear end in sight.
Related posts:

— Mike Dano, Editorial Director, 5G & Mobile Strategies, Light Reading | @mikeddano