Samsung Corp. and Nokia Corp. (NYSE: NOK) both announced new lines of mass-market smartphones on Wednesday, Samsung with a new naming convention and Nokia with an updated operating system and embedded Near-Field Communications (NFC) functionality.

Nokia's three new smartphones, the 600, 700 and 701, will be powered by its Symbian Belle OS, the latest update following Anna. In addition to a six-screen, customizable, widget-based home screen, the phones are among the first to sport NFC embedded in the OS for device-to-device sharing and mobile payments. (See Nokia Asks Anna to Save Symbian and Symbian 'Anna' Update Released.)

Nokia is marketing the 600, 700 and 701 as the loudest smartphone for music lovers, its smallest smartphone yet and the one with the brightest screen, respectively. The devices range in cost from €180 to €290 before carrier subsidies.




In its own device soiree Wednesday, Samsung unveiled four Android 2.3-based Galaxy smartphones, the Galaxy W, Galaxy M Pro, Galaxy Y and Galaxy Y Pro. These handsets are the first under the handset maker's new naming convention for its Galaxy lineup, which also includes the S and the R. S stands for Super Smart, R for Royal, W for Wonder, M for Magical and Y for Young.

Magical and Young smartphones are both targeted at a younger, budget-focused audience, while S is the cream-of-the-crop. Samsung will also use "Pro" to indicate a qwerty keyboard, "Plus" for a device upgrade and "LTE" for its future 4G phones.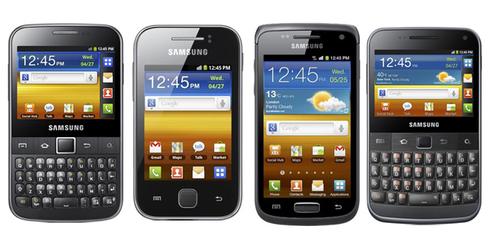 Why this matters
Nokia is continuing to breathe life into its dying Symbian lineup as it awaits its transition to Windows Phone, slated for early next year. It has already abandoned the OS in the U.S., but is still leaning on it in emerging markets. Here, budget-friendly phones will be paramount, although Nokia will also have to step up its game in the ultra-low-cost feature phone segment, which declined 16 percent year-on-year in the second quarter. (See Nokia Kills Symbian in the States and Analyst: Nokia Faces Low-End Threat.)

Nokia's addition of NFC could also prove to be important in building the market for the contactless tech. Right now, it's been stymied by a lack of demand and business case. (See Who's Holding Up NFC? and Here Come the NFC Phones.)

For Samsung, the new devices add to its steady stream of Android smartphone releases and reiterate how important the OS is to the handset maker. Missing from the list of new launches, however, is the Galaxy S II, which has been successful in Europe and is expected to make a U.S. debut as soon as next week. (See Handset Makers Air Patent Grievances and

MWC 2011:

Samsung Revisits the Galaxies.)

For more
Read up on Samsung and Nokia's very different growth trajectories below.



— Sarah Reedy, Senior Reporter, Light Reading Mobile