The fact that the undersea cable building boom has ground to a screeching halt may seem like old news, but according to a new TeleGeography Inc. report out last week, the construction of large-scale submarine fiber connections only recently ended (see Submarine Market All Washed Up).

Maybe it's a bit like stopping an oil tanker -- once the decision to stop has been made, it can't be done quickly. At any rate, the end of the submarine cable construction craze was marked only a few months ago when Cable & Wireless (NYSE: CWP) completed its Apollo transatlantic cable and Tyco International Ltd. (NYSE: TYC; London: TYI) completed its Global Network Pacific Ring, according to the study, "International Bandwidth 2003 Volume 1: Submarine Networks" (see Tyco Completes Pacific Ring).

"There's not much news to report," says Alan Mauldin, the TeleGeography analyst who authored the report, pointing out that the sector is still plagued by massive over-capacity and dwindling demand. "But finally there are no more cables being built… at least along the major routes… There won't be anything there for a while."

Mauldin doesn't expect that anything will be built along the Atlantic or Pacific routes until at least 2006.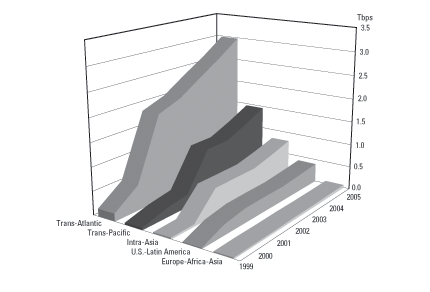 Building projects may have continued after the bubble burst, but the amount of cash going into them has been shrinking dramatically over the past two years. In 2001, $13 billion went into new submarine cable builds. Last year, that number was down to $3.4 billion, and this year a mere $1 billion is scheduled for new submarine cable construction worldwide.

"There's been a shift to a more conservative business model," Mauldin says. "Now you only build when you really know you need [the capacity] for sure."

This is good news in a sector where many once high-flying companies like 360networks Inc., Global Crossing Holdings Ltd., and Flag Telecom Group Ltd. (OTC: FLHLQ) were forced into bankruptcy following massive builds that were never met with commensurate demand (see 360networks Calls It Quits, GlobalX: The Burst Bubble and FLAG Files Chapter 11).

While the end of large builds offers a small shimmer of hope that some of the disequilibrium between capacity and demand in the sector could be evened out, Mauldin warns that it is still very rough sailing ahead. The demand is simply not great enough, he feels, for any of the players in the sector to make a profit.

"There is demand. The problem is that it's not growing at a fast enough rate… It's a losing battle."

Although submarine bandwidth purchases did increase by 30 percent in 2002, that number is down from the 200 percent annual growth rate the sector had experienced for the past several years.

And while demand is dwindling, prices continue their breathtaking dive on most major routes, having fallen by more than 95 percent since 1998, the report states. Strangely, however, companies like 360Networks and Flag emerging from bankruptcy have not, as was widely anticipated, been the most aggressive price-slashers, Mauldin says (see 360networks Comes Out of Chapter 11 and FLAG Emerges From Chap. 11). "That's not what we've seen."

Overall, Mauldin says, it looks as though all the players are frantically seeking a way to make money, and generally lack any sort of consistent pricing strategies. "It's a mixed bag. People are all over the place and have no idea how to price from month to month."

So, which companies will survive the current chaos and anarchy of the submarine cable market? With all the bankruptcies and assets changing hands at low-low prices in the space, Mauldin says it's still far too early to tell. "I wouldn't want to pick any winners right now."

— Eugénie Larson, Reporter, Light Reading