Report: Sun Will Shine on Europe's Data Nets
European carriers are finally recovering from the hangover caused by the bubbly euphoria over the "mobile Internet" in the last few years and getting a grip on
real
data services, according to a new report from
Unstrung
's independent technology research service
Wireless Oracle
.
And --
shock! horror!
-- the operators are
actually
poised to generate some serious revenue from packet-based data services over GPRS and 3G networks, the report says. Surprisingly, the report finds that existing wireless data services such as SMS and WAP -- the good cop/bad cop team behind initial implementations of the "wireless Web" -- will help operators achieve that goal. However, while the application technology might be largely the same, the services have been reworked and they're running over networks that can supply the horsepower to drive them. The report, "European Wireless Data: Steady as She Goes," finds that the cycle of hype and despair that washed through the sector between 2000 and 2002 has run its course, leaving carriers in a more sober position to advance their next-generation data strategies. For sure, the first six months of this year was a torrid time for Europe's listed wireless operators, whose share prices fell by an average of 45 percent. But behind the scenes, operators have been working hard to overcome the commercial and technical barriers to mobile data adoption and apply the unique lessons they have learnt over the last few years from deploying two-way text messaging (SMS) systems and WAP.
In short, there is now concrete evidence that European mobile users are prepared to spend hard-earned cash on non-voice services. The report reveals that leading operators such as
Vodafone D2
in Germany or
Amena
in Spain are already generating more than 15 percent of their revenues from data services and finds that there is strong momentum behind data revenue growth across the sector.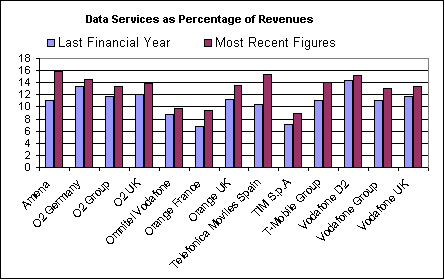 SMS does still account for nearly all non-voice revenues over currently active networks. But the report dispels the widely-held misconception that with the advent of packet-based GPRS services SMS and WAP are becoming irrelevant.
The success of premium SMS (alerts, games, chat, etc.), for instance, has been a real revelation over recent quarters and has become a great testing ground for developing service concepts that will migrate to richer, multimedia-capable networks and handsets.
Although less spectacular, page views at Europe's top WAP portal, O2 Online, have also more than doubled over the past 12 months. Consequently, says the report, carriers are well on track to reaching their self-imposed target of generating 25 percent of revenue from data by 2005. What's more, this growth in non-voice revenue has occurred against a backdrop of falling capital expenditure (capex) and subscriber acquisition costs and is therefore partly responsible for
the
wireless story of the past year and a half: margin expansion. At the top end, for instance, mature operators such as
Telefónica Móviles España
are now achieving EBITDA margins of around 50 percent, while operators in more competitive markets, such as
Orange UK
, are hitting around 30 percent. Looking ahead to 3G (UMTS) network rollout (small-scale base-station deployments are already underway in many West European markets) the report notes that operators will not abandon their new-found financial discipline. In fact, nearly every operator profiled in the report expects its capex/sales ratio to remain constant, or even decrease, through the 3G buildout phase. Similarly, operators are wary of reintroducing the hefty handset subsidies that created the boom in subscriber growth in the late nineties.
MmO2 PLC
(NYSE: OOM) and
Vodafone Group PLC
(NYSE: VOD), for instance, have indicated that they will retain regular contract customer subsidies for the new MMS phones that are just about to hit the market. Nonetheless, the report suggests that more generous incentives will likely be reintroduced for high-spending customers, once it is clear which services will be most popular, and that subsidies will help create steady, sustainable growth in the wireless data market. In conclusion, the European wireless sector is moving into a new phase of development that is characterized not just by new services, but also by a revenue-driven approach to investment that until recently was something of an alien concept in telecom.
— Dan Jones, Senior Editor,
Unstrung
http://www.unstrung.com
Editor's Note:
Light Reading is not affiliated with Oracle Corporation.
Like what we have to say? Click here to sign up to our daily newsletter
Cable Next-Gen Technologies & Strategies – Making cable faster, broader, deeper, better
If you want to know where the cable tech space is heading, we've got you covered. Join the biggest names in the industry in Denver, CO on March 14 & 15 for the latest edition of Light Reading's Cable Next-Gen Technologies & Strategies conference.
Back for a record 16th consecutive year, Cable Next-Gen is the premier independent conference covering the broadband technology market. This year's edition will tackle all the top tech topics, including 10G, DOCSIS 4.0, Distributed Access Architecture, next-gen PON, fixed wireless access, network virtualization, the Digital Divide and more
Get your free operator pass here.
PARTNER PERSPECTIVES
- content from our sponsors