The rise in technologies that allow Ethernet to travel directly over fiber or be combined with Sonet (Synchronous Optical NETwork) and SDH (Synchronous Digital Hierarchy) technologies will drive the Metro Ethernet market forward, according to a new report from Infonetics Research Inc.

The Infonetics report paints the picture of a wide range of Ethernet technologies being developed for metro markets, where an "Ethernet everywhere" push will put the technology on different media, including fiber, coaxial cable, and copper.

Sales of metro Ethernet gear were $2.5 billion in 2002 and will rise to $5.9 billion by 2006, the firm says -- increasing from 906,000 ports deployed in 2002 to 3.6 million by 2006 (see Infonetics Sees Metro Ethernet Boom). Most of that represents spending on routers and switches that run Ethernet directly over fiber, without converting it or putting it into digital wrappers. Another big chunk goes to Ethernet over Sonet or SDH gear.

While 65 percent of metro Ethernet equipment in 2002 went to plain old Ethernet-over-fiber, that percentage will drop to 55 percent by 2006. Ethernet over Sonet and SDH, 22 percent of sales in 2002, will be 17 percent in 2006.

Meanwhile, gear to run Ethernet over copper or coaxial cable (via DSL), which was just 5 percent of sales in 2002, will jump to 13 percent by 2006, says Infonetics. Gear that puts Ethernet over PONs (passive optical networks) will go from 0 to 6 percent. Resilient Packet Ring Technology gear will stay the same as it was in 2002, at 5 percent of revenues. Ethernet-over-WDM gear will go from 3 percent in 2002 to 4 percent in 2006.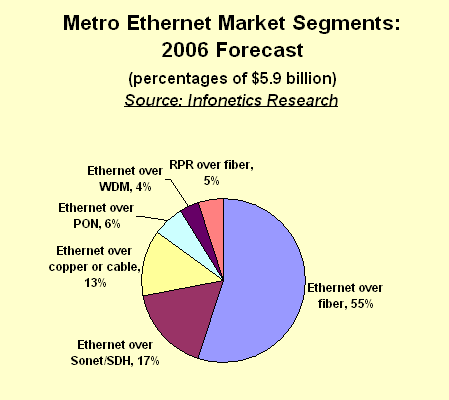 Growing diversity in metro Ethernet is reflected in segment growth rates. Most categories will grow by an average of 24 percent per year through 2006, but PON gear will grow at a whopping 195 percent through 2006; Ethernet over copper and cable equipment will average 62 percent annual growth; and WDM gear, 47 percent.

According to Michael Howard, principal analyst and co-founder of Infonetics, a key driver of these sales is and will be use of Ethernet services for access. In the Asia/Pacific region, for instance, carriers are offering Ethernet over DSL in order to pump up Internet access speeds on existing copper infrastructure. That region accounted for 42 percent of all metro Ethernet spending last year, while North America accounted for 35 percent.

Another factor in the development of the Metro Ethernet market will be 10-Gigabit Ethernet. Light Reading has just published a comprehensive report on that topic: 10-Gigabit Ethernet Switches and Routers.

— Mary Jander, Senior Editor, Light Reading