Boom. Bust.

Two little words that perfectly characterize the painful recent history of the communications chip market. Just one year ago, a perceived shortage of components drove chip manufacturers into a frenzy of production, resulting in mountainous inventories that nobody wanted. As the bubble burst -- pop! -- chipmakers wound up writing off more than $1.5 billion in excess inventory.

However, happier days will return again for the chip manufacturers and their investors -- probably next year. That's the conclusion of "Communications Chip Chaos," the latest report from Optical Oracle, Light Reading's subscription research service.

Makers of broadband communications chips should finally have sold through their current glut of inventory, and be ready to start new and profitable manufacturing cycles in mid-2002, it says (see chart). However, it cautions that some will recover from the current crisis faster than others.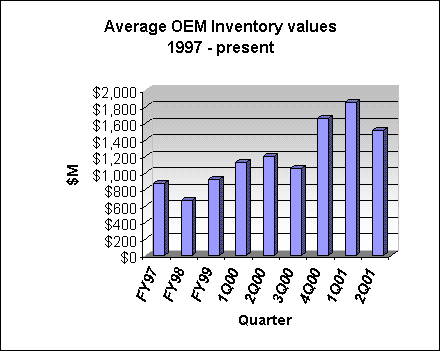 In addition to forecasting a peak of the inventory glut, the 20,000-word report delves into the financials of the top 12 public chip companies in the broadband networking sector, examining chipmakers' inventory charges, revenue declines, gross margins, and expenses to rank them by the speed at which they're likely to return to profitability.

Who's numero uno? By all measures applied by Optical Oracle, the company in this sector that's shaping up best is Broadcom Corp. (Nasdaq: BRCM).

"Broadcom has consistently garnered a premium valuation due to its solid technology, diversified markets, and strong management team," says Optical Oracle research analyst Chris Bulkey. But he cautions that the company's high valuation may cause concern about its stock performance. "We recommend paying very close attention to September quarter results," Bulkey notes. "If key performance metrics worsen, the high relative valuation creates downside risk."

The company at the bottom end of the report's ranking is TranSwitch Corp. (Nasdaq: TXCC). Reduced revenues, significant inventory writedowns, and poor visibility make the near-term outlook dire, the report says, and a history of profitability declines compel lingering concern. And while it's kept development going, the overall dollar amount spent on R&D is still relatively small.

In fact, research and development spending is a key metric when measuring any company's recovery prospects, the report concludes. According to Optical Oracle, companies that have continued to spend on product development stand a better chance of meeting future challenges than the lily-livered idlers that have waited by the sidelines for things to improve. Broadcom, Applied Micro Circuits Corp. (AMCC) (Nasdaq: AMCC), TranSwitch, and Vitesse Semiconductor Corp. (Nasdaq: VTSS) are among the chipmakers that have kept R&D a priority, despite a financial pinch.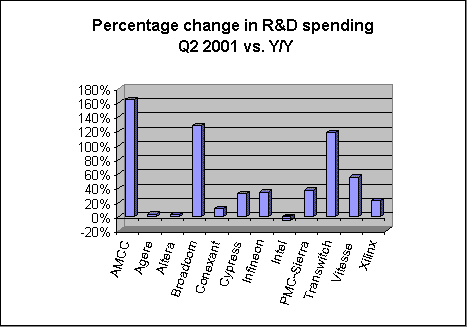 The report points out that at the peak of the inventory glut, which appears to have been in the first half of this year, the value of inventory for chip customer companies averaged well over $1 billion, and comprised an average 146 percent of those companies' annual cost of goods sold.

The good news is that there is a growing consensus that present inventory levels have peaked and now are moderating and stabilizing (see chart, below). If this proves out, it's likely that a new order cycle will commence in the second or third quarter of 2002, according to Optical Oracle calculations. The new scenario would move the industry back to a state in which the value of OEM inventory would be 95 percent of cost of goods sold, a much healthier situation (the ideal value would be 100 percent).


The report covers the top 12 public companies in depth, and it also profiles more than 60 private companies. To date, these firms have scored better than $1.5 billion in funding, and, the report posits, they focus on a range of new technology areas that will help drive the market once it renews itself.

More information about the report is available on the Optical Oracle Web site.

— Mary Jander, Senior Editor, Light Reading
http://www.lightreading.com

Editor's Note: Light Reading is not affiliated with Oracle Corporation.