Optical networking equipment is poised for a spurt of growth in 2004, according to a recent report from KMI Research. But you may need a magnifier to see the upward trajectory, and there seems to be as much gear leaving the market as there is coming in.

Worldwide sales of optical networking hardware were $10.1 billion in 2002, down 53 percent sequentially -- even lower than the 29 percent dip in 2001, the firm says. And sales will likely drop another 6 percent in 2003. Growth will resume in 2004, but on a very modest curve: Through 2007, compound annual growth for optical networking will be just 3 percent annually.

Carriers will be buying more equipment, according to the report's author, KMI analyst Michael Arden. They'll be ditching a lot of gear as well.

Sonet/SDH gear, DWDM equipment, and optical switches will all show double-digit growth from now through 2007, Arden predicts. At the same time, though, what's now called "legacy" optical networking gear will be declining. And those figures are pulling the rest down a bit.

The biggest decline will be in traditional Sonet/SDH equipment -- the kind of gear that underlies manual, laborious configuration of rings. Traditional Sonet gear will drop 36 percent and SDH gear 39 percent annually through 2007, the report states.

At the same time, the fastest growth in optical networking will take place in next-generation Sonet/SDH gear, which includes multiservice provisioning platforms and edge-aggregation equipment with automated configuration features. Next-gen Sonet gear will grow 18 percent annually through 2007, and next-gen SDH will grow 16 percent.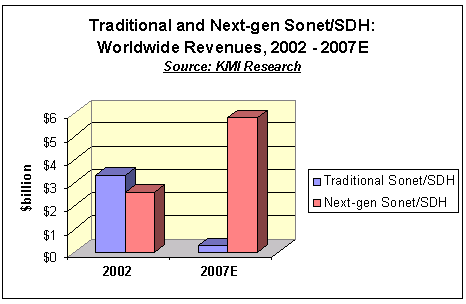 The rise and fall in next-gen versus legacy Sonet/SDH gear will be mimicked on a smaller scale in the crossconnect market, where traditional digital crossconnects will continue to decline in popularity as their functions are overtaken by optical crossconnects and next-gen Sonet boxes.

Despite these ups and downs, the overall direction is up, Arden says. "We're expecting higher growth rates in '04 and '05, as carriers start building out capacity again." They got away with holding onto their old gear a bit longer once the downturn commenced, he says, but next year will push the envelope, as demand for support of faster services, such as metro Ethernet, force them to renovate.

— Mary Jander, Senior Editor, Light Reading