Report: Internet Traffic Boom Redux

Comment (65)
Past expectations of outlandish telecom equipment revenue growth may have been banished to the land of myth, but the same should not happen to huge Internet traffic growth predictions, according to a new
IDC
report (see
Broadband Drives Internet Growth
).
The report, titled "Worldwide Bandwidth End-User Forecast and Analysis, 2003-2007: More is Still Not Enough," counters the speculations by many industry observers and news reports that Internet traffic growth has slowed down. Instead, it expects Internet traffic to nearly double every year for the next five years, with an annual compound growth rate of 96 percent.
"We noticed that people started saying that Internet was slowing," says IDC analyst and one of the authors of the report, Sterling Perrin. "But we never found any data to support that… That would really indicate an industry at a very mature stage."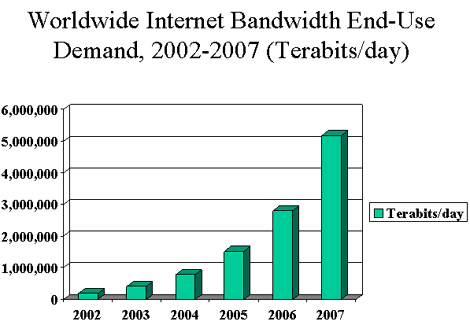 The report, which is based on IDC-generated survey data, forecasts that Internet traffic will grow from 180 petabits per day in 2002 to 5,175 petabits per day by the end of 2007. IDC compares these astronomical numbers to the mere 10 terabytes of information it says exist in the entire Library of Congress. "By 2007, IDC expects Internet users will access, download and share the information equivalent of the entire Library of Congress more than 64,000 times over every day," according to yesterday's IDC press release.
While Perrin does not forecast a new boom in telecom equipment sales for some time to come, he does say that the massive Internet traffic growth does have important implications for the sector. "The amount of capacity that's out there will at one point be depleted," he says, insisting that the need will arise for carriers to buy next-generation optical equipment that can manage the increasing traffic more efficiently and at a lower cost.
The Internet traffic growth also has implications for the kinds of network architectures we can expect to see once new builds start picking up again, according to the report. "The volume of Internet traffic is just starting to swamp the networks," Perrin says. "When they're going to build… it will have to be next-gen data-centric."
The question on everyone's minds, of course, is: When can we expect the existing capacity to be depleted and the new network builds to begin? IDC has not forecast a specific timeframe for the recovery but does say it has started seeing some stabilization in the next-gen optical market. "Anybody that has a specific date or time when that will happen is kidding themself," Perrin says, but indicates that "we are looking for some growth to return in 2004."
So what's driving all of this Internet traffic growth? Surprisingly, perhaps, new Internet users and new mobile Internet users have little to do with it, according to the report. Apparently, the rate of new Internet users signing up has started to slow, while mobile Internet use has barely taken off. Rather, consumer broadband adoption will be the real driver for Internet traffic growth over the next five years, the report states. By 2007, IDC believes that 60 percent of all Internet traffic will be generated by consumers, while business users will account for the remaining 40 percent.
"Growth is going to essentially come through the use of bigger pipes by the existing base of Internet users," Perrin says. "Particularly on the consumer side."
— Eugénie Larson, Reporter,
Light Reading