Report: Euro Capex Decline Slowing

4/25/2003

Comment (4)

Europe's carriers will spend less this year than in 2002, but the outlook is more hopeful than it was last year, according to a recent report from Infonetics Research Inc.

The firm estimates that about 79 service providers throughout Europe will shell out the equivalent of US$41.1 billion on new infrastructure and equipment in 2003. That represents a drop of 16 percent from last year's $49.1 billion, which in turn was a drop of 32 percent from 2001's level of $72.1 billion.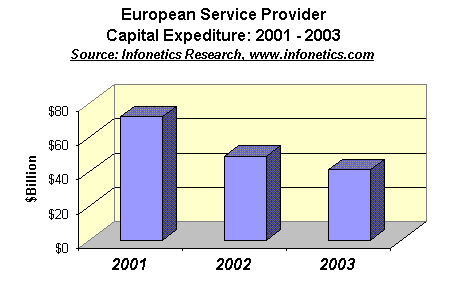 "We think the situation is stabilizing," says Infonetics analyst Richard Webb, co-author of "Service Provider Roll Call and CapEx Analysis, Europe 2003." As in North America, carriers are spending, but only where they see an assured revenue return. "We see only what carriers call 'success-based spending,' " he says.

So where's the money going? Primarily to maintain and improve existing networks, Webb asserts. Service providers also will focus this year on a couple of innovations, primarily Multiprotocol Label Switching (MPLS), which is viewed as an enabler for squeezing more revenues and efficiency out of what's in place.

Infonetics sees more than half the year's spending coming from Europe's top incumbents, which the firm says will spend the following amounts:


The carriers that spend the most are also the ones whose financials remain most problematic: France Telecom and Deutsche Telekom continue to struggle with big debt burdens (see
France Telecom: Not Out of the Woods
,
Telekom Drops Bomb on CeBIT
, and
France Telecom: Beaucoup Losses
).
Webb says the European carriers will have to bite the bullet before things get better. The year may see some big carriers forced to part with assets, such as mobility divisions, which up to now they've held on to jealously. There's room for consolidation of some players. Others will have to scale down planned pan-European rollouts to more regional ones that better fit their budgets.
Webb says these trends are already evident in the progress of companies such as
KPNQwest NV
(Nasdaq/Amsterdam: KQIP), which has narrowed its focus from all of Europe to the Benelux countries; and in the formation of
TeliaSonera AB
(Nasdaq: TLSN) from two Scandinavian players, Telia and Sonera, late in 2002.
Bottom line? "The worst is over but we're not in the good times yet," Webb says.
— Mary Jander, Senior Editor,
Light Reading

(4) |