Can Internet colocation -- in which service providers maintain Internet services hardware -- ever be hip again?

Ever since the death of the dotcoms in 2000, the Internet colocation arena has been a dreary place indeed, with an abundance of space and hemorrhaging costs. But despair not. In Europe at least, things are looking up, according to a Frost & Sullivan report out today (see Colocation Not Dead and Buried).

In its report, "The European Colocation Services Market," the technology research company predicts that by 2005, the European colocation space will experience more than 30 percent revenue growth annually. And next year, the report expects more than 15 percent revenue growth over this year's numbers.

In 2002, the European colocation market has generated $191 million in revenues, according to the study. By 2007, it predicts, that number will have swelled to $656 million.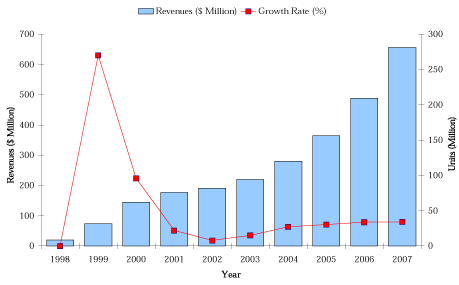 Colocation, according to the report, is "the physical layer of internet infrastructure services, providing space, power, connectivity, security and a conditioned environment" for housing computer and telecom hardware. The report does not include numbers for shared or dedicated hosting.

Frost & Sullivan analyst and the author of the report, Marina Martin concedes that the colocation market is still reeling from the blow it was dealt when the Internet bubble burst. Leading up to 2000, it seemed as if there would be no end to the demand for colocation space.

"With revenue figures nowhere near approximating the billions of dollars forecast by many industry players, scaled back expansion plans and belt-tightening investment programs became evident in 2001 across the colocation market," she writes in the report. She points out that the European colocation market underwent significant consolidation between 2001 and 2002.

Colocations specialists had poor profit margins as well as a surplus of facilities, the report states. At the same time, the global economic downturn has led to investments in the space all but drying up.

There is, however, a light at the end of the tunnel. The massive consolidation in the European colocation market has begun to pay off, leading to a reduction of supply, and thus a possibility for growth.

Frost & Sullivan reports that colocation space occupancy rates in Europe will rise from 25 to 30 percent in 2002.

But while this is definitely good news for Europe, the picture may be bleaker in the U.S. The Frost & Sullivan report does not address the U.S. market, but Tier 1 Research analyst Andrew Schroepfer says a turnaround is likely to happen in Europe first. This, he says, is due to the fact that Europe generally lags behind development in the U.S. When the telecom bubble burst, he says, far fewer data centers had been built in Europe than in the U.S. In addition, he says, European companies can generally charge more for colocation services than their American counterparts. "There's a more stable market in Europe than in the U.S."

Some colocation providers are quick to insist that there are plenty of opportunities on this side of the Atlantic. "I don't think the U.S. market is doing that bad," says Richard Mataka, the director of sales and marketing at colocation company Telehouse International Corp. of America. "I think it's holding its own." However, he admits, "the profit margin per square foot is not as much as it once was. We have to sell more."

— Eugénie Larson, Reporter, Light Reading