Also in today's EMEA regional roundup: repercussions of Belgium's 5G spectrum auction; Telecom Italia trials satellite-based multicast technology; Wimbledon latest.
Liberty, a human rights campaign group, has won a legal case against the UK's security services, effectively forcing them to seek "prior independent authorization" to obtain people's communications-related data from telcos. As the Guardian reports, two judges ruled that it was unlawful for MI5, MI6 and GCHQ to get hold of this data without such authorization, which would probably come from a judge or the Office of Communications Data Authorisations. Liberty had taken the legal action against the government as part of a wider challenge to the provisions set out by the 2016 Investigatory Powers Act.
Credit ratings agency Moody's has come to the conclusion that the results of the recent Belgian 5G spectrum auction was bad news – or "credit negative" – for incumbent operators Proximus, Telenet and Orange as competition is likely to increase in the Belgian market, with Citymesh and a joint venture between Network Research Belgium and Digi acquiring spectrum for the first time. Citymesh has previously delivered mobile services to the B2B market in Belgium. However, with the acquisition of the additional 5G spectrum, Citymesh will, says Moody's, be able to operate a new nationwide network. Digi, which has been expanding aggressively outside its native Romania, will focus on the Belgian mobile consumer market. (See Belgium sleepwalks into 5G and foists new entrants on market.)
Peering provider NetIX has taken capacity on EllaLink, the high-capacity and low-latency fiber-optic subsea cable directly connecting Latin America and Europe, to bring it on-net as part of NetIX's global infrastructure assets. EllaLink connects the major hubs of São Paulo, Rio de Janeiro and Fortaleza with Lisbon, Madrid and Marseille, and has the capacity to transmit up to 100 Tbit/s, says NetIX.
UK altnet Hyperoptic has launched something called a "Fair Fibre Framework," which it hopes will offer support to customers who are struggling with the rising cost of living. Among the measures forming part of the framework are a commitment to drive uptake of so-called social tariffs, which offer discounted broadband to people in receipt of certain welfare benefits, and a pledge to refrain from imposing above-inflation mid-contract price rises.
Telecom Italia (TIM) has teamed up with Eutelsat and Broadpeak to trial multicast signal distribution over a satellite network to offer its customers in Italy's most remote areas the chance to enjoy live streaming. The trial was delivered through the TimVision Box in adaptative bit rate (ABR) multicast mode, using the Eutelsat Konnect satellite. The multicast approach, says TIM, enables streamed broadcasting of popular live events without duplicating transmission flows.
You've got to feel for Google. Just an unassuming tech behemoth quietly making squillions of dollars while bringing unalloyed joy to the world. Will Europe ever leave it alone? Today, as Reuters reports, it's the turn of the Danes, who have served an antitrust complaint on the company after a homegrown online job-search rival took its case – that Google had unfairly favored its own "Google for Jobs" job-search service – to European Union regulators.
Nordic operator Telia has entered into power purchase agreements (PPAs) in Denmark and Estonia which, says Telia, secure its long-term access to renewable electricity. In Denmark, Telia has done a deal with Better Energy and a number of other partners, which stipulates that 125GWh of additional renewable electricity will be supplied to the Danish electricity grid per year. In Estonia, Telia and public energy Company Eesti Energia have signed a large-scale renewable electricity agreement, in which the energy company will supply 156GWh of renewable wind electricity to Telia over five years, starting at the end of 2022.
Today sees the start of the Wimbledon tennis grand slam, sans Daniil Medvedev and ranking points, but Wimbers all the same, with the usual manicured greensward, Pimms and strawberries in evidence. But where's the telecom angle, you may well ask. Never fear, Vodafone is here, informing us that this year, for the first time, its Internet of Things technology is helping the tournament's exclusive strawberry supplier, Hugh Lowe Farms, grow the "best-ever strawberries" for the delight of the courtside punters. Vodafone has supplied the grower with a new IoT tracker that keeps tabs on each load being delivered to SW19, providing detailed feedback on temperature, collisions and vibrations in the packaging.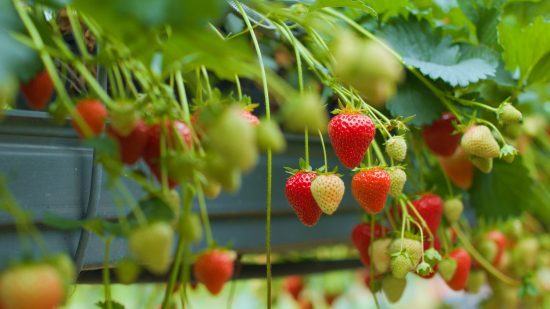 — Paul Rainford, Assistant Editor, Europe, Light Reading