Trump Nominates Pai Ally for Final FCC Slot
President Trump's latest nomination to the FCC puts the agency on a path to full strength after months of operating with only three out of five commissioners. If confirmed, candidate Brendan Carr would serve as the third Republican on the Commission, alongside Chairman Ajit Pai and Commissioner Michael O'Rielly.
On the Democratic side, Commissioner Mignon Clyburn is currently in office, although her term officially expires at the end of this month, with no word yet on whether she will be re-nominated to a new five-year term. Two weeks ago, Trump also nominated former Commissioner Jessica Rosenworcel to re-take her seat next to Clyburn as the second Democratic representative to the Federal Communications Commission (FCC) . Rosenworcel's earlier term at the agency expired last December when the Senate failed to vote on her re-nomination. However, the commissioner is well-liked on both sides of the political aisle, with Democrats and Republicans alike expressing support for her return. (See Trump Names Democratic FCC Choice.)
Speaking of support, Brendan Carr has already received the backing of several industry representatives since his nomination was announced, including Comcast Corp. (Nasdaq: CMCSA, CMCSK), the NCTA – The Internet & Television Association and the American Cable Association (ACA) , among others. All three current commissioners have also voiced their support for Carr, who is well known at the FCC and throughout telecom legal circles. Carr is currently general counsel at the FCC and has served as legal advisor to Commissioner Pai on wireless, public safety and international matters. Prior to working at the FCC, Carr was a telecom attorney at Wiley Rein LLP.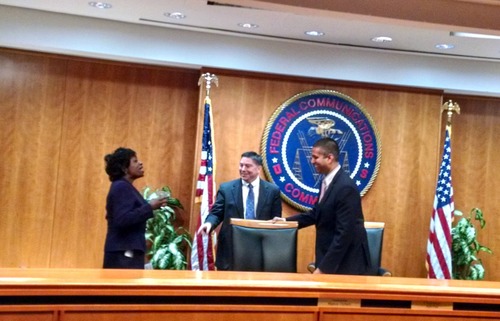 Whatever the exact make-up of the FCC going forward, the agency has a complex and controversial agenda ahead of it. Republicans are seeking to roll back the former Democratic administration's Open Internet Order, which both enshrined net neutrality practices and strengthened their enforcement through the re-categorization of broadband service providers as Title II common carriers. The goal of the current administration at the FCC is to reverse Title II classification and return enforcement duties over the industry to the Federal Trade Commission . However, consumer groups are furiously fighting the move because of concerns about how ISPs might abuse their power as both broadband service providers and content owners. (See Net Neutrality: Before the Vote.)
Net neutrality is the highest-profile issue faced by the FCC this year, but it's not the only one that's sparking lively debate. The Broadband Deployment Advisory Committee at the agency is in the process of trying to craft recommendations for how to accelerate broadband deployment throughout the country. At stake is one of the least sexy, though most critical, broadband deployment considerations: how to streamline pole attachment processes so that ISPs can move quickly to install new equipment for broadband access, while also protecting cities that have to manage many of those assets and depend on leasing fees as local revenue. (See Cities Clamor for More Clout at FCC .)
— Mari Silbey, Senior Editor, Cable/Video, Light Reading
PARTNER PERSPECTIVES
- content from our sponsors