Fellow Heavy Reading analyst Graham Finnie recently commented on the AT&T Inc. (NYSE: T)/T-Mobile US Inc. merger and its implications for net neutrality with Light Reading's Phil Harvey. (See

CTIA 2011:

AT&T & T-Mobile: Net Neutrality Concerns .)

Net neutrality is a very hot topic, as Senators Al Franken (D-MN) and Maria Cantwell (D-WA) are trying to push through legislation that would make blocking or prioritizing Web content a federal anti-trust violation.

I recently sat in the front row as Al Franken spoke about his net neutrality bill at the SXSW Interactive Festival in Austin, Texas.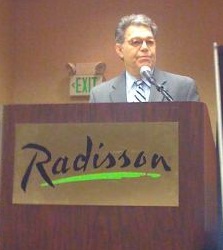 Franken told us, "This legislation identifies net neutrality violations for what they are: anti-competitive actions by powerful media," such as cable and telecom companies. He asked that these companies leave the Internet alone and refrain from creating a broadband first-class "fast lane" (for companies with big money) and a coach-class "slow lane" (for companies with less money).

Franken particularly cited Comcast Corp. (Nasdaq: CMCSA, CMCSK) and its battle with Netflix Inc. (Nasdaq: NFLX) and Level 3 Communications Inc. (NYSE: LVLT) over fees. He then told the crowded room, "You are entrepreneurs and job creators. Your legislatures want to hear what you have to say. Let's not sell out. Let's keep the Internet weird. Let's keep the Internet free."

At the end of his talk, there was a resounding round of applause from the room of attendees. And if you're not familiar with the Interactive portion of the SXSW Festival, Franken was right about his audience. SXSWi is a collection of more than 19,000 developers and marketers all centered around "interactive" content. These attendees are not only doers, but also strong influencers (with the likes of Robert Scoble) who affect the decisions of thousands upon thousands of Internet users.

Another hot topic at SXSWi was mobile. Panels looked at mobile apps, mobile-friendly content and mobile commerce and payments. And despite the Japanese earthquake having just happened, all the panelists for the Japanese mobile panel were present and discussed their success in social gaming and the use of augmented reality in pictures and video. Mobile in Africa provided more heated debate, as panelists discussed the potential for apps in this region.

The bottom line is that this cross-section of prolific and influential end users wants to preserve their current Internet usage and is looking to mobile for enhanced capabilities in video, data, gaming and commerce. Time will tell if operators will be able to accommodate and keep up with their wants and needs. And if per-usage content does come to pass, network management, policy and billing systems will need to be updated.

— Sarah Wallace, Staff Analyst, Heavy Reading