Roughly six months after Hurricanes Irma and Maria laid waste to the infrastructures of the US Virgin Islands and Puerto Rico, FCC Chairman Ajit Pai is directing $256 million in new funds to the territories for the purpose of helping to restore and expand communications networks. With additional dollars from redirected universal service funds, Pai is promising $954 million in total for continued recovery efforts following some of the worst storms in the region's history.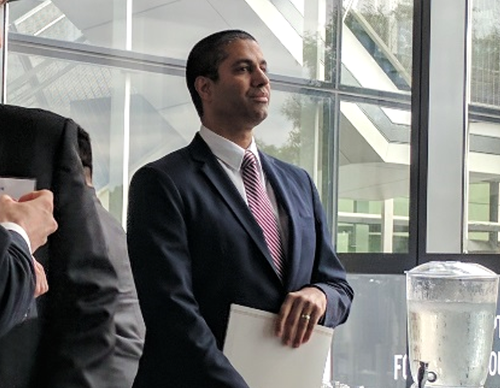 Circumstances have improved on the islands in the months following last year's hurricanes. However, more than 4% of cell sites are still out in Puerto Rico, and nearly 14% are still out across the Virgin Islands. Additionally, the Federal Communications Commission (FCC) cites reports stating that "fairly large percentages of consumers are without either cable services or wireline service," primarily because of power outages that persist even half a year after the hurricane disasters.
According to Pai's latest proposal, the FCC will split its financial contributions into two funds, with $750 million going to the Uniendo a Puerto Rico Fund (Bringing Puerto Rico Together Fund), and $204 million headed toward the Connect USVI Fund. The FCC will allocate approximately $64 million to short-term restoration efforts, $259 million to medium-term efforts aimed at restoring and expanding 4G networks and $631 million to long-term efforts focused on fixed broadband connectivity.
What's not clear is exactly how the FCC's money will be applied. In particular, without major improvements to power infrastructure on the islands, there's only so much that can be done to strengthen local communications networks. Chairman Pai says he will travel to Puerto Rico and the Virgin Islands today to assess recovery efforts and also to prepare for this year's hurricane season, which begins in three months.
---
You're invited to attend Light Reading's Big Communications Event – the ONE event that delivers fresh perspective on the rapid transformation of the telecom industry and the road ahead. We'll see you May 14-16 in Austin – communications service providers get in free!
---
The private telecom industry has also pitched in on recovery efforts in the wake of Hurricanes Irma and Maria. AT&T Inc. (NYSE: T), T-Mobile US Inc. and Sprint Corp. (NYSE: S) were all on the ground in the weeks following the storms helping to repair networks and set up satellite communications. The carriers have also waived fees and issued credits to customers in the impacted areas.
Meanwhile C&W Communications, a division of Liberty Global Inc. (Nasdaq: LBTY) until its spinout at the tail end of 2017, launched a charitable foundation immediately after the hurricanes with $500,000 in seed money. The company has been hit hard by the after-effects of the storms, with Liberty Global reporting damages of at least $22 million across its operations in the Caribbean back in November. Liberty Global's entire Latin American and Caribbean Unit (dubbed LILAC before the spinout), saw operating income drop precipitously by $340 million after the storms hit. (See Hurricanes Hammer Liberty Global Results.)
Perhaps most notably, Verizon Communications Inc. (NYSE: VZ), which does not do business in Puerto Rico or the US Virgin Islands, pledged $5 million to help recovery efforts last fall. That commitment followed another $10 million pledge by the company to help Hurricane Harvey victims last August. (See Telcos Pony Up for Hurricane Harvey Relief.)
— Mari Silbey, Senior Editor, Cable/Video, Light Reading