Mignon Clyburn, a Democrat and sharp critic of FCC Chairman Ajit Pai, is stepping down as FCC commissioner after eight years of service, ahead of her term's end by several months.
Appointed in 2009 by President Obama, Clyburn was part of the Tom Wheeler-led Federal Communications Commission (FCC) that passed strong Net Neutrality rules and she has criticized Pai for rolling those rules back. She announced at today's public hearing that this would be her last public meeting. Clyburn will be replaced by a Democrat but it's unsure whether that individual will be as strong a consumer advocate as she has been.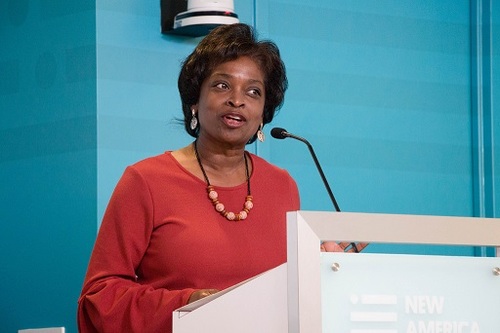 Clyburn didn't reveal her future plans, saying only that it is time she serves in another way. She was known for her backing of better access for poor and minority communities as well as consumer protections from fraud.
Craig Aaron, president and CEO of the Free Press, a staunch Net Neutrality proponent, said in a prepared statement that Clyburn was "often called the conscience of the FCC."
"She used her power to help people," he commented. "At an agency often captured by the companies it's supposed to regulate, Clyburn stood out for her focus on the real-world impacts of the FCC's decisions. Her voice will be missed inside the FCC, but we hope her work advocating for a more just media system will only continue."
---
You're invited to attend Light Reading's Big Communications Event -- the ONE event that delivers fresh perspective on the rapid transformation of the telecom industry and the road ahead. We'll see you May 14-16 in Austin -- communications service providers get in free!
---
According to multiple press reports, Senate Minority leader Sen. Chuck Shumer, D-NY, has proposed FCC Enforcement Bureau official Geoffrey Starks to succeed Clyburn as Democratic FCC Commissioner. Starks's nomination could be paired with the extension of current Republican Commissioner Brendan Carr, appointed to fill the remainder of former chair Tom Wheeler's term, to a second term, to maintain the traditional political balance of the FCC, which gives the party holding the White House a three-to-two edge.
Pai tweeted his praise for Clyburn, who served as interim FCC chair and became the first woman to head the agency. "Congratulations to @MClyburnFCC on your distinguished tenure at the @FCC, including serving as 1st woman to lead the agency! You leave behind a rich legacy and many friends. Godspeed and thank you for your public service."
— Carol Wilson, Editor-at-Large, Light Reading