FCC Chairman Ajit Pai has circulated a draft 2018 Broadband Deployment Report finding that the speed threshold for defining broadband should remain at 25 megabits per second downstream and 3 mbits/s upstream. The report also finds that mobile broadband isn't a "full substitute" for fixed broadband service and that any evaluation of Internet access in the US needs to take that factor into account.
At a glance, Pai's report appears to give his opponents within the Federal Communications Commission (FCC) exactly what they wanted -- a definition of broadband that doesn't pad the country's deployment stats by lowering standards. But Commissioner Mignon Clyburn, one of the agency's two Democratic members, still has a bone to pick with the Chairman.
In a statement responding to the initial release of the report, Clyburn acknowledges that Pai has addressed some of her concerns by not downgrading the definition of broadband and not allowing mobile Internet service to act as a substitute for wireline access. (See also FCC: Mobile Broadband 'No Substitute' for Fixed Service.)
However, she also blasts the Republican Chairman for finding that "the current FCC is now meeting its statutory mandate to encourage the deployment of broadband on a reasonable and timely basis."
According to Clyburn, "By the FCC's own admission, over 24 million Americans are still without high-speed broadband access where they live." And the commissioner goes on to suggest that the only way Pai can claim broadband progress is by continuing to argue that industry investment plummeted in 2015 because of the Open Internet Order and that it can only now recover because of steps the FCC has taken this year to reduce regulatory barriers to further expansion.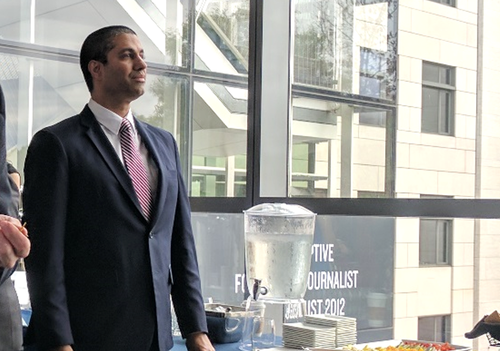 There are a lot of nuances in the positions staked out by both Pai and Clyburn. Pai is determined to reduce the regulations governing Internet service providers, but he's also wary at this point of the public perception that his policies are anti-consumer. Maintaining the existing standard for defining broadband may assuage some critics while he continues along the path of cutting regulations in what he sees as the best means of improving market competition.
Clyburn, on the other hand, is not only going on the record here about whether enough is being done to improve broadband access, but also shoring up her argument against the recent repeal of the Open Internet Order. That battle -- over both net neutrality provisions and whether ISPs should be classified as Title II common carriers (and thus subject to regulation by the FCC) -- is still being fought in both Congress and the courts. (See Congress, Courts Ready to Rumble With FCC.)
---
You're invited to attend Light Reading's Big Communications Event -- the ONE event that delivers fresh perspective on the rapid transformation of the telecom industry and the road ahead. We'll see you May 14-16 in Austin -- communications service providers get in free!
---
Meanwhile, there is plenty of other broadband regulatory activity taking place that neither recent statement by Pai or Clyburn addresses. For example, Pai has issued a proposal for $500 million in funding to boost rural broadband deployments, the full details of which are still unknown. (See FCC Proposes $500M for Rural Broadband.)
And the Broadband Deployment Advisory Committee is set to convene next week in a two-day meeting to present its recommendations for accelerating broadband deployment across the country. The BDAC proceedings have been highly contentious so far, with little indication that the parties involved are likely to come to a consensus about how network service providers and local governments should work together to ensure wider broadband access. (See Broadband Fee Fight Gets Messy at the FCC.)
All told, the latest debate over the 2018 Broadband Deployment Report is just the tip of the iceberg when it comes to regulating the broadband industry. However, it is also instructive. Official public statements never tell the whole story, and anything that looks good at first read should probably be given further scrutiny.
— Mari Silbey, Senior Editor, Cable/Video, Light Reading