Also in today's EMEA regional roundup: Vodafone UK boss maps out revival plan; Google faces potential EU fine; Saudi mobile ventures run into sand.
Has the deadline for the elimination of mobile roaming fees within the European Union been kicked into the long grass? That could be the conclusion drawn from a Reuters report, which says that a new draft of the official text relating to the phasing out of roaming charges makes no mention of the original date (December 15, 2015) that had been proposed by the European parliament as the cut-off point for the fees. The draft text says only that the deadline "needs to be defined and is a significant political question." (See EU Telecom Market, Sans Roaming Charges, Eurobites: Red-Letter Day for Roaming Charges and Continental Shift.)
The head of Vodafone UK , Jeroen Hoencamp, has been unfolding his roadmap for his company's revival in fortunes, Bloomberg reports, singling out network quality as the key driver of a proposed return to growth within two years. Vodafone's call quality was rated the worst out of UK mobile operators in a Root Metrics survey earlier this year. (See Eurobites: Vodafone on M&A Alert.)
Google (Nasdaq: GOOG) may face a fine from the EU competition authorities if it cannot come up with a workable strategy for giving rival search engines equal billing in its search results, the BBC reports. EU competition commissioner Joaquin Almunia said the next step in the long-running dispute could be an official "statement of objection," which would include formal charges.
It's not easy launching as a mobile operator in Saudi Arabia -- just ask Sir Richard Branson. Both Virgin Mobile Middle East and Africa, part-owned by Branson, and Jawraa Lebara, have been trying to launch MVNOs in the kingdom but, as Reuters reports, the challenges of interconnection with other operators have so far stymied their efforts.
PCCW Global has signed an MPLS interconnection agreement with Telma, the main operator on the African island of Madagascar. The new connection will allow Telma's Ethernet and IP VPN coverage to be extended across PCCW Global's MPLS network.
Well, if you're providing the connectivity at an iconic soccer stadium known the world over you might as well let people know about it: UK mobile joint venture EE , which agreed a six-year partnership deal with London's Wembley Stadium, got its name in lights (see below) as part a colorful show that illuminated the stadium's distinctive arch. Apparently, the arch will act as the "digital heartbeat of stadium events as fans will be able to control the light show with social media sentiment." Oo-er. Presumably it just goes dark when England's finest once again lose on penalties.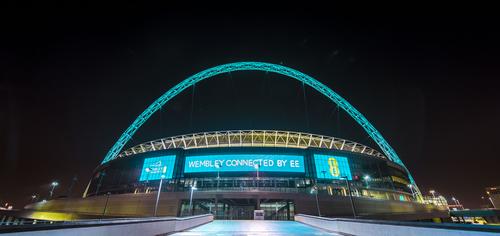 — Paul Rainford, Assistant Editor, Europe, Light Reading