Here's a riddle for you. If you're a cable operator and you intend to continue offering some broadcast channels in analog form after the February 2009 digital TV transition, how will you do so if the source signals are available only in digital form?

The answer: Recreate the analog signal.

That answer, which will apply to many (but not all) cable operators, has spawned a new class of converter/receiver products that downconvert incoming digital ATSC (Advanced Television Systems Committee) signals to analog NTSC (National Television System Committee) signals.





The expected demand for this equipment as the transition rapidly approaches has attracted a handful of vendors with such products already available or presently on their respective roadmaps -- including Tandberg Television , Scopus Video Networks (Nasdaq: SCOP), Ktech Telecommunications Inc., and Sencore Inc. . Cisco Systems Inc. (Nasdaq: CSCO) is also in the mix as a Sencore reseller.

Scopus, which makes a receiver called the IRP-3910, has signed on TVC Communications LLC and Mega Hertz as resellers. [Ed note: Any more of you out there? If so, please drop me a line posthaste.]





Short of going all-digital and providing all subscribers with the necessary gear (i.e., digital set-tops or simple digital-to-analog converters) to ensure that video signals are viewable on legacy analog TV sets, most mid- and large-sized operators are on the hook to deliver "must carry" broadcast channels in both analog and digital format for at least three years following the transition, which is a mere 174 days away. (See FCC OKs Dual TV Carriage Rules.)

But the number of systems expected to be all-digital by February 2009 will be relatively small. So that means scores of operators, save for some smaller ones that are exempt following a recently adopted Federal Communications Commission (FCC) order, will have to be ready to adhere to the dual must-carry mandate. Still, smaller cable systems that opt to use the exemption will still have to deliver analog signals after the transition, so, bottom line, this means they too will need to be able to respawn some digital TV signals in analog form.

By now, most cable operators have done (or should have done) their due diligence and learned what local full-power broadcasters intend to do after the transition. Though some may continue to give cable operators access to an analog feed over fiber lines for some time, others won't, so many MSOs are already doing tests and preparing to handle (and downconvert) those incoming, over-the-air digital TV signals.

"In general, the orders [for converter/receivers] are beginning to come in much more quickly," says Lisa Hobbs, Tandberg Television's VP of business development for satellite and broadcast, noting that cable operators are "well beyond" the RFI and RFP stage for such equipment. "We are in the process of getting purchase orders and we, in fact, have POs in the house. The operators we're talking to want the majority of installations done by Thanksgiving." For its part, Tandberg makes a receiver called the RX8320, and shipments began the last week of July.

"They [the operators] want a few months of stability testing," says Gal Garniek, associate VP of marketing for Scopus, adding that many operators expected to finalize their project plans by mid-August, with rollouts immediately following. "There is a true time crunch here," he says.

"The evening of February 17 will be exciting for some folks. No matter how well you prepare, there are still 600 TV stations that have to switch frequencies at midnight," Hobbs says.

One city, Wilmington, N.C., will make the transition early (on Sept. 8), and serve as the nation's DTV transition lab rat. (See Wilmington Preps for DTV.) Tandberg won't confirm it, but people familiar with the transition say the vendor's RX8320 platform is already active in that market, which is served by cable incumbents Time Warner Cable Inc. (NYSE: TWC) and Charter Communications Inc. .

Avoiding the dreaded 'postage stamp'
While downconverting an incoming digital signal and spitting out an analog version sounds simple enough, there's a bit more to it. There are plenty of moving parts to consider when this conversion takes place to ensure that what ends up on the TV screen looks and sounds like it should. For example, the device needs to know what aspect ratio (i.e. letterbox, pillarbox, etc.) the source content should be converted to so that the video's proper "area of interest" is maintained when it appears on those old analog sets. Without some much-needed control and management of this function, an incoming HD image, for example, could be rendered with a pillarbox and a letterbox and be reduced to a "postage stamp" when it's rendered on a 4:3 analog TV set.





But rather than taking chances with a default configuration, these devices can apply the Active Format Description (AFD), which, using a coding system, automatically determines the area of interest and applies to correct aspect ratio to the video signal. Now a standard (SMPTE 2016-3), the AFD value is typically defined during production. [Ed note: For a more exhaustive explanation of the technical role these converter/receivers play, please refer to this Tandberg whitepaper (PDF).]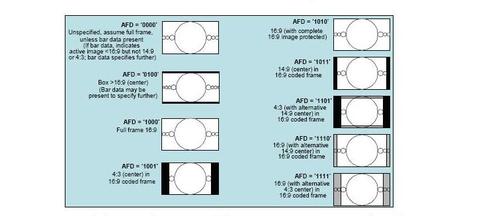 Recreating analog isn't free
The number of receivers required by cable operators will vary, as sizable markets such as Los Angeles typically have many more must-carry networks to contend with than the average. According to Tandberg's estimates, the average cable systems will need enough gear to handle about seven channels. Each Tandberg device can handle one broadcast channel; Scopus says it can downconvert four channels per one rack-unit device. Vendors aren't disclosing specific pricing, but ballpark figures place costs at $2,000 to $3,000 per channel, so most systems will need to squirrel away $14,000 to $21,000 just for this component of the transition. But the expected demand and volume should fall in cable's financial favor.

"We believe... there will be a price crunch [that falls below that price range]," Garniek says. "And we're ready to accommodate that."

But will operators end up with useless boat anchors on their hands if they buy all of this year and then the dual must-carry requirement sunsets three years later? Perhaps not. Vendors such as Scopus have added features, including graphics generators, that could prolong the useful life of these devices.

— Jeff Baumgartner, Site Editor, Cable Digital News