The Fourth Revolution: Can Technology Solve the World's Most Pressing Problems?
Date / Time:
Tuesday, May 10, 2016, 12:00 p.m. New York / 5:00 p.m. London
Overview: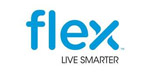 Speakers
Our world has evolved through innovation from the Industrial Revolution of the 1740s to the information age, and it is now entering the Fourth Industrial Revolution, driven by technology. Technology is driving a paradigm shift in the way digital solutions deliver a connected world, changing the way we live, communicate and provide solutions. It can have a powerful impact on how we tackle some of the world's most pressing problems. In this radio show, Caroline Dowling, President of Communications Infrastructure & Enterprise Computing at Flex, will join Women in Comms Director Sarah Thomas to discuss the impact technology has on society and how it can be a game-changer across the globe; improving lives and creating a smarter world. Dowling, a Cork, Ireland, native and graduate of Harvard Business School's Advanced Management Program, will also discuss her experience managing an international team focused on innovation in an age of high-speed change.
Sarah Thomas, Director, Women In Comms


Sarah Thomas's love affair with communications began in 2003 when she bought – and bedazzled – her first cellphone, a pink RAZR. She joined the editorial staff at Light Reading in 2010 and has been covering mobile technologies ever since. She got her start covering telecom in 2007 at Telephony, later Connected Planet. Her non-telecom work experience includes a brief foray into public relations at Fleishman-Hillard and a hodge-podge of internships, including at Ingram's (Kansas City's business magazine), American Spa magazine and the tweens' quiz bible, QuizFest, in NYC.
close this window
Caroline Dowling, President of Communications Infrastructure & Enterprise Computing, Flex


Caroline Dowling is business group president at Flextronics, a $26 billion Fortune Global 500 company with more than 200,000 employees and operations in 30 countries. In this role, she leads the Communications and Enterprise Compute Business Group (CEC) comprising an international team focused on providing end-to-end solutions worldwide for the telecom, networking, server, storage, cloud and converged infrastructure markets. Additionally, she is responsible for managing Flextronics' Global Service & Solutions (GSS) including forward and reverse logistics, spare parts management and global distribution. Prior to this role Caroline held several senior executive roles at Flextronics over the past 15 years including President of NOVO & technical services and SVP of Global Sales. She joined Flextronics through the acquisition of The Dii Group, where she held various management roles.
close this window