Boingo's Search for Women Engineers
Date / Time:
Thursday, March 24, 2016, 1:00 p.m. EST / 5:00 p.m. London
Overview: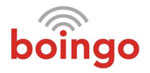 Speakers
The CTO office of wireless access provider Boingo is tasked with keeping WiFi connections strong for the 1.5 billion people who pass through venues where it manages the network each year, but – internally – it's facing another unique task: recruiting more female engineers. On our Women in Comms' inaugural radio show, we will hear from Boingo CTO Dr. Derek Peterson and Vice President of Marketing and Communications Lauren de la Fuente about why it's making improving gender diversity in tech positions a top priority and how it plans to go about doing so.
Sarah Thomas, Director, Women in Comms


Sarah Thomas's love affair with communications began in 2003 when she bought – and bedazzled – her first cellphone, a pink RAZR. She joined the editorial staff at Light Reading in 2010 and has been covering mobile technologies ever since. She got her start covering telecom in 2007 at Telephony, later Connected Planet. Her non-telecom work experience includes a brief foray into public relations at Fleishman-Hillard and a hodge-podge of internships, including at Ingram's (Kansas City's business magazine), American Spa magazine and the tweens' quiz bible, QuizFest, in NYC.
close this window
Lauren de la Fuente, Vice President, Marketing + Communications, Boingo Wireless


Lauren de la Fuente is a technology and media marketing executive known for bringing a balance of strategy and creative to every position held. She's been recognized for launching new businesses, technologies and brands that have a long-lasting and cultural impact. At Boingo Wireless, she provides strategic and tactical leadership with respect to the Boingo brand and story. She works hand-in-hand with the executive team to identify strategic priorities across the breadth of the company's business, and then builds integrated marketing and communications campaigns to deliver against these priorities. She manages a team that includes marketing communications (B2C, B2B and internal), PR and creative services (in-house design team). Prior to Boingo Wireless, de la Fuente has worked with some of the world's most internationally recognized and celebrated brands such as Nike, E!, MTV, USA Network, G4 and the Sci Fi channel (now Syfy) as well as startups Intertainer (the VOD and streaming media pioneer) and Reactrix (a gesture-based technology platform). She has also run her own consultancy, Pearl Street Marketing, with clients including AdMore, the leading programmatic TV buying platform, whose investors include The Carlyle Goup and HIG Ventures; and Edible Magazine, winner of the prestigious James Beard Award for Best Publication.
close this window
Derek Peterson, CTO, Boingo Wireless

Derek is responsible for Boingo's technical vision and strategy. Under his leadership, Boingo is pioneering the adoption and deployment of the latest IT and network technologies including Passpoint and network virtualization and convergence. He is directly responsible for building and operating Boingo's core technologies and systems, including web applications, client software, networks, authentication, billing, advertising, IPTV, business intelligence and IT infrastructure. Derek has deep telecommunications experience as a consultant, engineer, product manager and executive. Prior to joining Boingo in 2011, he served in strategic product roles at Oracle driving global launch campaigns for LTE adoption and billing software solutions. He is a veteran of Operation Desert Shield/Storm and Operation Joint Endeavor, serving with the United States Air Force. Derek is a Wireless Broadband Alliance board member, and a founding member of the PCIA's Innovation & Technology Council of wireless industry leaders. Under Derek's leadership, Boingo has received prestigious industry honors including the 2014 Light Reading Leading Light award for "Most Innovative Carrier Wi–Fi Deployment" and the 2015 Wi–Fi Industry awards for "Best Wi–Fi Network Operator" and "Best Wi–Fi Service for Vertical Markets." Derek was named a 2015 "Wireless Industry Executive to Watch" by Fierce Wireless.
close this window