Israel's RAD Data Communications Ltd. has long sold a box that emulates leased lines over Ethernet connections. Now it's found a way of making it sound sort of sexy.

It's repositioning the box, called the IPmux, as part of a bunch of products that enable carriers to take advantage of Ethernet technology in access networks. Handling everything as Ethernet packets enables carriers to offer multiple services -- notably leased lines, voice connections, and IP services -- over a single access line at low cost, the company says.

The sort-of-sexy aspect of this is that carriers can deploy this kit irrespective of their progress in deploying Ethernet in their core metro networks. RAD's solution works in both environments, enabling carriers to migrate to a packet infrastucture in the heart of their networks at their own pace.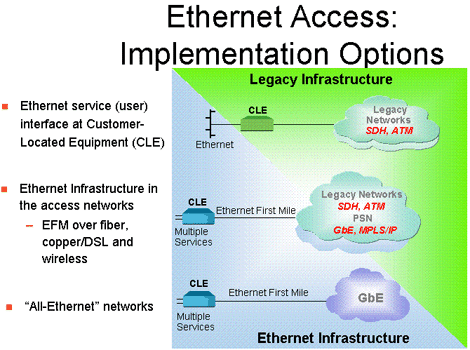 In order to make this happen, the IPmux becomes a multiservice network termination unit (NTU) that sits at customer sites, connected to TDM (time division multiplex) gear, such as a PBX, and IP equipment, such as routers. The NTU shunts all of the traffic from this equipment into Ethernet frames for transport over the access line, making sure that it keeps track of the packets containing TDM traffic, which need to be resynchronized at the other end.

At the other end, at the carrier's point of presence, a planned access aggregator device can be configured to work in various ways. The traffic can be reconstituted into TDM circuits and IP packets and fed into separate connections in existing SDH (not Sonet) infrastructure. Alternatively, the aggregator can be fitted with a different blade to carry the TDM and IP traffic over different virtual circuits in the carrier's ATM infrastructure. On the other hand, if the carrier has already deployed metro Ethernet technology, the traffic can be left in its Ethernet format.



The access aggregator is scheduled for shipment in the first quarter of 2004.

RAD isn't alone in coming up with this idea, although the nearest thing to it appears to be a collaboration between two vendors -- Axerra Networks Inc., which makes an access concentrator, and Engage Communications, which sells a box similar to RAD's NTU direct to enterprises. Axerra and Engage recently announced successful interoperability tests (see Axerra and Engage Test IP Kit) and are now working together on some projects, according to Mark Doyle, Engage's VP of marketing.

In some respects, this puts Axerra/Engage ahead of RAD in that their products are already shipping. However, Axerra's box is designed for use in metro Ethernet networks, not legacy Sonet metro networks, according to spokeswoman Lara Sedar, so it can't match RAD's migration story.

The fact that RAD is developing the boxes at both ends of the access line also enables it to add all sorts of extras that rely on sharing intelligence about what's happening on the network. This enables RAD to offer traffic management functions such as shaping and quality-of-service assurance, as well as automated provisioning and reconfiguration. It also includes VLAN stacking and OAM (operations, administration, and maintenance) functions.

And that's just for starters. RAD says its approach could be used to extend MPLS to the access aggregator or even into the customer site to support such things as Layer 2 LAN-interconnect services.

Right now, however, a lot of this is PowerPoint technology. The sexiest thing the company can do right now is to turn some of its ideas into real working products.

— Peter Heywood, Founding Editor, Light Reading