The main reason VOIP has become a hot market this year is that the technology promises to help service providers generate extra revenues by rolling out new services. And that raises a question sometimes asked on Light Reading's message boards:

What new services?

Boardwatch's March poll provides some answers. Hosted PBX and Centrex services hold out the most promise of generating revenues in 2004, according to 37 percent of respondents so far.

That's way ahead of the runners up -- messaging and presence applications and voice/multimedia VPNs, which are tied in second place right now, with 16 percent of the vote each.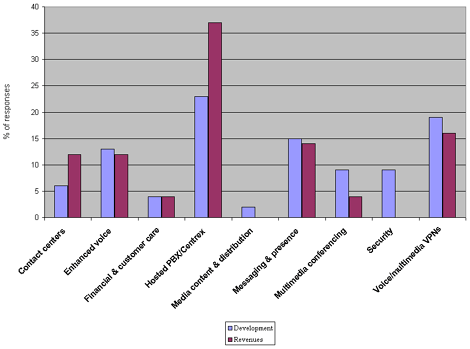 The poll also asked respondents to say which VOIP applications were attracting the most development dollars this year. Once again, hosted PBX/Centrex gets the biggest share of the votes -- 24 percent -- but this time, voice/multimedia VPNs aren't far behind, with 20 percent of the votes. Messaging and presence applications slip into third place, with 14 percent.



To give your views on the hottest VOIP apps of the year, and see the latest results in detail, click here.

Another way of assessing the relative potential of different market segments is to count the number of vendors with products in Light Reading's Who Makes What: VOIP Applications Software. Here's the current tally:

— Nicole Willing, Reporter, Light Reading