Plastina Surfaces at Proxim

Comment (0)
Wireless LAN vendor
Proxim Corp.
(Nasdaq: PROX) has a new CEO, the man once rumored to be a candidate for the top job at
Nortel Networks Corp.
(NYSE/Toronto: NT).
Frank Plastina has taken the helm at Proxim, a supplier of wireless LAN gear for enterprises and service providers. Proxim's former CEO, Jonathan Zakin, will remain as chairman of the board (see
Proxim Names Plastina Prez/CEO
).
Plastina spent 15 years at Nortel, and in 2001, when he was 38 years old, former CEO John Roth was said to be grooming him for a successor, providing him with the position of a "virtual COO" (see
Nortel's Empty Room at the Top
). Roth's star fell, and Plastina's didn't rise farther: He decided to leave Nortel about six months ago (see
Plastina Out in Nortel Reshuffle
).
Proxim spokeswoman Amy Martin says Plastina won't be giving interviews for a couple of weeks. Stay tuned.
Plastina is the latest in a management reorg for Proxim. But he's clearly a boon for Proxim's roster, which the vendor seems intent on buttressing in light of the changing market. Last month, the board hired David E. Olson, formerly of
SkyStream Networks Inc.
and
Sun Microsystems Inc.
(Nasdaq: SUNW), as Senior VP of operations. It also picked Stephen J. Dix, most recently of
Netgear Inc.
, as VP of LAN sales.
The choice of Plastina seems a wise one. Proxim's charter is to sell both to enterprises and carriers. But the carrier market for wireless LANs is practically nonexistent at the moment and is only expected to start taking off later this year. To participate, Proxim will need to establish carrier relationships, which Plastina has, as well as a stronger market position.
According to
Synergy Research Group Inc.
, Proxim took 12 percent of the $1.79 billion enterprise market last year. A growing number of new players is increasing competition, and the cost of equipment is falling all the time.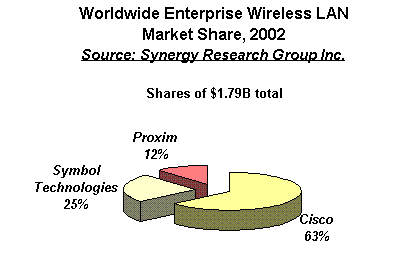 Plastina is faced with several other challenges. On its last earnings report, the firm reported net losses (see
Proxim Reports Q1
). But Proxim has some interesting assets, including its own wireless LAN chip business and the wireless LAN equipment business of
Agere Systems
(NYSE: AGR.A), which Proxim bought last June (see
Proxim Buys Agere WLAN Biz
).
— Dan Jones, Senior Editor,
Unstrung
, and Mary Jander, Senior Editor,
Light Reading