Components maker Picolight Inc. had its Website redirected this morning, as a hacker pounced on a server owned by its Web-hosting company. Visitors to Picolight's site were, for a brief time, sent to a page with gag graphic.

During the hack, overseas and early-morning viewers of the site were greeted with a black screen and a inset picture of what is said to be an Osama bin Laden voodoo doll, a novelty item that has reared its head on several of the world's humor sites, including this one in Australia.

The picture of the doll is accompanied by a dialogue bubble that says, "I got yer 'fatwa' right here, bub!" (See image, naturally.) The message is presumably a response to the religious edict -- or fatwa -- that terrorist leader Osama bin Laden's henchmen issued in 1998 urging Muslims to kill any American they saw in the event U.S. troops killed bin Laden.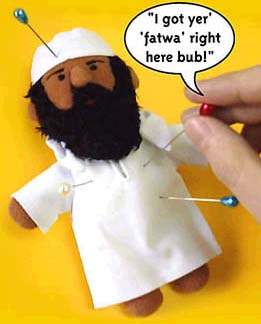 Below the doll picture, the site read, "Tagged...its gB," which is most likely the hacker's signature.

Warner Andrews, Picolight's VP of marketing says its Website was not the only one redirected by the server hack. The Boulder, Colo.-based hosting company used by Picolight and several other companies fell victim to a hack that originated in Malaysia and took advantage of a security hole in a new server, Andrews explains.

"We were just the victim of a random attack," Andrews says. "We're still open for business and everything's fine."

— Phil Harvey, Senior Editor, Light Reading
www.lightreading.com