Motorola Mobility and Intel Corp. (Nasdaq: INTC) unveiled in London today the RAZRi smartphone, which is the first device to result from the partnership they announced earlier this year.

The device is also the first to be powered by an Intel 2GHz Atom processor. And Intel claims it's the first phone with a processor to achieve speeds of 2GHz.

Another key feature of the Android 4.0 (Ice Cream Sandwich) device is the 4.3-inch screen, which stretches to the edges of the device [Ed note: hence the going-to-the-edge motif for the press event.] According to Jim Wicks, senior VP for consumer experience design at Motorola Mobility, the RAZRi's screen is a 40 percent larger display than the iPhone 4S, and it has 50 percent more screen than the iPhone 5.

A bigger screen size and a fast processor are aimed at creating a better experience for users when it comes to browsing the Web, watching videos, playing games and taking photos.

The smartphone will be available from early October in six European and Latin American countries – namely France, Germany, U.K., Argentina, Brazil and Mexico. In the U.K., the device will be sold through Orange UK , T-Mobile (UK) , Phones 4u Ltd. , Virgin Media Inc. (Nasdaq: VMED) and Tesco . In Germany, the mobile operators that will carry the device will be E-Plus Service GmbH & Co. KG and Telefónica O2 Germany GmbH & Co. OHG .

The companies did not reveal price details.

The device is similar to the RAZR M, which was launched with Verizon Wireless in the U.S., but the RAZRi has a faster processor, according to Intel. However, the RAZR M supports Long Term Evolution (LTE), whereas the latest RAZRi does not.

Click on the photo below to see our pics from the event.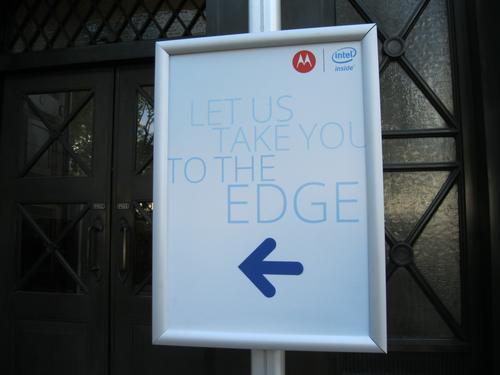 Why this matters
This is a big launch for both companies. For Intel, while it's not the first smartphone to run one of its processors, it's the first launch with a major device manufacturer as it seeks to gain ground in the smartphone market. Earlier this year, it launched devices with its 1.6GHz Atom processor with Orange as well as MegaFon in Russia. It also launched a device with Indian phone maker Lava International Ltd. , as well as with ZTE Corp. (Shenzhen: 000063; Hong Kong: 0763).

Following this work with Motorola, Intel will be looking to add more Android device makers to its roster of customers.

For Motorola, using the Intel processor is a way to differentiate itself from other Android device makers.

According to CCS Insight analyst Paolo Pescatore, "I wouldn't say it's a game-changer, but [Moto] is building on the success of the RAZR." "Given the way people are using their phones these days, what's important is screen, speed and battery life, and they're addressing all of that in this phone," he added.

For more


— Michelle Donegan, European Editor, Light Reading Mobile