Pee as in President

Comment (0)
NOON -- At the U.N.'s 2005 World Summit yesterday, a Reuters photog snapped a closeup of President Bush writing a note to Condi Rice.
Was it a meditation on revitalizing the U.N.'s mission in the 21st century? A radical new plan for the eradication of poverty and war? A response to the latest
terrifying developments
in Mess O' Potamia?
Or was it: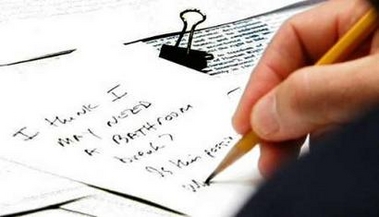 In response to widespread speculation that it was a fake,
a Reuters spokesman explained
that the photo was picked because it "went beyond the stock pictures of talking heads that these kind of forums usually offer."
That it does. But it also leaves many pressing questions unresolved, such as: Was it No.1 or No. 2?
Mr. President, Red Panda demands answers.
— Red Panda, White House Correspondent,
Light Reading