An Optical Transport Vision for the Cloud, 5G Era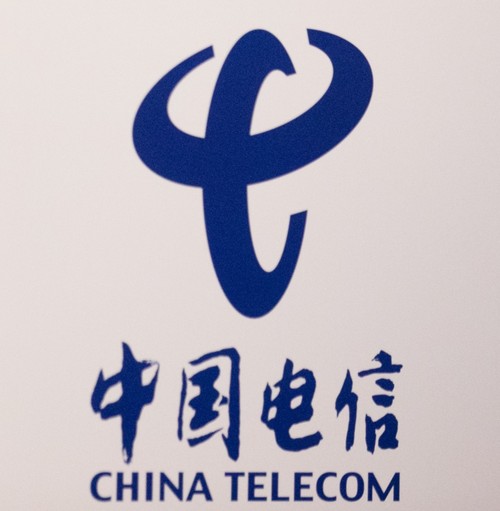 3/14/2018

Comment (0)

OFC 2018 -- SAN DIEGO -- Optical transport networks will play a vital role in supporting the next-generation visions of network operators in the cloud and 5G era, but, to do that effectively, they must evolve in terms of technology capabilities and architecture and the industry needs to innovate further in some key areas.
That was the key message delivered by Chengliang Zhang, Vice President of China Telecom Beijing Research Institute, during a plenary presentation here at the annual OFC show. He outlined the network capacity challenges facing China Telecom, which currently has 255 million mobile and 135 million fixed broadband customers. It expects the volume of data traffic on its network to grow 11-fold between 2018 and 2025 as a growing number of customers use 4G and ultimately 5G mobile broadband services and FTTH uptake grows and, to deal with that growth, the operator has three strategic optical networking projects covering the access, metro and backbone portions of the network that, together, will deliver its CTNet2025 optical transport network plan.
Zhang explained that the CTNet2025 was devised to "boost innovation, simplify network operation and bring down opex and capex. The CTNet2025 is a very big project and covers multiple network levels from IP to optical layers, from data plane to control plane." The three projects that, together, comprise that major plan are: M3C-OTN, or "M cube cloud OTN," for the metro network; the All-Optical Network (AON) 1.0 for the access network; and the All-Optical Network 2.0 for the backbone.
The role of M3C-OTN in 5G
The M3C-OTN project is designed to deal with the flood of traffic that will come as 5G networks and services are rolled out. Already, China Telecom is experiencing massive data traffic growth from its 4G user base, which is served by 1.16 million LTE base stations: Daily traffic is up by 400% compared with 2016, with an average of 19,000 Tbytes of data running over the mobile network infrastructure each day.
Now work has begun on 5G, with demo networks in six cities currently and commercial trials planned for 2019, with at scale commercial roll-out starting the following year: major investments in the 5G access network will take place in the 2020-2025 period but investments will continue for many years after that, noted Zhang. This places three key requirements on the supporting transport network in the 5G era.
The first is significant capacity and scalability: Each base station will require between 3 Gbit/s and 5 Gbit/s of capacity, while 25 Gbit/s connectivity will be needed in the fronthaul links and more than 100 Gbit/s in the mid-haul and backhaul.
The second is ultra-low latency, with several potential applications -- including virtual/augmented reality, driverless cars and industrial automation – requiring 0.5 millisecond end-to-end latency. And thirdly, high-precision synchronization, with requirements as low as 1.5 microseconds for basic services and 100 nanoseconds for services coordinated over multiple base stations.
Such demands require a new network architecture, and with 5G services to be delivered over 3.5 GHz (or higher) frequency channels, the radio access network will need to be densified: Zhang noted that China Telecom will likely need in excess of 2 million base stations in its 5G network.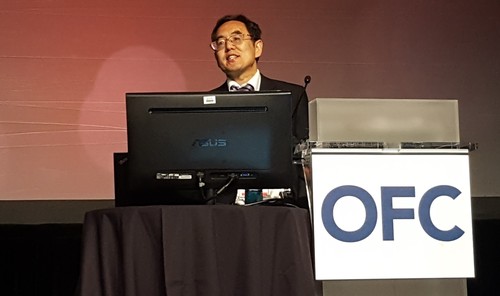 In addition to that greater density, a Cloud RAN (CRAN) design is planned as it takes less physical space, simplifies maintenance and reduces cost: A CRAN architecture has already been adopted for 4G and is likely to dominate the 5G access. Added to that, the core network will become distributed, with edge computing resources deployed in metro networks, a move that will require more flexible and meshed connectivity.
All of which adds up to the need for extensive optical transport investments. For fronthaul capacity, Zhang stated that direct (dark) fiber connections to base stations would be used where possible, even noting that this would be an "easy and cheap" option. In this instance, the recently-standardized eCPRI (the Common Public Radio Interface specification for 5G fronthaul) can be deployed to enable bandwidth up to 25 Gbit/s, though the operator prefers the bi-directional approach that saves fiber capacity and enables better synchronization.
However, where fiber availability is limited, WDM would also be deployed. The China Telecom executive noted that trials have already been done for eCPRI over WDM/OTN with vendor partners, enabling latency close to one microsecond and jitter in nanosecond range. With these deployment plans in mind, China Telecom expects that with up to 2.5 million base stations deployed, and with three cells per base station, it will need to deploy 7.5 million pairs (so 15 million) 25Gbit/s optical modules.
For the mid-haul and backhaul portions of the 5G transport network, OTN is the "best fit," noted Zhang, as it is already widely deployed and can enable the bandwidth, latency and flexibility needed. However, a 5G-optimized version of OTN will be needed to enable small-sized OTN devices and lower the latency from more than 10 microseconds to just 1 microsecond and China Telecom has proposed a specification called M-OTN at the recent ITU-T meeting to address this need. In addition, some layer 3 functions should be integrated some OTN platforms to enable connectivity between edge computing sites and specifications will be tested and trialled with vendors such as Huawei this year.
So there is still plenty of work to be done to enable the M3C-OTN vision, where 'M' stands for mobile-optimized, multi-service and metro, while the 'C' stands for Cloud.
That's where the NGOF (the Next Generation Optical transport network Forum), formed in China in late 2017, will play a role. This forum, which already has 20 members, will drive the optical innovation needed for the 5G and cloud era and has already produced a white paper on the matter, noted Zhang.
Gigabit broadband and the All-Optical Network (AON) 1.0
The AON 1.0 is China Telecom's plan for the fixed broadband access (FTTH) network, which requires ever-greater capacity to deal with the pressure of expanding volumes of (mainly) video traffic and increasing data traffic from smart homes.
This plan has already taken fiber to 90% of China's population, offering 100 Mbit/s and by 2020, with the deployment of next-generation technologies such as NG-PON2, 50G PON and WDM-PON, Gigabit broadband will be offered in some urban areas. By 2025, Gigabit broadband will be available to all FTTH users.
Upgrading the backbone with All-Optical Network 2.0
AON 2.0 is focused on the evolution of China Telecom's optical backbone and with data centers now driving the needs of the backbone network – more than 100 data centers need to be served across China -- the operator believes that ROADMs are essential.
But again, further innovation is needed to enable easier and more automated service provisioning, fast service restoration (within seconds thanks to WSON, noted Zhang) and ultra-low latency of just a few milliseconds.
The operator has already deployed one ROADM-enabled network in the Yangtze River area, with 21 nodes that have 20-degree WSS (Wavelength Selective Switch), auto-configuration and colorless and directionless capabilities that have enabled faster service provisioning – 50 100G services can be provisioned in a day compared with just 1 or 2 before – and enhanced fault resilience. Now two further ROADM networks of a similar magnitude are planned, noted the executive.
China Telecom wants more, though. Current ROADMs can only enable 20 degrees, whereas 32 or even 40 degrees are needed to enable a fully-meshed network. In addition, improvements are needed to be able to add contentionless capabilities to the colorless and directionless capabilities already deployed to enable true CDC ROADM networks. Contentionless is too complicated currently, noted Zhang, and a more simplified design is needed.
Greater simplification is also needed for the fiber connections, which are currently chaotic. China Telecom is encouraged by the 'fiber shuffle' options being offered that simplifies the connections but what it would really like is a fiber backplane where zero fiber connections are required.
For China Telecom, ROADMs are becoming essential for 100G+ wavelength-level service grooming in the backbone and will work alongside OTN, which is need for metro service convergence. The two together provide the flexible networking and greater efficiencies needed by an operator such as China Telecom.
Altogether, optical networks and transforming to meet the needs of the 5G and cloud era, but further innovation is needed in the backbone and metro networks in particular to deliver the requirements of a major network operator such as China Telecom.
This blog is sponsored by China Telecom

(0) |