Fiber broadband is on the rise. Unrelenting demand for bandwidth, recent changes in digital behavior due to a pandemic, and the need for 5G mobile backhaul, mean that fiber now accounts for 60% of all fixed broadband connections. In 5 years, it will be 70%.
Typically, fiber deployments have been focused on urban and suburban areas with a dense subscriber base. But now they're going rural. Rural businesses are crying out for better connectivity to a wider customer base, while fiber gives remote consumers better access to entertainment and cultural events. For operators, take rates are usually great as rural competition is low or non-existent.
A rural fiber deployment needs a few considerations. To begin with, which technology? Tried and trusted GPON or an immediate move to 10G PON? The technology choice is tightly coupled with cost: how do you make a fiber deployment cost effective in a low-density rural setting? And fiber broadband is a long-term endeavor: how do you make the network future-proof to avoid new cycles of investment any time soon?
GPON is, indeed, tried and trusted for competitive gigabit broadband services. But XGS-PON is a game changer for rural deployments, and there are some very compelling reasons to go straight to XGS-PON.
It protects your market from competitors as it's hard for them to beat you on service quality.
It enables many more services, for example bandwidth hungry Industry 4.0 applications that need high-speed connectivity, including rural farms, manufacturing campuses and warehouses.
It can easily support 4G and 5G mobile transport alongside residential and business broadband, which provides a great opportunity for cost savings for converged operators, or for new revenues by leasing capacity to a mobile provider.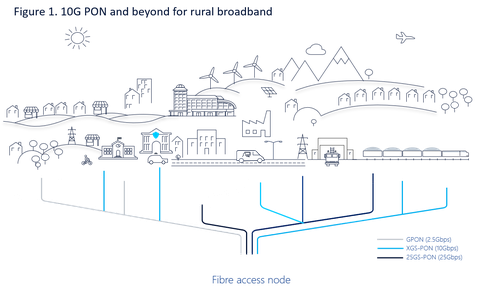 What is your deployment strategy?
Technologists continue to find ways to make fiber deployments easier, quicker and more cost effective. Nokia Multi-PON, for example, is a universal fiber solution that is seeing exponential growth. Every port on a Multi-PON blade can work in GPON mode, XGS-PON mode, 25G mode or, in Multi-PON mode—GPON and XGS-PON simultaneously. This is a huge advantage for deployments as it gives operators flexibility and choice.
XGS-PON makes perfect sense for a brand-new fiber deployment as the incremental cost over GPON is much smaller than the incremental capacity XGS-PON brings (because the biggest chunk of cost—laying the fiber—is the same for both). If you start with GPON, you could well need to upgrade in just a few years. Not so with the 10G capacity of XGS-PON, so your first upgrade cycle is avoided.
But if you're really confident that you only need the capacity of GPON for the time being, it still makes sense to deploy a Multi-PON solution in GPON-only mode. This keeps initial deployment costs lower (as GPON ONTs are cheaper) but also means you can quickly and cost-effectively move up to XGS-PON when and where needed.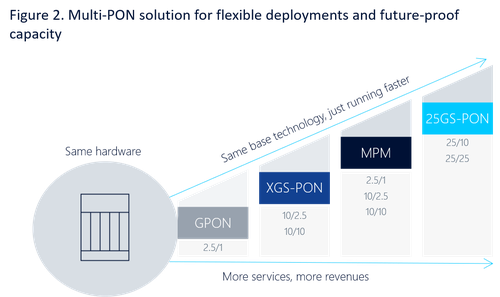 XGS-PON gets even better with 25G
One of the great attributes of XGS-PON is that it can be boosted to 25G PON. This ultimate futureproofing of your network enables you to expand services to enterprises or 5G transport. 25G PON can co-exist with GPON and XGS-PON, and it is available on the same hardware, so it is very simple to introduce.
Future infrastructure now
As we move towards 25G capacity in the broadband network, fiber truly becomes a unified infrastructure capable of connecting everything and everyone. It's fast. It's secure. And, of course, fiber is the greenest broadband technology we have so far invented.
It's also the best way to bridge the digital divide; the connectivity it brings is a vital source of both economic and social wellbeing. But to connect everything and everyone, we need to get more fiber to more rural communities.
Every operator needs to explore the best technology for them, depending on competition, cost, and demand. But innovative solutions like Multi-PON make the business case for rural fiber deployments much more compelling.
This content is sponsored by Nokia.