As we journey towards a pervasive mobility experience, the need for an integrated architecture across different wireless access types arises that can deliver the best performance with high level assurance. Advances in Wi-Fi and cellular technologies, from their very first generations to the present with Wi-Fi 6 and 5G, make this heterogenous architecture more of a reality.
Wi-Fi 6 and 5G are built on the same technical foundations and share many similar attributes. The combination of these two access technologies enables unique and complementary capabilities for both enterprises and service providers (SPs) allowing them to deliver a secure end-to-end quality of experience to their users - anytime and anywhere.
Integrated Access Architecture
It will take some time for a true convergence between Wi-Fi 6 and 5G networks to emerge.
When this happens, we will be able to send traffic irrespective of the underlying technology over a mobile, Wi-Fi, or even multiple networks simultaneously. This future union requires integrated policy, security, cognitive traffic steering, and resource pooling between different access networks. In the meantime, an interoperability of these technologies solves many use cases within different verticals – from manufacturing to healthcare – for better performance and user experience.
Below is a depiction of a simple integrated Wi-Fi 6 and 5G access architecture. Two equally important, yet essential, requirements for enterprise are greater interconnectivity and better manageability for this integrated architecture.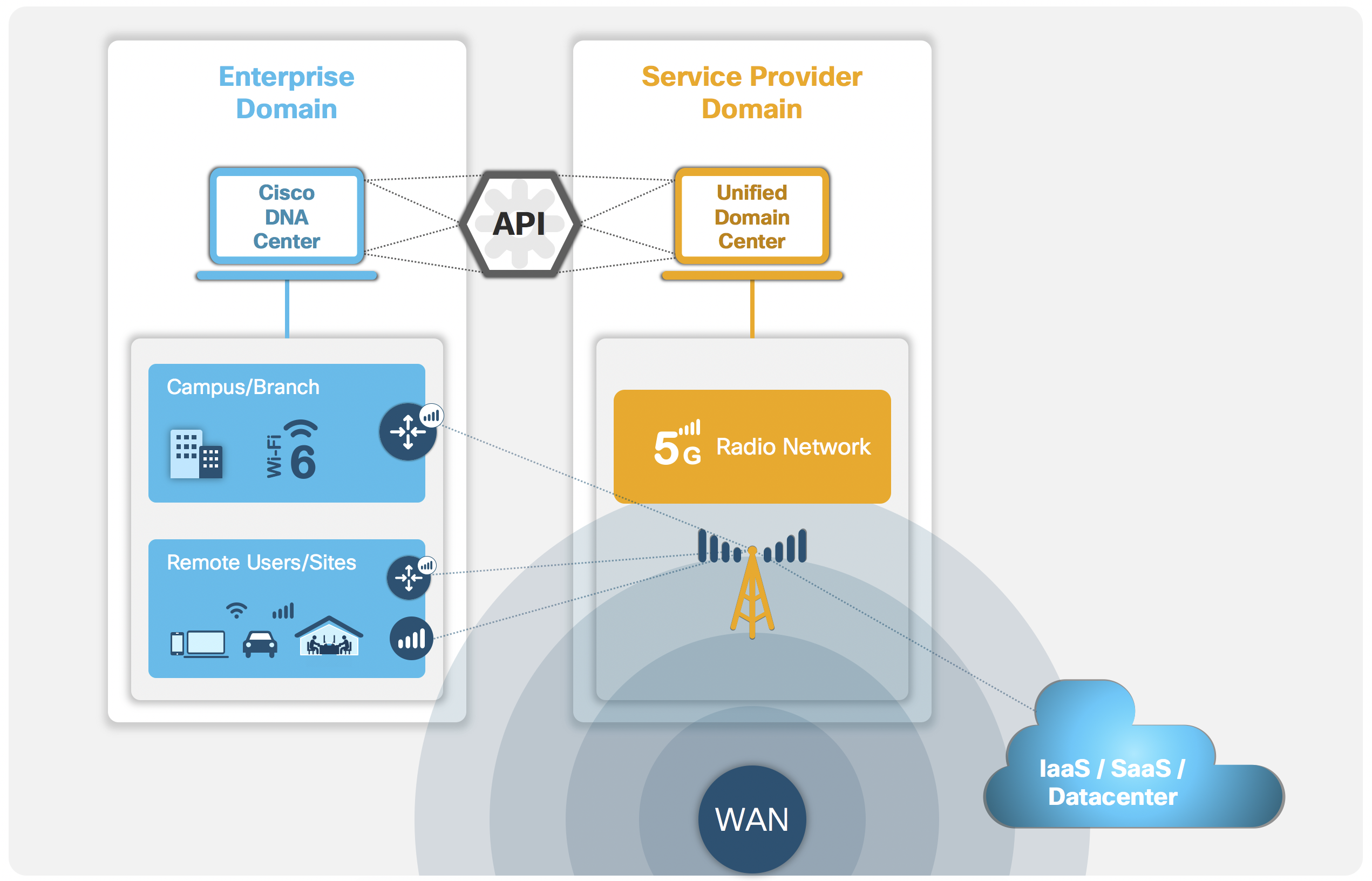 Connected Enterprise
An enterprise domain is typically composed of advanced and diverse wired and wireless networking solutions supporting its on-site (campus and branch) and off-site (remote users and sites) locations. These networking technologies are in place to achieve one simple goal: securely connect the right users and devices to the right data or application, regardless of where the users are within this domain.
Economics, engineering and architectural advantages make Wi-Fi 6 the dominant and preferred mobility technology within on-premises locations. Over the past decade, enterprises have spent myriads of dollars and resources on their Wi-Fi infrastructure and its management tools. They have also invested in advanced AI/ML capabilities to automatically monitor, optimize and secure Wi-Fi environments. Today, network ITs have profound knowledge in deploying, managing, and troubleshooting Wi-Fi designs. For them, upgrading to Wi-Fi 6 is as simple as installing new access points and updating some software, which doesn't necessitate a major re-architecture of the overall access environment.
For an always-on services connectivity, a 5G-enabled wireless WAN router can offer a consistent and nimble connection. Solutions such as Cisco LTE Advanced Pro (5G-ready) can be augmented to the primary WAN connection for high availability and can enhance user experience with its speed and reliability.
As users move across different types of access networks – from SP to enterprise and vice versa – policies, security and identities must be shared among domains to deliver the best connected experience. New roaming technologies such as OpenRoaming can securely and seamlessly connect between 5G and Wi-Fi networks without service impact. OpenRoaming allows enterprise guests and partners to switch between licensed and unlicensed networks without the burden of manual onboarding.
Unified Orchestration
Intent-based networking systems such as Cisco DNA Center are pivotal to achieving automation of policy and configuration within enterprise domain. With the popularity of working from home today and redefining the idea of the workplace in the future, employees are often dependent on different access spectrums for their connectivity. Managing and monitoring employees' devices while connecting to other networks such as Service Provider 5G network is vital to enterprise IT. Without comprehensive traffic visibility, IT is unable to discover all networking and security issues affecting overall network performance and eventually user experience.
The Cisco Unified Domain Center, a thin software layer running at mobile network operators, helps enterprises by putting them in charge of their own 5G services. It empowers their IT administrators to create and manage mobile network services and monitor the entire network with the familiar Cisco enterprise-level look and feel. While this solution has marginal impact on SP operations, it enables them to offer differentiated cloud-based services mapped to specific use cases and capture new enterprise revenues.
Summary
The integrated architecture fosters business innovation and productivity such as digitization and cloud-driven services for enterprises. Enterprises have an opportunity to run their business from anywhere (on-site or off-site) while managing and controlling all their end points from a single dashboard.
Wi-Fi 6 and 5G will co-exist to support different use cases. Converging and managing these separate access networks into one system with unified policy and security are still in the embryonic stage - but it's just a matter of time.
– Reza Koohrangpour, Sr. Product Marketing Manager, Cisco Systems
This content is sponsored by Cisco Systems.