Spanish-based Telefónica has identified immersive communications, immersive entertainment and V2X as the most exciting technologies for consumer 5G.
It has partnered with Deutsche Telekom, Telecom Italia and GSMA, to test out immersive shopping in a Barcelona mall, delivering holographic communication over 5G and using a regular camera.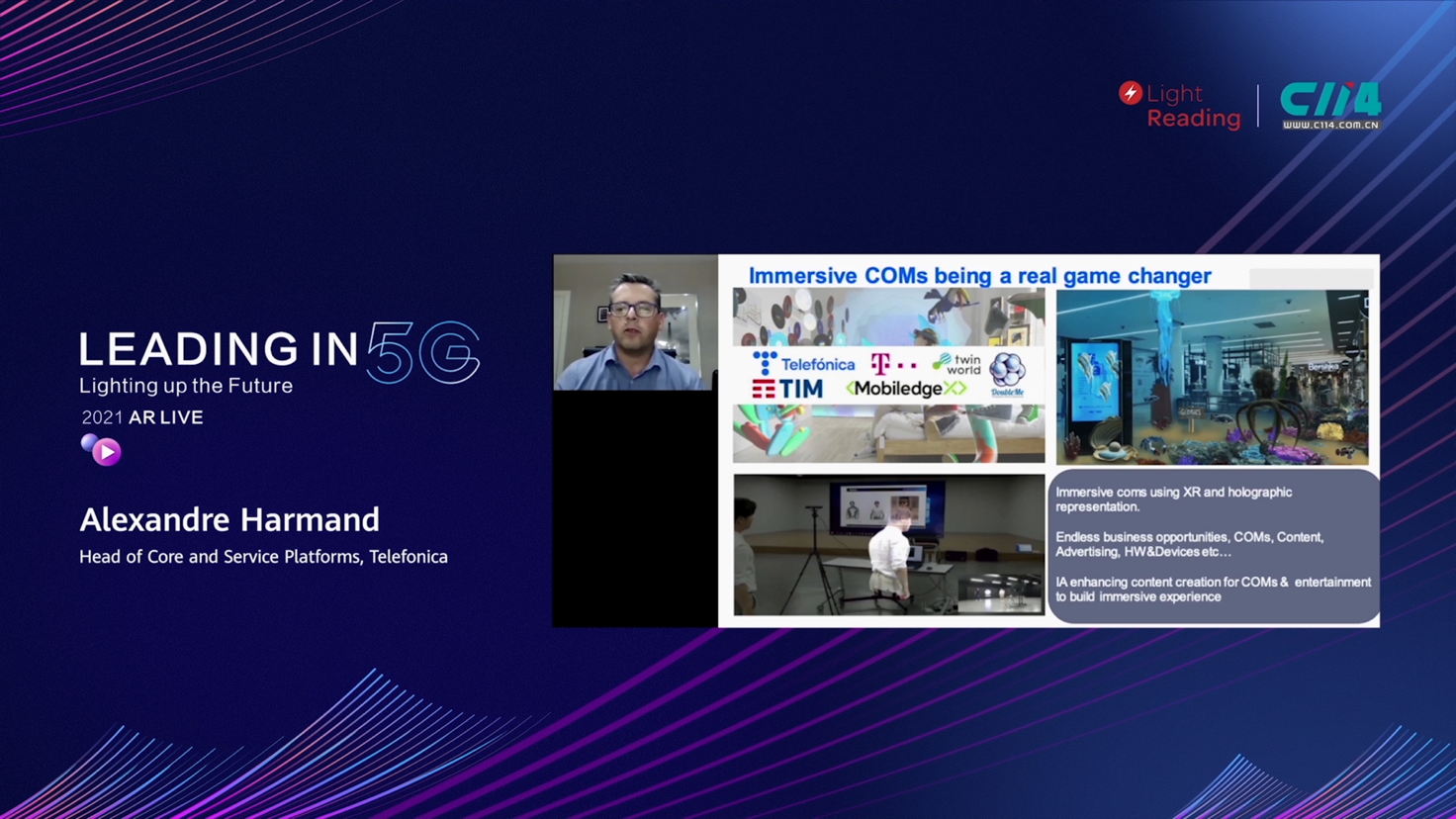 "In this kind of immersive comms you have hundreds of opportunity in advertising, communication and content creation," said Alexandre Harmand, Head of Service Platforms, Telefónica.
"We are working on it, testing different options, but it is some time before it reaches maturity and can be monetized. It is still early days but we can see this is going to be a game-changer."
"From our point of view of all the B2C use cases, I think immersive comms, immersive entertainment and V2X are the most exciting ones. They can open the door to limitless opportunities."
"Capacity and connectivity are going to grow a lot. We will have to handle it. Edge and network slicing are going to be a key mechanism for that."
Harmand said B2B use cases had been extremely useful for developing enabling technologies that will drive B2C.
In particular Telefónica is focused on three: what it calls computer vision – or video processing – AR/VR and remote controlled vehicles, robots and drones.
Harmand said computer vision can be applied to a broad suite of use cases - such as media B2C, V2X, immersive comms and gaming – and was opening up new areas.
It was possible to create an immersive wall with holographic production using a 5G network and an ordinary camera.
"Then you can really see the future of communications. We believe we're moving to this gigabit immersive content era," he said.
But this meant throughput can go up to 40Gbps. Immersive comms would be around ten times the capacity needed for video today.
"So we are going to have to stretch our network and push a lot of this back to the edge," he said.
Harmand pointed out that edge, although not a formal part of 5G architecture, was also a big 5G enabler.
Telefónica has deployed edge in most of its tier 1 operators because of its ability to bring the application closer to the access and ensuring greater computing power and latency and lower energy consumption.
"We believe if we bring the right application to the edge it opens the door for lots of monetization for both B2B and B2C," he said.
Telefónica had deployed edge nodes in Spain, Germany and Brazil, using it as a "5G use case launcher," Harmand said.
It had trialed connected AR gaming between Telefónica and Deutsche Telekom networks, with QoS guaranteed, as well as 5G V2X trials.
"Once we have onboarded a use case we can deploy it quickly in other domains.
The company is also working with GSMA, vendors and other operators on network slicing use cases and trials.
"I would say the technology is not there yet but we would expect to see the first deployment in 2022."
While promoting 5G application innovation, Telefonica is also continuously investing in 5G network innovation. In Oct.2021, with the support of network equipment supplier Huawei, Telefónica Deutschland started using innovative "all in one" mobile communications antenna in its 5G network that supports all frequency bands and mobile communications standards.
Both the operator and end-user can benefit from this innovative solution. For operator, the "all in one" solution can reduce the space required as well as the overall weight of the setups and cut operating costs by around 30 percent; and for users, the technical equipment improves network reception, increases data rates and available capacity. The new antenna technology is more energy efficient than conventional setups because it uses state-of-the-art technology components and transmits power to the customer's smartphone in a much more targeted manner. Huawei's "all-in-one" antennas are named "Blade AAU & Dual Band FDD 8T8R."
Register to learn more: 5G for Consumers – Who's Leading the Race?
This content is sponsored by C114.