There aren't many telecom operators in the world that have not yet realised the importance of digital transformation. However, too often we have seen piecemeal measures being taken, which almost invariably lead to unsatisfactory results.
To succeed in digital transformation, telecoms industry stakeholders need to collaborate and embrace a holistic approach, building from platform up, reaching out to partners beyond the conventional telecoms domains to develop an ecosystem that can address changing market demands, and continuously delivering the most up to date solutions to enable customer value creation.
It is a valid statement that every telecom operator is different from the next one, because the customers they are serving are different, by geography, by segment, or by demographics, often by all of these factors. On the other hand, there is also strong commonality between operators, because the fundamental requirements to support digital service provision that most of the customers demand are the same. These include data collection, storage, governance, and cross-domain data analysis, frictionless handling and delivery of content and service, accurate billing, payment settlement, and many more.
This makes it a classic scenario where the 80:20 principle should apply. In other words, about 80% of a typical customer's demand to power their digital services can be satisfied by a strong unified platform. Such a platform should be able to satisfy most use cases, carry out common tasks like network planning, construction, maintenance, optimisation, and operations, and should be equipped with the full AI suite, including AI algorithm engine, one-stop AI development environment, and AI service operation.
The platform should also have the flexibility to enable partners to develop or customise their own use cases. This is where the other 20% of customer requirement should be addressed. Despite the strong commonality between operator demands, no single platform can satisfy all the different requirements, and these are better served by a vibrant ecosystem gravitated towards the platform. Such a "pull" effect can be achieved with the platform's capability to enable, to certify, to support, to incentivise, and so on.
When it comes to incentives to attract more partners to the ecosystem, different revenue sharing schemes can be implemented. For example, if the customer's demand can be satisfied by a partner's standard solution, in other words, if the partner does not need to customise its solutions for the customer, revenues may be split equally between the platform and the partner. In cases where partners need to customise their solutions to meet customer needs, the partners should have a bigger share of the revenues. The platform can also set up an "application marketplace" to host apps developed by partners. In such cases, dominant revenue sharing models used by leading consumer and business application stores, for example Salesforce AppExchange should be applied.
One operational characteristic that has separated internet companies from conventional telecom operators is that internet companies would undergo continuous delivery of new features and functions while telecom operators' networks and services are more static. This needs to change if telecom operators' digital transformation is to succeed. Such continuous reinvention is not limited to functions and technologies of the digital platform either, it should also continuously improve the enablement of the ecosystem that the platform orchestrates. Equally important is that such continuous delivery of improvement should not only be frequent but also discreet, without interrupting customers' business operation.
As we can see, successful interaction between the three key elements, the platform, the ecosystem, and the continuous operation, to create values for customers relies heavily on the strengths of the platform.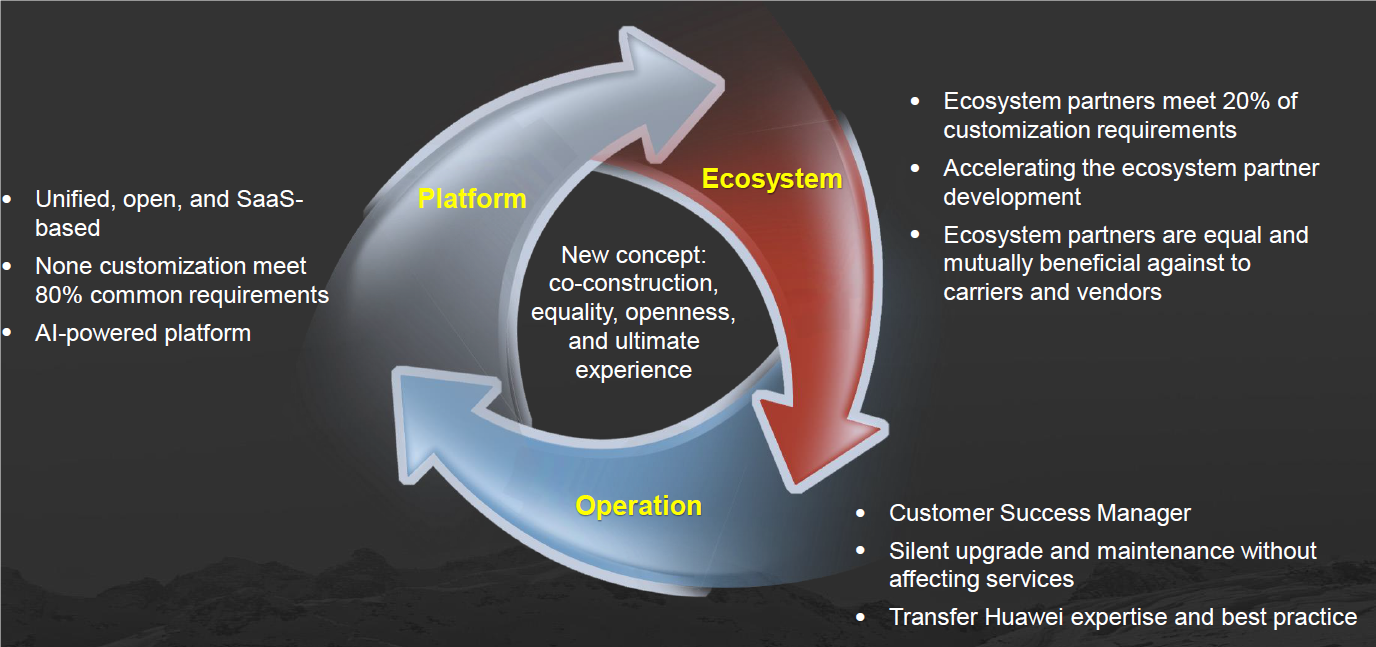 Huawei's General Digital Engine (GDE) is such a unified big data platform. It is built with the company's expertise accumulated and refreshed from over three decades' experience of serving telecom operators and other customers around the world. Such expertise has been with our engineers but with the GDE platform, it is now digitised and can serve all the customers in a broad range of service scenarios. It is also equipped with Huawei's artificial intelligence and machine learning capabilities to help customers cope with and predict market and business demands that go beyond the capability of manual calculation.
Such expertise and capability are continuously being updated, to make the platform more powerful and able to meet more customer needs, therefore simplifying the transformation, shortening the time to market, and optimising lifetime total cost of ownership. Huawei will keep updating the platform, at least twice a year, to enable partners to deliver customisation more easily.
The platform is also the anchor point of a broader ecosystem, working with operator customers to first engage qualified existing partners, then to recruit new partners.
Moreover, the platform, the ecosystem, and the continuous operation mode all live by these values:
• Agility: always ready to adapt to new market and customer needs and opportunities

• Openness: open-minded approach to new technologies and new approach to solve problems

• Equality: treating all partners in the ecosystem equally and fairly
This content is sponsored by Huawei.