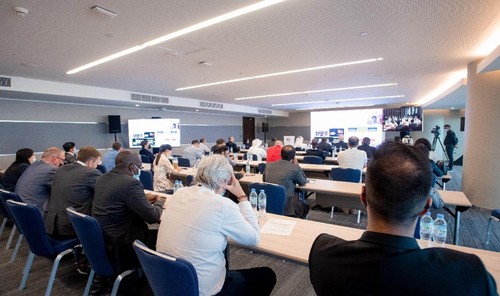 Without network evolution in sub-3GHz spectrum operators will not be able to provide customers with a "cross-generational" mobile broadband experience. Innovative ultra-wideband and multi-antenna solutions are essential in low- and mid-band frequencies if they are to provide much-needed higher capacity in wide areas – as well as in suburban and dense urban locations – and offer customers better indoor coverage.
This was the dominant theme to emerge from the Sub-3GHz Evolution Forum, which formed part of the recent two-day (and in-person) Global Mobile Broadband Forum event held in Dubai.
The forum brought together senior executives from various operators, including China Unicom, du (United Arab Emirates), Entel Perú, and China Mobile Pakistan (CMPak), as well as the GSMA. Each vouched for the business-case benefits of using advanced 4T4R, 8T8R and massive MIMO solutions, combining different low- and mid-band frequencies – ultra-wideband – to extract more value from their sub 3GHz spectrum holdings.
Kevin Zhang, Huawei's CMO of ICT infrastructure, in his welcome speech, emphasized that sub-3GHz spectrum "currently comprises the most valuable frequency bands for operators," supporting most services across 2G, 3G, 4G and, increasingly, 5G.
And moving forward, said Zhang, these frequency bands will continue to play a key role in answering pressing questions confronting industry today. "In dense urban areas, how do you provide ultimate capacity with limited sites?" he asked the forum audience. "In urban areas, how do you provide coverage with cross-generational experience while keeping green and energy-saving in mind? And in universal coverage scenarios, how do you improve user experience and coverage with limited spectrum resources?"
Working with operator partners, Zhang said Huawei was providing answers through sub-3GHz multi-antenna and ultra-wideband solutions that help accelerate LTE evolution – a priority in many emerging markets – and boost 5G performance and reach. "Sub-3GHz is a crucial cornerstone of the 5G era," he said.
Getting down to sub-3GHz business
Alex Sinclair, CTO at GSMA, and Yang Guang, research director at Strategy Analytics, set the stage at the forum as to why sub-3GHz spectrum is so important to industry and national economies.
Sinclair was insistent that 5G's potential would not be fully realized without sub 3GHz frequencies. Citing figures from the Global mobile Suppliers Association, Sinclair pointed out they were 95 commercial 5G launches using C-Band as of August, but only 66 were exploiting sub-3GHz frequencies. "There's clearly some way to go If we're going to see the maximum benefits of 5G, which is when there will be 5G in all possible bands," he said.
Sinclair went so far as to argue that use of lower bands was essential not only to improve customers' perception of 5G, but also to boost national economies through better-performing and more reliable enterprise applications, particularly in manufacturing and digital healthcare. While the mobile industry was doing well, accounting for around 5% of the world's GDP, Sinclair said there was still room for improvement and that better use of sub-3GHz spectrum was one way of achieving that.
He referenced a survey published in a Mobile Economy Report (June 2021) from GSMA Intelligence, which found that around two-thirds of those canvassed thought 5G had met or exceeded expectations. "That's not bad considering how immature 5G still is, but there's still quite a long way to go," said Sinclair. He argued that sub 3GHz spectrum could make a big difference in improving and maximizing customer experience, as well as "providing reliable and consistent coverage for IoT applications."
Guang stressed that a positive network experience was a prerequisite for a successful mobile business. Those churning off 4G networks, he said, typically had less LTE network availability than the average smartphone user.
"Operators need to continuously improve their network experience, and low- and mid-band spectrum is very important for consistent experience since it leads to seamless coverage for indoor and rural areas," he said. "But as there's less available spectrum in sub-3GHz than higher bands, operators need to introduce advanced technologies to improve spectrum efficiency and guarantee customer experience across the network."
Operator validation
The good news for industry is that each of the operator speakers at the forum was able to validate their target network – whether for boosting 5G reach and performance or for LTE evolution – when using multi-antenna and ultra-wideband solutions in sub-3GHz frequencies.
They also welcomed commercial availability of hardware and software that lowers total cost of ownership (TCO) through cell-site simplification, along with the greater energy efficiencies that these advanced technologies can bring.
Miao Shouye, director of 5G co-construction and sharing working group at China Unicom, which has a 5G RAN-sharing agreement with China Telecom covering 565,000 sites, emphasized the importance of having a high-quality and energy-efficient 5G network – with wide coverage – capable of delivering an "ultra experience" for consumers and meeting performance requirements of different industry sectors.
China Unicom has rolled out 5G swiftly, attracting more than 114 million 5G connections (36% penetration rate of its subscriber base) and ranked number one in a recent 5G customer satisfaction survey. Miao anticipated that the evolution of sub 3GHz networks to broadband multi-channels – following the gradual migration of 2G and 3G subscribers – will lead to further user-experience improvement, as well as greater energy efficiencies.
Ahmed AlShal, director of technology planning at du, an operator based in UAE, welcomed what he saw as ample opportunity to "support main 5G services and extend outdoor and indoor coverage" by using sub-3GHz frequencies.
The operator currently has 85% outdoor population coverage across UAE, with around half of sites using the N41 band, but AlShal pointedly added that du had "many options to adapt sub-3GHz frequencies for 5G." He presented at the forum an evolutionary path for all du's low- to mid-band spectrum assets through adoption of capacity-boosting multi-antenna and ultra-wideband technologies.
Shoaib Niazm, director of CMPak's E2E department, outlined a roadmap for improving 4G network capacity, not only to support customers upgrading from 3G but also aimed at lowering complaints, particularly from high-value customers. The roadmap includes what Niazm called "expansion hardware solutions", involving multi-antenna deployments on 1800Hz and 2.1GHz frequency bands.
"In urban and dense urban areas, we are evolving to smart 8T8R on top of 2T3S, which has increased capacity by up to two times," explained Niazm. "This has helped to reduce customer complaints, improve customer experience, and increase traffic which generates more revenue."
He was impressed too that equipment supplied by Huawei allows a smooth evolution path, requiring only the addition of one RRU to move from dual-band 4T4R to dual-band 8T8R, and then a software upgrade from there when CMPak makes the move to NR 8T3S.
Jorge Luis Herrera Palomino, head of RAN at Entel Perú, used his presentation to describe how mobile broadband coverage can be strengthened using low-band frequencies. Drawing attention to a 700MHz 4T4R deployment in Arequipa, a city with 2 million inhabitants but only 200 physical sites, Palomino says Entel Perú was able to steal a march on competitors and achieve number one spot in terms of 4G network experience. In the 12 months to September 2021, the operator increased the 4G portion of its traffic from 90% to 93%, while boosting overall 4G traffic by 21% in the first nine months of 2021.
The bigger network picture
Mohamed Madkour, Huawei's VP of global wireless networks marketing and solutions, gave a broad overview of how sub-3GHz evolution through multi-antenna and ultra-wideband adoption can help operators boost capacity and spectrum efficiencies in each "layer" of the network.
This evolution, said Madkour, involved moving from 2T2R to 4T4R in low-band spectrum to provide an enhanced "ubiquitous coverage layer"; a shift from 2T4R to 8T8R, and eventually to massive MIMO, in the mid-band to strengthen the "universal capacity layer"; and to complement 5G massive MIMO rollout to create what Madkour called the "extreme experience layer."
Further good news for industry, said Madkour, is that the sub-3GHz NR device ecosystem is mature. There is no need for operators to wait until device manufacturers to catch up before getting the most out of their sub-3GHz assets, either in 4G or 5G.
This content is sponsored by Huawei. The Light Reading editorial staff has no involvement in producing sponsored content, verifying its accuracy or otherwise ensuring that it meets our editorial standards.