For Netherlands operator KPN, the enterprise 5G is about creating premium services.
KPN Strategic 5G Business Developer Jos Berière said operators need to deliver services that are predictable and make a measurable difference in order to be successful in the enterprise segment.
In his presentation to Leading in 5G he said KPN saw 5G as a market and business challenge, not just a technology issue.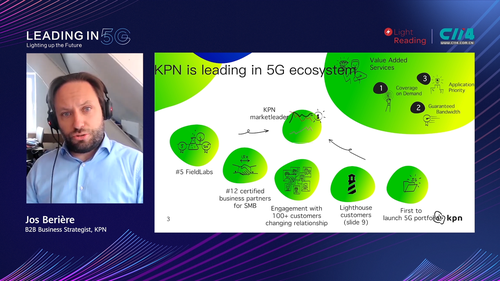 "We believe the only sustainable 5G market is the market where the 5G enterprise services are premium and recognizably premium," he said.
The services must be global and interoperable as well.
"If the market is fragmented between operators or between countries, that market space will be too small to allow opportunities for entrants - new vertical players, application providers, all kinds of new parties seeking to take advantage of these capabilities."
For example, if a telco deploys a robot that only works for one operator or in one country, the market space will be too small to invest and put the best people in.
"That is a part of the ecosystem that should not be underestimated," he said.
Scale and reach are the strengths of telecom global services and need to be replicated in 5G, says Berière.
In the traditional telecom service market, a service that works in the Netherlands "can be export-ed throughout the world and vice versa. That is what we should aim for, rather than fragmenta-tion."
Another pillar of KPN's strategy is that services should be software-based and generic.
With a software or cloud-based service, KPN can provision it much more quickly than a hardware-based service, Berière said.
That reduces the customer financial risk and expands its future flexibility and ability to innovate.
Berière said KPN believes it has the strongest ecosystem and partnership base in the Netherlands.
This had been created over some time "with a lot of digital innovations from a lot of verticals, and we added 5G to it."
He said the nature of 5G services meant a changing relationship with corporate clients.
"Talking to the customers about their business and how we can support them going forward changes the relationship and also who we talk with.
"Many operators still talk with IT or procurement managers, and eventually they are facing com-moditization."
Telcos will lose their relevance unless they can talk about how they can benefit the customer's own business and try to translate that into our portfolio, he said.
"Pushing our products is not the way to go."
Berière said KPN had adopted a partner-based customer engagement model because it was the most scalable and trusted approach in vertical markets.
These partners brought expertise or technologies – applications, AI, robotics, etc - that could de-liver clear benefits and value to customers.
Berière said Lighthouse customers, to showcase how they are leveraging the capabilities of 5G.
One service, adopted by oil giant Shell and logistics firm DHL, among others, is guaranteed and priority bandwidth. The bandwidth can be guarantee locally for certain purposes, with priority service for designated applications.
"We have a limited emphasis on the technology. But it's really important that your relationship and your market position is strengthened," Berière observed.
"We are a part of their digital roadmap for years to come, which we help them accelerate with our capabilities in 5G."
Register here to view the full webinar: Delivering the 5G Promises to the Success of Industry Digital Transformation
This content is sponsored by C114.