SD-WAN services are on the rise.
Spurred by the pandemic and rapid digital transformation, SD-WANs (Software-Defined Wide Area Networks) became the first port of call for enterprises that needed to increase their inter-office network capacity as they moved workloads and applications into the cloud.
In 2020, the market grew by 34%, and Gartner® expects managed SD-WAN services to realize a compound annual growth rate of 53% by 2024. This would make it a market worth $7.3 billion .
Needless to say, SD-WANs are a significant opportunity for Communication Service Providers (CSPs) to tap into. But to do so, they must untangle a range of service complexities, so they can deliver managed SD-WAN services efficiently and head off a fragmented field of competitors. This will mean transforming how they offer SD-WAN services to gain flexibility and speed.
Differentiation is key for SD-WAN success
As with any burgeoning market, SD-WANs have attracted an array of players, ranging from pure-play vendors through systems integrators to hyperscale cloud companies. In such a competitive environment, differentiation is critical if CSPs want to capture a slice of this lucrative pie.
Among the most popular options for differentiation, according to a recent survey by industry analysts Heavy Reading, are customizable SD-WAN and security service bundles (83%), enabling customers to select from a set of vendor solutions (70%) and enterprise self-service portals (70%). Market fragmentation means that there is no 'one size fits all' solution: CSPs must onboard a range of SD-WAN and security providers to address different customer needs, use cases, preferences and budgets.
The survey revealed that more than half of CSPs offer their enterprise customers two SD-WAN vendor options, while close to a quarter make three to four different solutions available.
An increasing number of CSPs also understand that a customer portal is an important feature of their managed SD-WAN service offering. That's because fundamentally, customers expect the same ease of use and speed of spinning up new services from their CSPs that they are used to from their cloud providers.
It is almost ironic that the network services enterprises use for their digital transformation and modernization are often sold, contracted and ordered in a high-touch way that relies on manual intervention. The results are long service delivery times and a significant impact on the customer experience. Seizing the SD-WAN opportunity, therefore, presents some unique challenges for CSPs.
Tackling complex operational challenges
To garner a bigger slice of the managed SD-WAN services 'pie', they need to expand into more market segments and address a wider number of use cases. This means offering an ever-wider range of features, prices and supported vendors.
Of course, they won't just want to offer SD-WANs but also a wide array of other enterprise services. All of this means integrating more and more value-added services within the existing operational infrastructure.
Not surprisingly, 9 in 10 CSPs surveyed by Heavy Reading find the resulting operational complexity challenging or very challenging, while 8 out of 10 say they struggle with limited ability to offer a customer experience that's on a par with hyperscalers.
The reasons become clear from the research, too.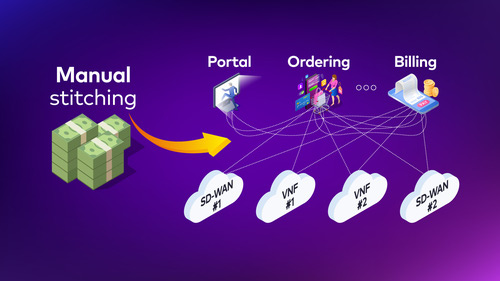 Detangling a web of complexity
The first is a proliferation of tools to manage SD-WAN services as more vendors get onboarded – commonly, CSPs use anything between three and five management tools.
The other is that, because shortcuts have been taken to get services to market quickly, they are often not fully integrated with the CSP's operational and business support systems (OSS/BSS).
This has led to disjointed, fragmented SD-WAN silos and connections that require manual 'stitching' for the provisioning of new services (see Figure 1). The resulting 'spaghetti' connections prevent end-to-end automation and lead to drop-offs in the speed of service delivery. This affects both the customer experience and hampers CSPs' ability to pivot quickly towards new opportunities in the marketplace.
Simplifying SD-WAN service management
CSPs are not oblivious to these gaps. They understand that to maximize such a lucrative opportunity they must transform how they manage SD-WAN services − urgently.
More than 8 out of 10 CSPs surveyed advocate a single, vendor-agnostic orchestration system that ties the 'spaghetti' together and dramatically simplifies the operational complexities in a multi-solution environment. Six in 10 have plans to roll out a single orchestration solution in the near term.
One such system is Amdocs' End-to-End Service and Network Orchestration solution (E2ESNO).
E2ESNO centrally aggregates the management of all SD-WAN and associated services (see Figure 2). It covers all aspects of service lifecycle management from service design, planning and deployment to configuring, orchestrating and assuring networks and services.
By using open-source and vendor-agnostic service modeling, E2ESNO reduces the complexity and cost of integrating new vendors, partners and offers. A unified service and resource inventory enables closed-loop service assurance, providing enhanced visibility and control. This helps CSP operations personnel correlate SD-WAN network underlay and service overlay events more easily while managing service performance end-to-end across multiple systems and domains.
Not only do CSPs benefit from greater operational efficiency, speed and adaptability, but they can also reduce costs and boost their infrastructure's scalability.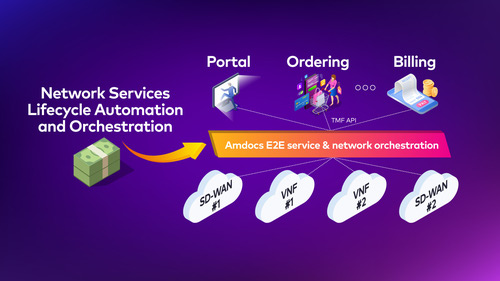 By implementing Amdocs E2ESNO, CSPs are empowered to meet their competitors head-on, fully exploit their investments in new networks and technologies, and tap into new revenue streams.
Read Amdocs E2ESNO solution brief to learn more.
[1] Gartner, Market Opportunity Map: Enterprise Network Services, Worldwide 2021, 24 March 2021
GARTNER is a registered trademark and service mark of Gartner, Inc. and/or its affiliates in the U.S. and internationally and is used herein with permission. All rights reserved.
This content is sponsored by Amdocs.