At the 7th Ultra-Broadband Forum (UBBF 2021), Sumon Ahmed Sabir, CTO of Fiber @ Home delivered a speech, sharing how Fiber @ Home provides a completely neutral, secure, robust, and fast fiber network across the country and the strategic thinking on how to leverage technology advantages to achieve business leadership.
Founded in 2009, Fiber @ Home is the earliest and largest network service provider in Bangladesh. Fiber @ Home builds, develops, operates and maintains a nationwide IP transmission network to enable a common connectivity platform for government entities, enterprises, and service providers like mobile operators, cable TV operators, ISPs etc. and thus helping to create a Digital Bangladesh.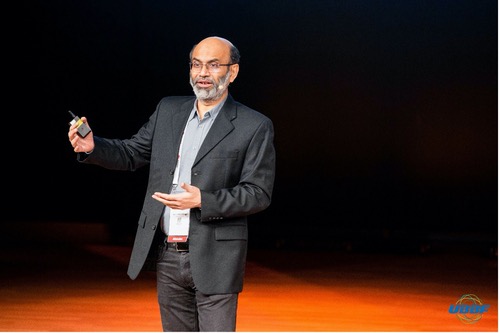 With the acceleration of digital transformation and the large-scale application of emerging services such as live video, online education, and remote office, network expansion cannot meet the traffic growth speed. Fiber @ Home, as a nationwide network service provider, faces the following network challenges:
How to quickly expand network capacity to cope with traffic growth.
How to balance load to improve link utilization.
How to achieve high service availability.
How to improve network monitoring and management automation.
Sumon Ahmed Sabir said: "To cope with the challenges brought by the existing network, Fiber @ Home proposes that the target network should have three characteristics: Convergence Infrastructure, Deterministic Network, and Intelligence, to build an experience-first integrated bearer network."
Convergence Infrastructure: Build a large-capacity 10G/25G to site, 100G Metro, and 200G/400G backbone network and use the flexible fabric architecture and simplified protocols to build an all-in-one integrated transport network.
Deterministic network: Bandwidth is guaranteed through slicing, and latency is guaranteed through SRv6. Services of different operators or enterprises can be carried by different slices which are hard isolated and do not interfere with each other. In this way, the SLA can be committed.
Intelligence: Devices are plug-and-play, and services are automatically deployed. AI fault prediction and in-line service detection are used to implement network digital twins, making networks visible, controllable, and manageable.
Meanwhile, Sumon Ahmed Sabir also shared how new architectures and technologies can be used to quickly achieve business leadership and create new profit growth opportunities in the new situation of the transformation from bandwidth competition to experience competition. Sumon Ahmed Sabir said: We are thinking about how to drive business model innovation through technological innovation. For example, the slicing technology with strict service isolation can enrich high-end private line types and improve private line revenue. The path programmability technology enables acceleration packages for customers with low latency requirements. In addition, service quality visualization and minute-level fault demarcation based on intelligent O&M can provide high-quality O&M packages for production service private lines.
The growth and acceleration of new business models in the communications industry require continuous innovation and practice. Sumon Ahmed Sabir said, Fiber @ Home will continue to practice concept innovation, technological innovation, and business innovation, to build a convergent, deterministic, and intelligent target network for Digital Bangladesh, to provide neutral, secure, robust, and fast services to our customers.
This content is sponsored by Huawei. The Light Reading editorial staff has no involvement in producing sponsored content, verifying its accuracy or otherwise ensuring that it meets our editorial standards.