Rapid development of 5G and computing is accelerating the arrival of the digital era and establishing a US$23tn market of global digital opportunities by 2025, according to Huawei's GIV 2025 report. This new era will be underpinned by the arrival of 5G networks and devices, both of which are gathering pace now, and the increased communication of data and reliance of cloud to enable compute functions for connected devices in the Internet of Things and other sectors. The Huawei report predicts that the number of intelligent interconnection devices will rise from 34bn this year to 150bn in 2025 with intelligence workloads in computing centers rising from less than 10% today to around 80% by 2025.
The Huawei research estimates that data handled will increase from 44 zettabytes in 2020 to 180ZB in 2025 and the network and computing infrastructure needed to support this will be immense. Importantly, none of this infrastructure is free to purchase or operate so service providers will need to focus intently on reducing the total cost of ownership (TCO) and maximizing the value of their sites and equipment. At the same time, to handle the massive uplift in utilization, new network access sites, data centers and equipment rooms will need to be constructed that are power efficient, flexible and scalable.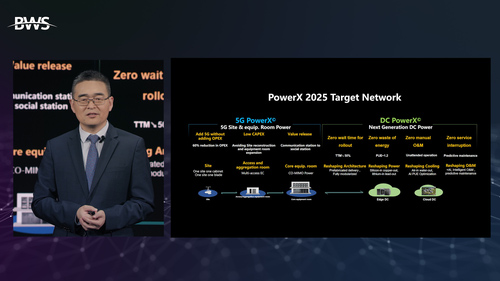 Traditional radio access network sites have always had high hidden costs with the hardware itself only accounting for about 30% of site costs. The remaining 70% of the cost to set up a traditional solution is composed of mains electricity supply or expansion, crane rental, site rental, maintenance, electricity fees, planning applications and civil engineering works. In addition, these functions add substantial delay. For example, an expansion of mains electricity capacity to a site could take six months for an electricity provider to complete. The 5G era involves greater site density but smaller sites so there is the opportunity for service providers to make more of their existing sites by turning them from communication stations into social stations, allowing others to use them or to add capabilities such as mini-data centers to these. Re-utilization of sites offers a low capex means to roll out 5G that is attractive to service providers.
Similarly, legacy data centers also involve high TCO with long time to market and limited flexibility for expansion. It's not uncommon for construction of 1,000 data center racks to take 18-24 months and operation and maintenance costs continue to be substantial during the life of the project.
The next generation of data centers will have greater efficiency and offer better performance in order to meet governmental power consumption and environmental regulations. An industry-leading data center today would be operational six months faster than a traditional one and would achieve power usage effectiveness (PUE) of 1.2 in contrast to 1.4 from a traditional center. In addition, the newer designs enable 200-250 racks to be maintained per worker in contrast to 100-120 in older environments.
To achieve energy efficiency, Huawei has launched its 5G PowerX and DC PowerX propositions that target greater efficiencies in 5G sites and in data centers. The aim is to enable operational savings while dimensioning the infrastructure for the digital era at a sustainable cost.
5G PowerX© enables service providers to add 5G without increasing OPEX while reducing capex and releasing site value. The concept relies on moving sites from being communication stations to social stations and utilizing solar power to charge lithium batteries to power both the cell site and equipment room. The concept of having one site, one blade builds on the advances seen in 4G of one site, one cabinet which resulted in TCO reduction of 30-70%. The very small area required by pole-mounted 5G deployments is ab obvious advantage but further reductions in power consumption enabled by solar and backed by lithium batteries take TCO even lower.
DC PowerX© focuses on wrapping the construction mode, power system, cooling system and operation and maintenance of a data center into a fully modular and prefabricated data center. This enables elastic capacity expansion and reduces initial investment by 20% while also accelerating time to market by 50%, says Huawei. One key cause of data center power consumption is cooling and by introducing evaporative cooling and free cooling technology, Huawei has reduced PUE to less than 1.2 at a deployment in London. This is a substantial uplift in performance compared to traditional chilled water cooling and construction is faster and maintenance less costly for the new system.
Huawei Cloud has introduced intelligent cooling that has enabled it to reduce its PUE from 1.42 to 1.25 saving electricity costs of about US$1.5m per year. The application of digital technology to data center operations reduces costs across the board and, paired with savings in the radio access network at 5G sites, delivers on the radical reductions service providers need in order to enable the digital era and grab their slice of the US$23tn market.
— Fang Liangzhou, CMO of Huawei Digital Power Product Line
This content is sponsored by Huawei.