A couple of years into 5G roll outs, the main question for operators remains on how to monetize the 5G network investments. Operators understand that enterprise wireless networks are a potential source of revenue. Many of them, from around the world, have engaged in trials testing 5G networks in enterprise settings. The trials have uncovered the complexity and related cost of private networks. A few operators began exploring network automation solution to facilitate the deployment, operation and maintenance of private networks. One of the reasons for the complexity lies in the diverse nature of enterprise applications. The performance requirements of enterprise applications running on private networks vary considerably from that of mobile broadband over public networks. The resulting friction increases the cost of enterprise networks irrespective of who's managing them. Solving the "complexity curse" of private networks is a multi-dimensional approach: automation is one fundamental solution.
Dichotomy of Flexibility and Complexity in 5G
In working with enterprises on 5G networks, I find many who recognize the differentiated performance but are apprehensive on the complexity of 5G networks. Ironically, the complexity of 5G is a direct result of its flexible architecture and feature set.
The 5G architecture offers many valuable features to meet the performance requirements of enterprise applications. Low latency through edge computing, performance assurance through slicing, and scalable use of frequency spectrum are but a few examples.
The flexibility of 5G architecture comes from leveraging cloud technologies. A cloud-based architecture makes running different workloads – either enterprise applications or network functions – cost effective.
But this flexibility has a downside as it leads to complexity in network configuration, operation and management. Hundreds if not thousands of 'control knobs' define how the network will operate and perform. Moreover, workloads can run in different locations that must be optimized for cost and performance. Orchestrating and managing the end-to-end network presents a new challenge for service providers and enterprises. This is why network automation is increasingly becoming front and center as a tool to drive efficiency.
Impact of Enterprise SLAs
The key difference between public networks designed for personal broadband services and private networks designed for enterprise applications are the SLAs that govern the network performance. Industrial applications often have strict requirements related to availability, reliability, throughput, latency and other parameters. Many applications are categorized as 'mission critical' where outage could lead to catastrophic results. Moreover, the variety of end devices and applications is large in comparison to mobile broadband. This sets the context for network automation in private networks across the entire lifecycle.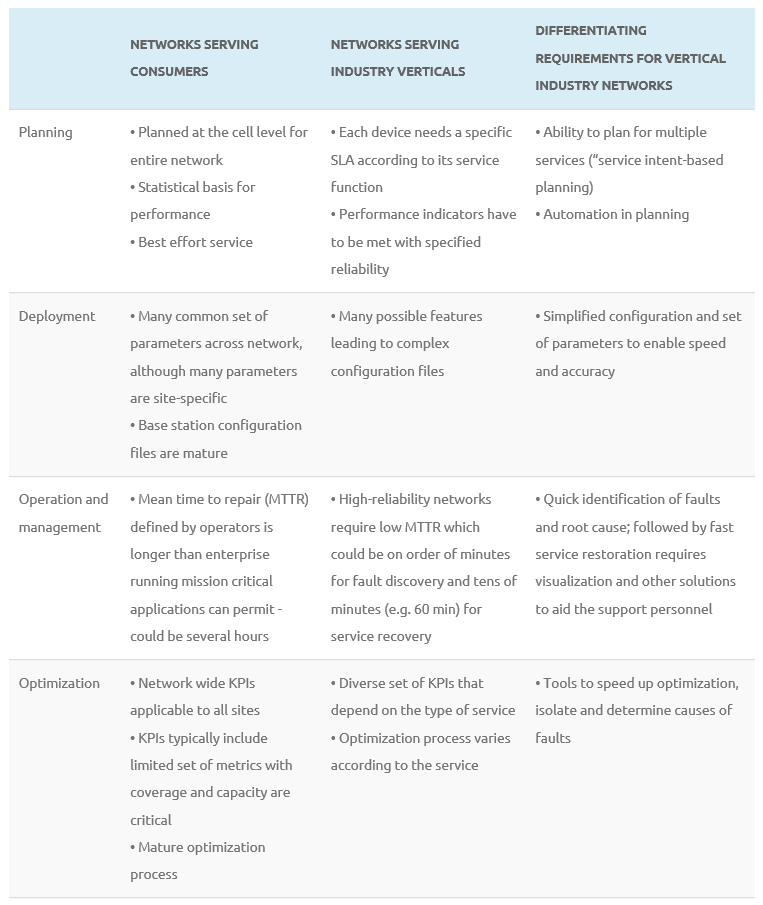 Solving Complexity with Automation
Network automation simplifies the deployment, operation and maintenance processes. It also speeds up the relate processes and scales them to handle the multitudes of nodes, devices and services. Consider for instance where and how automation applies to different stages of the network lifecycle:
1. Planning and deployment: The enterprise identifies the services it requires and the service level agreement (SLA) parameters, such as data rate and latency. This will help determine the necessary network resources (number of nodes, spectrum, etc.)

2. Operation: Automation enables service provisioning on demand for efficient operation. It minimizes down time and maximizes best use of network assets. Automation manages setting up and tearing down resources requires for specific services to meet their respective SLAs on a real-time basis.

3. Maintenance: Here, for instance, the critical part for the user to be able to quickly identify faults and their causes. But even more so, predictive algorithms can identify potential faults in advance to allow the user to proactively take corrective action. This leads to the important of visualization across the end-to-end network to guide the user. In all, intelligence is a cornerstone feature for network operation and maintenance.
Network automation leverages intelligent techniques to achieve these functions, such as the use of machine learning. As an example, see here Huawei's iMaster MBB Automation Engine (MAE) 5GtoB Suite.
Concluding Thoughts
Enterprises want to be in control of their networks, but they don't want to become network operators [see here]. The cloudification of networks enable enterprise deployment models where this is a possibility. But cloudification does not take away from the complexity of network planning, deployment, operation and maintenance. Automation is a solution for many enterprise challenges, but we still need to see the business case come to life in validated numbers post trials. Vendors*, operators and enterprises are actively engaged in deploying enterprise networks to validate performance, value proposition and business models. Network automation ought to be part of that.
* Huawei deployed MAE's 5GtoB Suite to help machine vision production lines run efficiently in Dongguan; aside from other initiatives Huawei in the steel industry, ports, and automobile manufacturing industries.
— Frank Rayal is founding partner at Xona Partners, a boutique management and technology advisory firm. His focus is on enabling companies generate revenues through technology innovation and market insight.
This content is sponsored by Huawei.