China Mobile, the world's leading 5G operator in network scale and subscriber numbers, has been growing 5G take-up and traffic with innovative digital services.
Many of these combine 5G with AI and smart media technologies such as AR and VR.
Li Lin, Vice President,Technical Service BG,Migu Culture and Technology of the operator's digital content subsidiary Migu, says 5G consumer apps break down into two types - endogenous and extensible.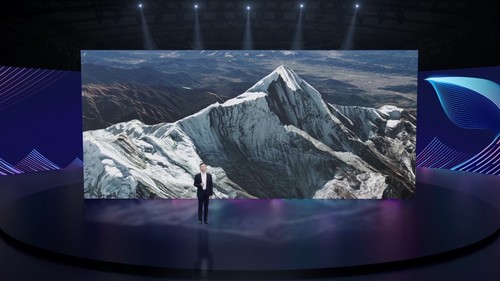 Endogenous applications take advantage of 5G's core characteristics of high speed and low latency, he says.
Typical examples include apps like 4k or 8k live broadcast, which require downlinks of more than 100Mbps. "That's difficult to achieve with using traditional 4G," he said.
Certain apps only work properly over 5G, such as multi-channel ultra-high-definition live broadcast, multi-screen viewing, VR-enabled e-sports and movies and live VR broadcasts.
"For these the downstream rate needs to be greater for users to enjoy the full immersive experience," he said.
Besides bandwidth, 5G's other great strength is latency. When very low latency is required - for example, less than 10 milliseconds – 5G is the only network that can ensure the app functions properly.
This is especially so when it comes to apps built on 5G edge or edge-driven apps like cloud games.
The other type of apps, extensible applications, are where the core capabilities of 5G are combined with other technologies such as AI or video processing and rendering.
5G's blazing speeds and huge capacity can be deployed to ensure better performance and distribution of these technologies.
Li cites the use of AI technology in the production of audio and video. Migu has introduced intelligent features such as smart editing, smart horizontal rotation, smart subtitles and special effects.
Migu carried out multiple 5G trials last year, including a VR live broadcast over the China Mobile network from Mount Everest and a multi-channel 4k+5G live broadcast of National Day, Li said.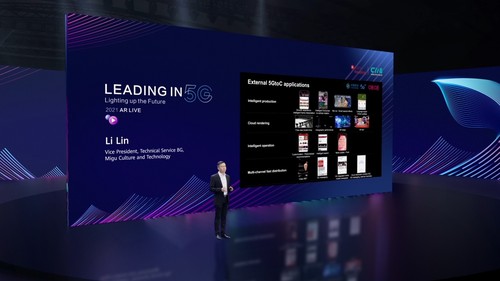 It has also developed a feature that upgrades traditional 16-bit music to 24-bit, taking advantage of the higher bandwidth of 5G to deliver better sound quality or 3D surround sound quality.
China Mobile has been trialing new services across the country including the first 4k live broadcast of sports events, such as CBA and volleyball.
When it comes to commercial services, China Mobile launched a wave of new 5G services during the recent summer Olympic Games.
One of those is the ability to display and check tens of thousands of short videos, which are spread across various media channels.
"The viewership is very large and the experience is also very good. The use of a short video in special effects throughout the Olympics is a good point of publicity," Li said.
Then there is rapid push news service, where fast production and distribution means short videos can be produced and distributed in as little as 10 minutes.
Li said the ability to forge partnerships across the industry has been essential for Migu. In order to achieve growth in new segments Migu had relied on collaboration through industry alliances around 5G ultra-HD and games.
Register to learn more: 5G for Consumers – Who's Leading the Race?
This content is sponsored by Huawei.