Over time, broadband networks have become complex affairs. Siloed, monolithic and proprietary network solutions — while essential investments for meeting demand — have created inefficiencies and increased operating costs. The arrival of software-defined networking in the access network allows network operators to master this complexity.
By transforming networks with automated, cloud-native microservices-based network solutions, operators are expanding their ability to innovate, to scale, to be agile, and to reduce costs. This new architecture is based on open programmable APIs and data models for distributed network functions and services. The finer and automated level of control allows operators to quickly activate and easily monitor customer services, but also operate networks in an autonomous manner. The place to go to find specifications that define these capabilities is the Broadband Forum's CloudCO.
The CloudCO offers a forward-thinking reference architecture allowing operators to modernize their central office infrastructure and realize a feasible cloud-based network evolution to disaggregated network functionality. Many specifications have been published or are being actively worked on for interfaces across the orchestration layer, SDN management and control functional blocks, access nodes and associated network functions.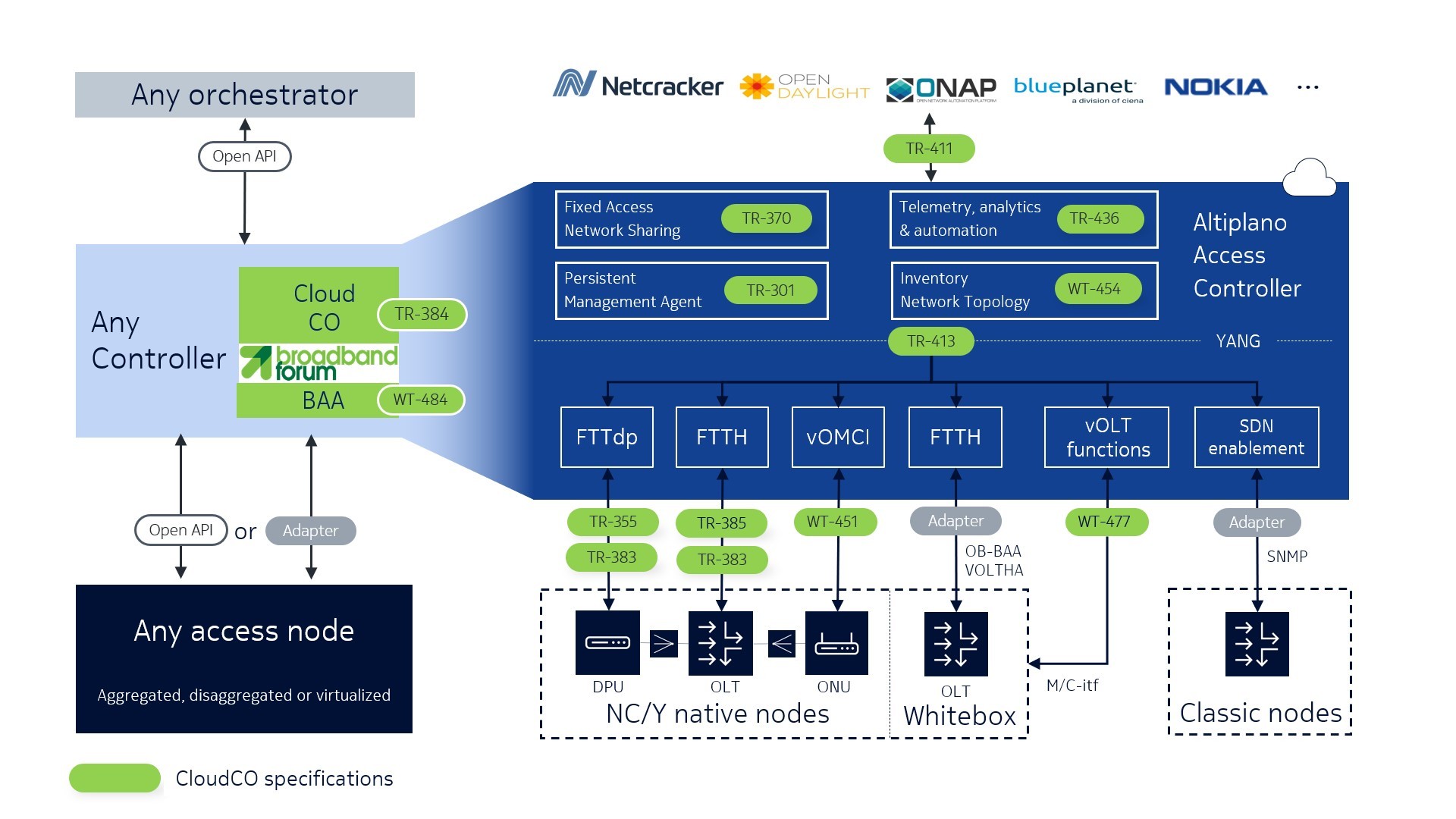 Broadband Forum's TR-384 started it all. TR-384 is the reference architectural framework that describes how broadband services can be deployed using SDN and NFV, and there have been numerous additions to TR-384 since then. For example, TR-413 defines the protocols and data models to manage and control SDAN network elements; and there are specifications that define the interfaces for the management and control of virtualized network functions such as the management of ONUs using vOMCI (WT-451), the sharing of OLT and PON resources as described in TR-370 on Fixed Access Network Sharing (FANS), and the protocols used to extend the control plane to functions that have been disaggregated from the traditional access nodes (WT-477).
CloudCO also improves significantly the automation capabilities. The integration of CloudCO with existing automation and OSS platforms is standardized (TR-411, TR-454), including the architectural framework to autonomously assure services and monitor resources (TR-436). Now, we're busily adding requirements and specifications that will enable operators to use telemetry to monitor and "program" networks using functional building blocks with open, standardized interfaces. These programmable interfaces are critical for operators as they evolve their OSS systems.
Speaking of evolution, the Broadband Forum also published TR-408 in 2020 to provide guidance on migrating existing networks to cloud-native networks but also recognizing that, for the foreseeable future, there will be co-existence between the networks and practices currently employed by the operator and the new cloud-native, automated and autonomous networks. As part of the guidance, TR-408 discusses how virtualized network functions that either have been disaggregated from traditional physical nodes or as new functionality in the network can be deployed (centralized or distributed to the edge).
Nokia has been a leading contributor to CloudCO, because we strongly believe that open architectures are key to usher in the SDAN era. The BBF's CloudCO family of specifications ensures that the transformed network is a multi-vendor, multi-domain programmable network worthy of being called a next generation Software Defined Access Network (SDAN). As a leader in broadband access, SDN/NFV, and automation, Nokia is well positioned to help operators determine their best path to SDAN. Operator approaches differ in the priorities they set, the pace at which they progress and the trajectory they follow. While the challenges are similar, we can leverage a unique portfolio and many years of transformation expertise to address the unique needs of each operator.
The Altiplano Access Controller is at the heart of Nokia's SDAN solution. Altiplano offers management and SDN control functions in line with the CloudCO architecture. CloudCO compliancy means Altiplano is a truly open platform that can connect easily to any type of access node: SDN-native nodes via FTTH/FTTdP YANG models, disaggregated access nodes, white boxes, traditional SNMP managed nodes, and essentially any type of node via proprietary software adapters when interfaces are not standardized. The compliancy also ensures that all adapters that are developed in the open source Broadband Access Abstraction project will work with Altiplano as well. It allows every vendor to proactively fix interop issues independently and simplifies the integration work. This makes Altiplano an open platform for operators to onboard and develop their own apps. It also enables slicing of the access network into virtual partitions, enabling new approaches like FANS.
For a real flavor of what it can achieve, check out the Cloud CO Virtual Demonstration from the Broadband World Forum 2020. CloudCO is important in that it allows interoperability for all solutions, traditional and disaggregated. Whatever the source, origin, vendor or pedigree. The future is clearly open: through standardized interfaces where possible and via software adapters where necessary.
— Tim Carey Lead Technology Strategist with Nokia and Broadband Forum Fellow
This content is sponsored by Nokia.
Nokia Corp. (NYSE: NOK)