5G-Rich Messaging Is a Potent Upgrade From A2P SMS for Business Messaging
Telcos can use 5G to protect business messaging revenues
SMS is a text-based messaging service that continues to be enormously popular with organizations, which use it to engage with customers, employees and the general public. But the richness of the messaging capabilities provided by apps also clearly resonate with consumers, and with businesses. This is especially the case in markets such as China, Japan and South Korea, where Weixin/WeChat, Line and KakaoTalk have successfully extended their messaging apps beyond communications into customer care and commerce. Global messaging apps have followed suit, with WhatsApp announcing in October 2020 that more than 175mn people message a WhatsApp business account every day. Parent company Facebook followed this up with its acquisition of customer relationship management (CRM) platform provider Kustomer in November.
The telco industry has also moved towards making the messaging experience richer for consumers, via the GSM Association's Rich Communications Service, which is realized in its Universal Profile (the latest version of which is 2.5), which underpins 5G rich messaging. 5G rich messaging aims to be a universal service, like SMS, which is available on all devices and is interconnected across all networks, both for P2P and for A2P.
Key features of 5G rich messaging include:
Telco messaging service: Updates legacy SMS. Uses device SIM and MSISDN, which means it's natively available on all devices which support RCS UP (no need to download and register with an app), secure, always online, and does not require users to necessarily add someone as a contact before messaging them
Verification and security: Validate the brand's identity as the sender of messages and content to their customers
Rich cards and carousels: Provide customers with photos of products and services, and digital catalogues
Chatbots: Enable brands to program automated responses and to filter for inquiries that need a human agent
Location: Allow the sharing of maps and directions
Payments: Connect to existing payment platforms offered by telcos, brands or key payment providers
QR codes: Allow the sharing of QR codes for linking to brand's digital content e.g. a website or an FAQ
Metrics and analytics: Provide much more detail on customer interactions than SMS, including metrics on traffic, customer engagement, sessions, and the end-to-end customer experience.
5G could be the success factor for rich messaging
Omdia's Digital Consumer Insights 2019 confirms that consumers are interested in using a rich messaging service from their telco which is like Facebook Messenger, WhatsApp or Weixin/WeChat. Across six markets surveyed – Australia, Brazil, China, South Africa, the UK and the US – 67.44% of online consumers said they were already using a telco-based rich messaging service or would like to (see Fig. 1). That 22.7% of online consumers said they would use such a service if their telco offered it suggests there is pent up demand, which is an encouraging sign for the future of 5G rich messaging.
Fig. 1: Global, online consumers who are already using or would like to use a telco-based rich messaging service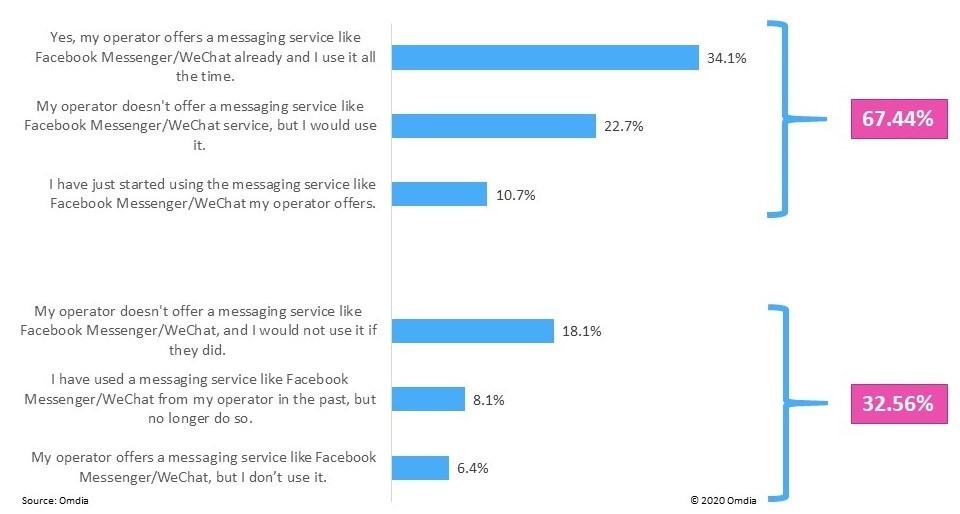 The same global ecosystem that helps brands to engage with A2P SMS – telcos, SMS aggregators, connectivity service providers, hosting providers and mobile engagement platforms – has added rich messaging to its portfolio, and Google as a key technology enabler partner, especially with its Early Access Program (EAP) for rich messaging. This ecosystem has enabled brands in most regions of the world to roll out rich messaging campaigns, even in markets where not all telcos have launched RCS or markets where no telcos have launched the service.
And those campaigns have typically returned good results for brands, especially in comparison to SMS. For example, Mexican paint distributor Comex ran a sales campaign for its Club Comex (loyalty program), which used rich messaging and SMS. The campaign resulted in a 115% increase in revenues, and a 20.6% click-through rate, which was about ten times the SMS CTR. And a sales promotion by US fast food restaurant Subway, which used both RCS and SMS to deliver two sandwich offers to customers, found that conversion rates for the RCS components were 140% and 51% higher than SMS, respectively. Other major brands to launch rich messaging campaigns include Vodafone and Virgin Trains in the UK, The Walt Disney Company (South Africa), Utel and Cinemex (Mexico), and CTA, Francis Ford Coppola Winery and Papa John's Pizza (US).
With both the demand side and the supply side engaging with and reacting positively towards rich messaging, 5G could well be the success factor for telco rich messaging services.
— Pamela Clark-Dickson, Principal Analyst, Advanced Messaging and Communications, Omdia
This content is sponsored by ZTE.