The active rollout of 5G networks across the world has shifted the discussion amongst communications service providers (CSPs) from "should we launch 5G?" to "now we've launched it, how can we monetize it more effectively?" This new reality emphasizes the challenge for these players to find ways to shift themselves upwards from their traditional position of delivering connectivity as a commodity.
Rise of network-embedded services (NES)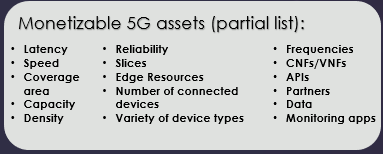 The vast majority of 5G rollouts to date have been based on a 4G upgrade path known as "non-standalone (NSA) 5G," whose main advantage over 4G is improved data speeds.
Yet, the real inflection point will be the adoption of 5G standalone (SA) technical architectures – where, a new 5G core makes available a rich array of dynamic and programmable network, edge and cloud assets. These new capabilities can be combined and curated in a differentiated, tailored way – unveiling the true force of 5G and its ability to impact both our personal and professional lives.
This network evolution from "one size fits all" to a dynamic, tailored performance-per-use-case model introduces a new concept of network-embedded services (NES).
NES's rely on the existence of specific resources and performance attributes tailored to the service being delivered. 5G SA opens an exciting world of possibilities for partners to leverage the network in the precise manner and time their application requires – dramatically strengthening the CSP's positioning.
In this new paradigm, rather than just a network, 5G becomes effectively, a platform.

Driving new business models
With 5G as a platform, CSPs are now empowered to introduce new business models into their ecosystem, and at the same time, dramatically augment their existing business models. And by enabling enterprises to consume the network just as they consume the cloud, it also opens a world of monetization options. Network as a service (NaaS) and Slice as a Service (SlaaS) offerings, for example, can be enhanced by a marketplace of partner solutions – all driven by the CSP. The B2B2X business model is yet another way to expose the network to partners, who can consume its capabilities as they require and reach new customers with innovative services.
Strategies such as these will allow CSPs to develop a much more important role in exposing and integrating network resources and delivering services, which in turn will be translated into additional revenue.
The 5G Value Plane
The 5G Value Plane is a key enabler for driving network-embedded services and bringing cloud business models to 5G networks. It supports on-demand, real-time curation and consumption of a wide range of resources and services, with innovative pricing and exposure.
5G Value Plane comprises key 5G SA core network functions, which together, enable tight integration between the 5G network, the CSP's IT & business, partners, cloud players and enterprise customers. Such integration is key to enabling CSPs' evolution from traditional "network-powered" pipes to monetizers of the 5G network.
This evolution requires that interactions between the business/IT side of a service provider and the 5G network be much more varied and dynamic, while being incorporated throughout every stage of the service lifecycle: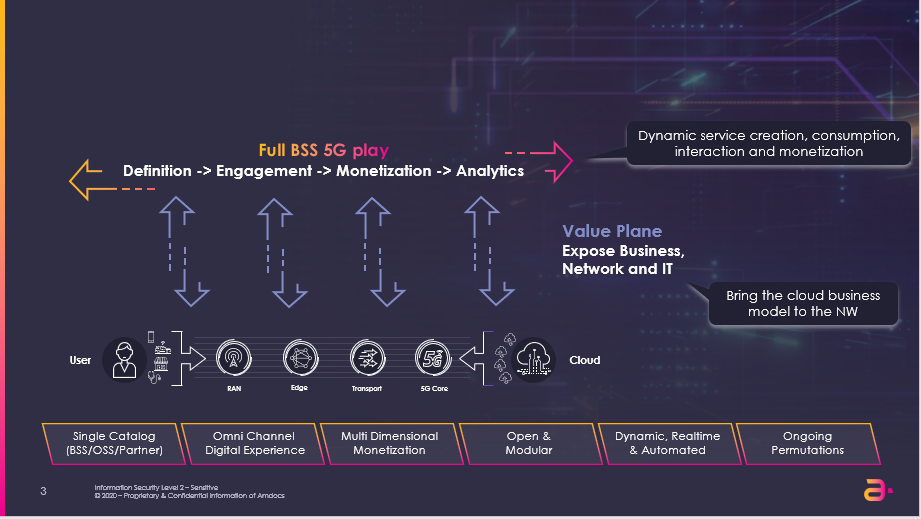 5G Value Plane components
CHF/CCS + PCF – With 5G, policy is no longer just a network control mechanism but a means to build and deliver 5G services. With its integration to more powerful 5G charging, it enables different offers with different network characteristics to have different pricing and charging rules, as well as appropriate SLAs.
NEF – The network exposure function is the key to exposing network APIs. It provides a CSP's enterprise customers and partners with direct access to interfaces that enable them to leverage the 5G network, as well as providing them with crucial visibility and real-time control of the status and performance of the network resources they are utilizing.
NWDAF – The network and data analytics function will be instrumental to collecting data across the 5G network domains. Leveraging AI/ML, this "new world" of inputs can provide in-depth analytics and reveal valuable operational and business insights. For example, a highly-loaded network element could drive a required operational scale-up, in parallel to updating the pricing scheme for this now high-in-demand asset.
Service, commerce and charging catalog – Though not a core 5G function in itself, there is great importance to 5G Value Plane components being integrated with a unified, business-driven catalog, spanning across BSS, OSS and partners. With fully synchronized commercial and technical service definitions, this provides CSPs with the crucial agility they need to rapidly develop, launch, manage and monetize new offers, while empowering them to "try and fail fast," taking advantage of any emerging offers and partners.
Paving the path to a 5G mindset
For CSPs to fully leverage their 5G assets for innovative monetization, it is paramount for them to adopt a clear 5G mindset upfront. This is true even for today's 5G NSA offerings, as ultimately these will serve as the entry point towards the full 5G revolution. Amdocs 5G monetization serves the 5G Value Plane, providing a key first step towards achieving this mindset.
After all, it's not only about connecting people or things anymore. It's about the value of those connections.
This content is sponsored by Amdocs.
Amdocs Ltd. (NYSE: DOX)