5G FWA, Game Changer for Fixed Broadband
Partner Perspectives
Huawei
5/15/2020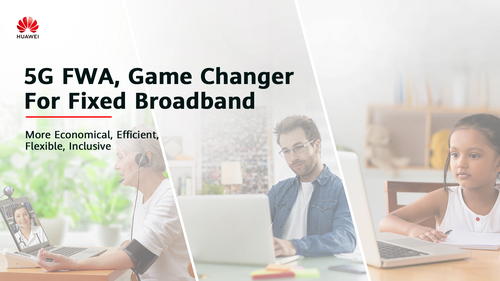 "Fixed wireless access (FWA) has become the fastest growing technology for fixed broadband access in recent years. Powered by 4G and 5G, FWA has proven more economical, efficient, flexible, and inclusive globally, and as well as changing the competitive landscape of the home broadband market," said Wang Zhongtao, president of Huawei's Wireless & Cloud Core Network Marketing and Solution Sales Department, at a recent live global broadcast Wireless Fiber, Plug-and-Play Broadband.
Changes to Broadband Network During COVID-19
Broadband is already deeply interwoven into our daily lives. During the COVID-19 pandemic, it has allowed us to continue our work and studies from home. This has led to a more even distribution of global Internet traffic and users, both in terms of time and geographic location. That is, the peak-traffic period lasts longer, while suburban and rural areas are generating far more traffic than before.
According to NCTA – The Internet & Television Association (formerly the National Cable & Telecommunications Association), an interesting trend in network traffic is emerging: The uplink demand is increasing far more significantly than the downlink demand. This is largely driven by the unprecedented growth in work from home and distance education.
But what about households with limited bandwidth or no fixed access at all? FWA offers an ideal solution to providing high-speed access for households lacking fixed network coverage or with increased bandwidth demand. As well as this, it's easy to set up, eliminating the need for home visits. Instead, carriers just send CPEs to users' homes before provisioning Internet access. With one third of the world's population currently stuck at home during these unprecedented times, FWA has driven global CPE sale increases by more than 50% a week, giving more people access to high-speed broadband services.
Carriers List FWA as Long-Term Development Strategy
Many carriers have revealed long-term FWA development plans in their latest financial reports. In some Nordic countries, carriers have prioritized FWA as a major 5G use case. They plan to use FWA, together with fiber to the home (FTTH) to replace copper-line xDSL technology, which they intend to phase out entirely over the coming years. A leading Italian carrier has set out the goal of acquiring one million FWA users by 2022, and this goal is fully achievable, as demonstrated several small Italian Internet service providers (ISPs) developing more than one million FWA home broadband users through 4G technologies in recent years. A Swiss carrier is also using FWA as an ideal alternative to upgrade and replace xDSL on a large scale, with plans to migrate xDSL users to its 4G and 5G FWA networks for higher profitability. Elsewhere, according to the 2019 annual report of a Philippine carrier, its FWA users have reached 1.4 million, a stunning 40% year-on-year increase.
5G FWA Industry Development Exceeds Expectations
The 5G FWA industry is developing faster than anyone expected, with nearly 40 FWA networks having been commercially deployed worldwide. According to the latest Global mobile Suppliers Association (GSA) 5G device report released in March, there are currently 76 5G CPEs on the market, a number that took 4G nearly three years to reach. This contributes to a mature ecosystem and a substantial decrease in CPE prices, from above US$1000 last year to about US$250 in April this year. Such wide terminal availability will help carriers achieve further business success.
5G FWA offers far higher home broadband speeds. More importantly, it makes our daily lives even smarter. Mainstream consumer electronics vendors, including Samsung, Oppo, and Xiaomi, have recently launched 5G CPEs as a key product for breaking into the smart home services, with such products enabling a whole host of smart home applications.
More 5G Spectrum, Supporting FWA Sustainability and Innovation
In 2020, more 5G commercial spectrum will be licensed. C-Band and 2.6 GHz are already widely deployed worldwide, having proven they are able to fulfill the requirements for capacity, coverage, and a mature ecosystem. The mmWave technology is also set for large-scale commercial use. It is especially suitable for FWA home enterprise services that demand higher bandwidth, as it offers FTTH-like speeds.
Sub-3 GHz FDD NR will also be commercially available in the first half of 2020. Huawei's CPE Pro 2.0 will support the most widely adopted sub-3 GHz FDD bands. Sub-3 GHz FDD NR is easy to deploy and does not require antenna reconstruction, enabling carriers to quickly deploy 5G. When the C-Band spectrum is available, terminals will be able to automatically camp on the new C-Band without CPEs having to be replaced or reconfigured.
2020 will see more 5G FWA services become available for users. Such services include 5G B2B private lines, which generate a high average revenue per user (ARPU) and currently face little competition in the market. This makes 5G B2B private lines, despite their high SLA requirements, an attractive new market with enormous potential. Most importantly, 5G B2B private lines are a feasible solution that requires no complex integration and are already commercially available in Kuwait.
Another service to look forward to as 5G matures is 5G fixed Ethernet. Ethernet has always been one of the most popular services among enterprise customers, and mobile carriers will be able to provide 5G fixed Ethernet services for enterprise users with significantly simplified deployment and operation and maintenance (O&M). Finally, the 5G IPTV Native solution is expected to be released in the 5G standard packages. This service will enable carriers to reduce the amount of traffic on the backbone and core networks, offering a more cost-effective approach to carrying innovative 4K or 8K TV services.
Indeed, FWA will play an increasingly important role in broadband services, helping to bridge the digital divide between countries, create a more competitive broadband market, and enable a diverse digital economy. FWA supports continuous evolution to accommodate the latest developments of mobile communications technologies, making it well placed to generate positive business returns and bring win-win results for carriers and users over the long run.
Continuous 5G development makes FWA a game changer in the broadband market. Dario Talmesio, Principal Analyst & Practice Leader of Omdia, said: "The arrival of 5G will change the perception of the market. More and more carriers have positioned 5G FWA as Wireless Fiber or Radio Fiber. The boundary between wireless and wired fibers is becoming increasingly blurred. 5G FWA will unlock a new market space for operators, such as home and enterprise users."
This blog is sponsored by Huawei.