At the 2021 IEEE Wireless Communications and Networking Conference (WCNC 2021), the Trends and Technologies for 5G Evolution panel was held successfully. The panel was joined by guests from China Mobile, Fraunhofer Heinrich Hertz Institute (HHI), Ericsson, Bosch Group, and Huawei, who shared their insights into the trends and technological directions of 5G evolution. The panel guests emphasized that the evolution of 5G represents the next wave of innovation in wireless communications and called upon all partners to jointly define the evolution.
IEEE WCNC is an IEEE premier annual event in the wireless research field, bringing together researchers, academics, and industry professionals from all over the world.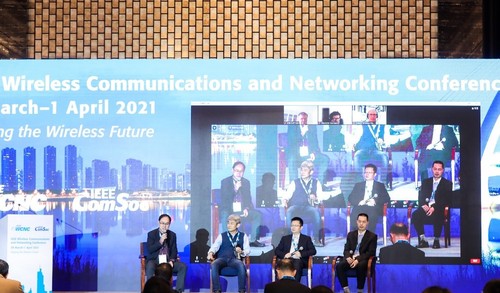 5G Is a Marathon of Continuous Evolution
"5G has kicked a good start but not arrived yet." In the past two years, the industry has seen inspiring progress in global 5G commercial rollout. Widely described as the most prominent mobile communications technology before the arrival of 2030, 5G will be a marathon, requiring continuous evolution and enhancement before it can show its full vitality. The panel guests discussed how 5G will evolve in the future from the perspectives of network construction, service requirements, and technology changes.
Xu Xiaodong, Chief Specialist at China Mobile, shared what he believes is the driving force behind 5G's evolution. "By 2025, the data of usage (DOU) per capita in 5G-leading regions is projected to reach 100 GB, and ToB applications will be even more diversified than ToC services. Although 3GPP-defined key 5G features are up to the task of meeting current demands, we will still need continuous 5G evolution to empower the future. Continuous innovation will be the solution to solving complex issues and maintaining 5G networks' competitiveness in the long run."
Dr. Andreas Mueller, Head of Communication and Network Technology at Bosch Corporate Research and the General Chair of 5G-ACIA, listed five major reasons behind the need for industrial 5G development: realizing 5G's industrial-grade performance, revolutionary use cases for reconstructing production systems, diversity and flexibility, capabilities to unify various communications technologies, and future-proof platforms. Dr. Mueller continued to stress that "5G's continuous evolution will enable early 5G-equipped systems to be empowered with new capabilities and features, such as reduced capability (REDCAP) and positioning. This is essential to protecting investment, which is particularly important to the manufacturing industry."
Professor Slawomir Stanczak, Head of HHI Wireless Communications and Networks Department, shared a similar viewpoint. "We are at the beginning of a revolution of wireless technologies. Looking into the future, we must address multiple daunting challenges, including providing high-performance rate and latency while maintaining service flexibility. The industry must effectively integrate communications with both sensing and computing technologies and make energy efficiency a new driving indicator after the rate and latency."
Trends and Technology Prospects After 2025
"2021 is the year to envision 2025." At the panel, some popular trends of 5G evolution were discussed in view of the achievements of 5G in the past two years and the vision of intelligent Internet of Everything. They are: green and intelligent operation, XR, uplink enhancement, and new capabilities for industrial purposes.
Dr. Xu suggested four directions for 5G evolution that 3GPP Release 18 and Release 19 could factor into: intelligent wireless networks with high management and energy efficiency; stronger eMBB, mMTC, and URLLC capabilities and uplink-oriented evolution; maximum spectral efficiency through sub-100 GHz re-allocation for flexible access and duplex; enabling technologies for new industries and applications and new capabilities such as high-precision positioning.
"This decade is critical for the wireless industry to advance and thrive with 5G so that IoT can be broadly accepted in the market after so much hype," said Quanzhong Gao, Principal Leader of Huawei's 5G Evolution Project. Building on 5G, 5.5G is not just an uplift of the three standard application scenarios defined by ITU. It adds three new scenarios based on the core characteristics of IoT and future consumer virtual interaction: Uplink Centric Broadband Communication (UCBC), Real-Time Broadband Communication (RTBC), and Harmonized Communication and Sensing (HCS). UCBC delivers higher uplink capabilities through flexible duplex and D-MIMO technologies to meet the requirements of 80% of IoT scenarios. RTBC enables XR experience with Gbps speed and 5 ms latency anytime and anywhere through end-to-end optimization. When it comes to spectrum usage, sub-100 GHz re-allocation will further reduce the cost per bit and empower new high-bandwidth capabilities such as ultra-high-precision positioning and wide-area high-resolution sensing. New capabilities can translate into new social value, including improved safety of autonomous driving and management of groups such as the sick and elderly.
"This decade, we eagerly anticipate the intelligent Internet of Everything through massive commercialization of ToB services. It has been the vision of all 5G researchers and engineers. Obstacles and challenges are inevitable, but we can overcome them together. A promising future is now ours to create," Mr. Gao concluded.
This content is sponsored by Huawei.