At last week's Custom Electronic Design and Installation Association (CEDIA) Expo in Denver, Panasonic Corp. (NYSE: PC) claimed to have achieved a first, by demonstrating a tru2way -enabled digital TV running off a live cable plant.

The TV in question was Panasonic's 50-inch Viera PZ80Q, which was receiving digital signals and guide information directly from a Comcast Corp. (Nasdaq: CMCSA, CMCSK) headend. Thanks to its use of a multi-stream CableCARD and tru2way middleware, the set was also running Comcast's interactive program guide, and was capable of accessing the MSO's interactive video-on-demand (VOD) application without the need for a separate set-top box.

Panasonic, which is developing a line of tru2way-based set-tops, also has a 42-inch tru2way set in the works, but wasn't showing it off last week. (See Comcast, Panasonic Unveil Portable DVR .)

Today, so-called "unidirectional" Digital Cable Ready TV sets with CableCARDs are capable only of authorizing and piping in one-way digital services, such as regular broadcast video and premium services from HBO, Showtime, and Starz. Such sets will need a special "Tuning Adapter" to access any channels delivered via switched digital video (SDV). (See NCTA Sees Solution to Switching Snag, CableLabs Spec Brings SDV to the Masses, and CableLabs Stamps SDV Tuning Adapters .)

Panasonic's "real world" demonstration of a tru2way-powered hi-def set emerges as the company looks to have these set-top-free options available in stores by the 2008 holiday season. Those plans hit a bit of a road bump in June, when Panasonic reportedly failed to obtain certification from CableLabs . (See Tru2way Troubles?)

Panasonic's demo last week shows that it has made some progress -- at least on the cable plant and applications delivered by Comcast, one of the six U.S. cable MSOs (so far) to commit to tru2way. (See Revealed: The Tru2way MOU.)

At its CEDIA booth, Panasonic was confident its tru2way sets will receive CableLabs certification in time for the December holidays. "We're going to get approved," proclaimed the Panasonic representative in charge of stand demonstrations last Friday (September 5).

For a brief slideshow of Panasonic's demo (and a few other items of interest we came across at CEDIA), please click on the image below.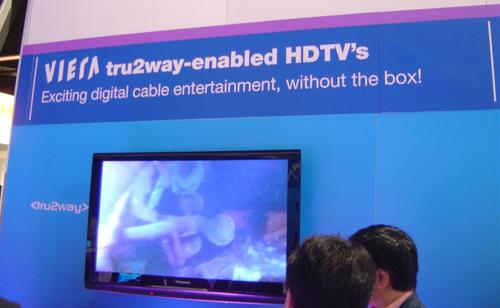 — Jeff Baumgartner, Site Editor, Cable Digital News